The Scene From A Star Is Born That Left Bradley Cooper In Awe Of Lady Gaga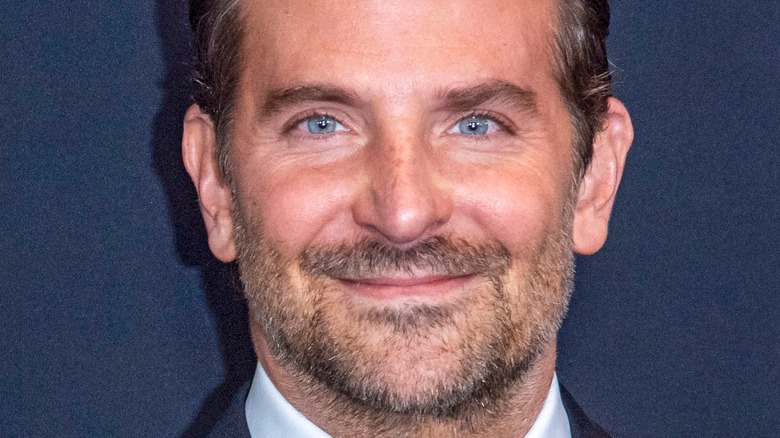 Ron Adar/Shutterstock
When Bradley Cooper announced his role as musician Jackson Maine in the remake of "A Star Is Born," not everyone believed he would be a success. After all, the film was a passion project for Cooper, and it required him to do his own singing. "[Eddie Vedder] thought it was crazy I was going to do this movie," Cooper told Yahoo! Entertainment after the fact. "He was like, 'What? Bro, don't do that.'"
Despite early ideas of casting another lead in "A Star Is Born," Cooper found his muse in Lady Gaga. Her real-life singing background and unique look made her believable as Ally, a struggling singer who's been told that she's not the right fit for Hollywood. According to Cooper, he wanted Gaga to star in the film after their first meeting. "She had her hair slicked back and she sang 'La Vie en Rose,' and I was just ... levitating," he told Vogue. "It shot like a diamond through my brain. I loved the way she moved, the sound of her voice." The Academy Award nominee then set up a meeting with Gaga's agent and met her at her house the next day. "She came down the stairs and we went out to her patio and I saw her eyes, and honestly, it clicked and I went, 'Wow,'" Cooper added. But while Gaga blew him away during their initial meeting, she continued to impress throughout their filming experience together.
Lady Gaga was believable as Ally in A Star Is Born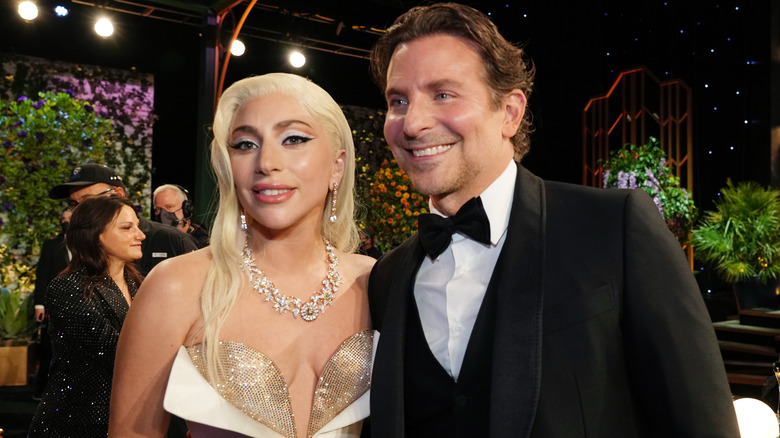 Kevin Mazur/Getty Images
Per Entertainment Tonight, Lady Gaga had a handful of roles in shows like "The Sopranos" and "American Horror Story," but playing Ally in "A Star Is Born" was a major breakout role. Starring alongside an acclaimed actor like Bradley Cooper might have intimidated anyone, but Gaga was up for the challenge — and Cooper was blown away by her raw talent. Discussing "The Last Duel" and "House of Gucci" with director Ridley Scott for Variety, Cooper recalled the first time that Gaga made an impression on set. "It seemed simple but I thought it was a tall order, when my character brings [Ally] onstage for the first time. I truly believed that that person had never been on a stage before," he said. "I remember thinking, 'How is she pulling this off?' That I actually believe on every level — as the director, as the character — that this person has never been in front of 20,000 people before."
But it wasn't all smooth sailing for Gaga. The musician-turned-actor told Elle that an occasion in which Cooper challenged her to improvise ended with her in tears. Therefore, when it came time for her character to sing onstage for the first time, Gaga didn't channel her insecurity as a singer, but as an actor. "When we sang 'Shallow' together ... I didn't think, 'I hadn't made it yet as a singer.' All I had to do was go, 'I haven't made it yet as an actress,'" she revealed.
Lady Gaga's experience was different from her character's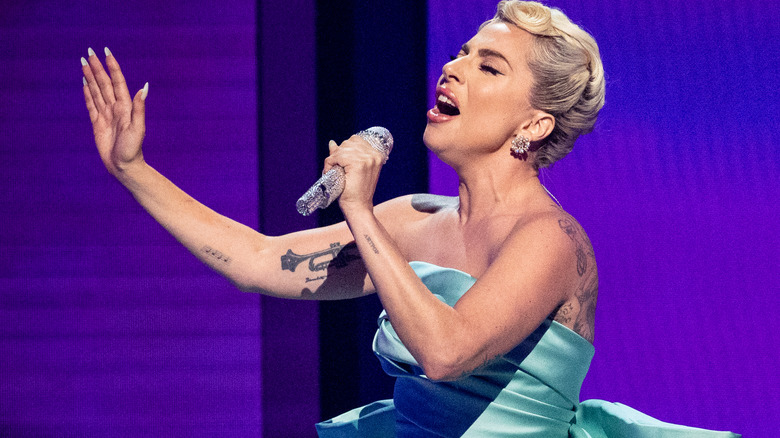 Emma Mcintyre/Getty Images
In "A Star Is Born," Ally appears as a musical ingénue who is unsure of her singing abilities. Under Jackson Maine's (Bradley Cooper's) guidance, she eventually blossoms into a powerhouse performer (hence, the movie's title). However, Gaga's real-life experience differs from her character's. "I really believed in myself when I started out. I was like, 'I'm going to do this,'" the "Bad Romance" singer said on Good Morning America. "I knocked down every door to play every club in New York City. I mean, I had something to say. I wanted to say it and I believed in myself, but this girl, Ally, she's jaded by the business."
Even from a young age, Gaga knew that she was destined to make music, and she was willing to go to any lengths to manifest her dream. After enrolling in NYU's Tisch School of the Arts, she soon dropped out to become a rock star. "I left my entire family, got the cheapest apartment I could find and ate s*** until somebody would listen," Gaga told New York Magazine. Whether she was singing burlesque on stage, or composing hits for others, the star was relentless in pursuit of her goals. It's no wonder that Cooper was full of praise for his co-star. "When we started working together, I realized, 'Oh ... the sky's the limit in terms of what [Gaga is] able to do and her commitment level," he told The Hollywood Reporter.