Footage Suggests Cardi B Intervened On Offset & Quavo's 2023 Grammys Backstage Scuffle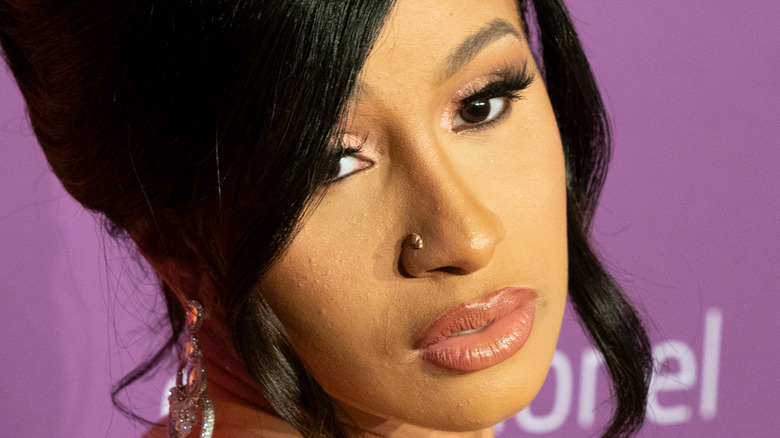 lev radin/Shutterstock
Music, awards, and backstage fights, oh my! Leave it to the Grammy Awards ceremony to keep the drama coming year after year, but this time — it's a family affair.
According to TMZ, Migos members Offset and Quavo got into a physical fight minutes before Quavo took the stage. Probably not the most appropriate time to handle some family beef. The "Without You" rapper was set to perform a portion of the "In Memoriam" segment at the 2023 Grammy Awards ceremony in honor of his nephew and bandmate, Takeoff, who was fatally shot in Houston back in November. According to the outlet, the Grammy's wanted Offset to participate in the segment alongside Quavo, but he refused.
As many fans can recall, in the past several years, the tension between the two cousins have risen. After Migos broke up, it was clear there was a divide in the group. In 2022, Quavo briefly spoke about the division in an interview with Vibe, saying, "We just came from a loyal family, s*** that's supposed to stick together. And sometimes, when s*** don't work out, it ain't meant to be." 
Fast-forward to the Grammy's, and it looks like whatever anger the two rappers had against each other seemed to boil over. However, new footage shows that Cardi B decided to intervene and shared some choice words about the two fighting.
Cardi B mediates fight between Quavo and Offset at Grammys
Disagreements between family members can sometimes result in big fights. The only difference between other family fights and Quavo and Offset is that they're under a constant spotlight. After TMZ reported the two had gotten into a physical fight regarding the "In Memoriam" performance, footage showed Cardi B had something to say to the two.
Cardi B, married to Offset, seemed to put both rappers in their place by sharing her opinion on the reported fight, per ET. She said to the two rappers, "Both of y'all is wrong! Both of y'all. This is not right!" She continued to yell, "No b****, shut the f*** up 'cause you shouldn't have been talking," however, it's unclear she was speaking to directly, but she definitely wasn't happy.
Although Quavo and Offset didn't sort everything out that night, they decided to move on (for the cameras at least). ET attempted to get Cardi to share what happened behind the curtain, but the rapper swiftly dodged the question.
In the end, Quavo was the only member of Migos on stage that night to honor Takeoff. Offset has been the only one to address the situation in a tweet, claiming he and Quavo never fought, though that made not entirely be the truth.