Chase Stokes Insists He's Just Vibing With Kelsea Ballerini, But Her TikTok Paints A Steamier Picture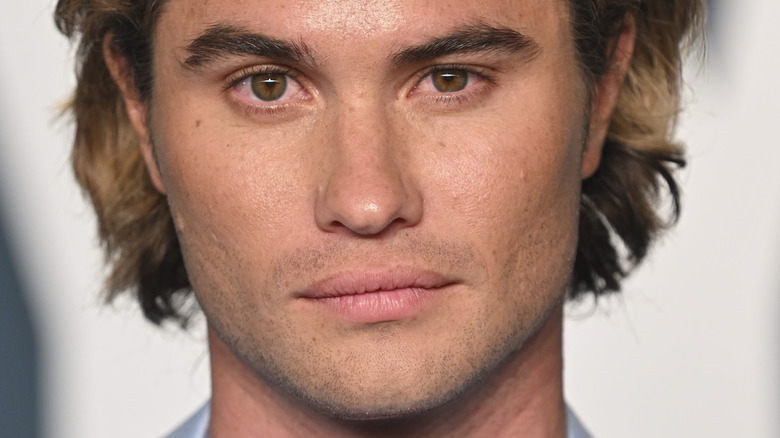 Karwai Tang/Getty Images
Romance is on the horizon for "Outer Banks" star Chase Stokes. For a while, the hunk was connected to fellow castmate Madelyn Cline, who starred as his love interest in the hit Netflix series. The two were in a public relationship for a little over a year before they decided to part ways in 2021, per US Weekly. For fans, it was hard to move past the relationship as the characters on the show were madly in love with one another, and it seemed that way off-screen as well. But, Stokes has taken his time returning to the dating scene and just recently started seeing another big celebrity.
The "Outer Banks" star has recently been linked to country superstar Kelsea Ballerini. According to People, the pair were spotted holding hands at a Los Angeles football game in January 2023. Just a couple of days after the game, the actor posted a carousel of photos on his Instagram, including one snap of a mystery woman leaning on his shoulder. Fans were quick to connect the dots and believed the woman in the post had to be Ballerini. While paparazzi shots have revealed the two are continuing to spend time together, both have remained tight-lipped about their rumored romance. Even after an Extra host explicitly asked the "Heartfirst" singer about Stokes, she only revealed that she was "happy." However, as they navigate their new relationship, it appears that Ballerini is a bit more open than Stokes is.
Chase Stokes and Kelsea Ballerini relationship is heating up
Chase Stokes and Kelsea Ballerini continue to tease fans about their new relationship. Since rumors began swirling that the two were seeing each other romantically, they've opted to keep their relationship out of the spotlight.
The "Outer Banks" star is continuing to keep intimate details about his relationship with the country singer close to his chest. The actor spoke to People about Ballerini and his ex, Madelyn Cline, ahead of the "Outer Banks" Season 3 premiere. Stokes shared that he and Cline have promised to "put the work first" despite their breakup. This prompted the outlet to ask about his rumored connection with Ballerini. Stokes revealed he and the country singer "have just been spending some time together." He added, "Kelsea is a lovely, lovely girl. She's great. We're having a good time." Fans aren't convinced their romance is as casual as Stokes says, and they might be right.
Based on Ballerini's recent TikTok, things are heating up between the two. In the video, the country singer was replying to a previous video where a TikTok user tagged Stokes and commented, "come get your girl." But Stokes didn't have to go far to get Ballerini because the singer showed a subtle part of a man's arm that just so happened to look exactly like Stokes. Ballerini appeared to confirm the couple's speculated relationship, and since they're sleeping over at each other's places, fans can only assume it's getting serious.