Jennifer Coolidge Continues Her Dolphin Fascination In E.l.f. Cosmetics Super Bowl 2023 Ad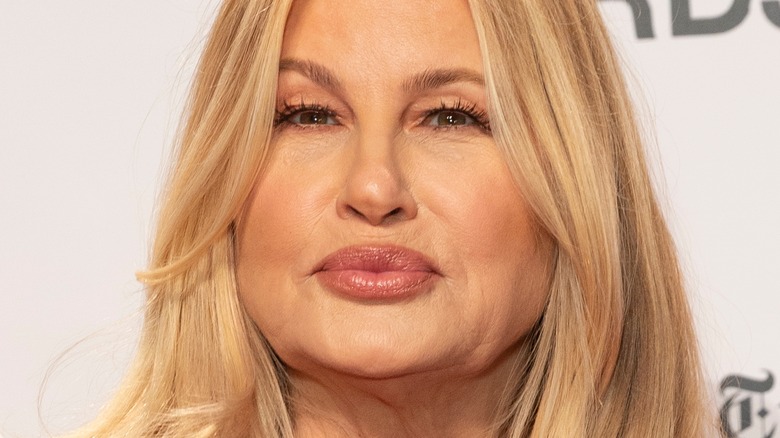 lev radin/Shutterstock
Jennifer Coolidge is one step closer to checking off a bucket list item in a new ad. The "White Lotus" star was asked by Access Hollywood at the Golden Globes in January what her dream role is, and in response, the performer said she has a wish to portray a certain sea animal. "I've always wanted to play a dolphin," Coolidge said. Access Hollywood co-anchor Scott Evans then asked Coolidge if she meant she could wear a flipper to transform into a dolphin, to which Coolidge said, "Yeah, something like that."
Fellow celebs were supportive of this notion. Jennifer Garner, who played a dolphin named Sally in the reboot of "Fantasy Island," took to Instagram to share a clip from this portrayal. Garner wrote to the Golden Globe-winner, "You're in luck, Ms. Coolidge. These roles exist!" and captioned the post, "Congratulations, @jennifercoolidge! Come play a dolphin with me." Olivia Wilde then responded to Coolidge's desire to portray a dolphin, saying in her Instagram Story, "I will make this happen," E! News reported. In response, Coolidge said in an Access Hollywood interview, "I love [Wilde]. I can't believe it. And I believe she can make it happen." Now, Coolidge is taking on a project that incorporates her dolphin interest.
Jennifer Coolidge looks 'like a baby dolphin' in an e.l.f. Cosmetics Super Bowl ad
Jennifer Coolidge stars in a 2023 Super Bowl ad highlighting her dream of playing a dolphin. Leading up to Super Bowl Sunday, e.l.f. Cosmetics released an ad starring Coolidge on February 9. In the clip, the "A Cinderella Story" actor opens a set of priming products by the makeup company that are from "[her] superfans at e.l.f." "My gosh ... looks like I came from the sea," Coolidge says in the commercial after applying e.l.f. primer. "I look like a dolphin ... like a baby dolphin." She then happily makes dolphin noises and adds, "I love it! ... I'm so dewy, people are gonna complain."
Fans have been loving the ad, with one user commenting, "THIS IS MY SUPERBOWL." Another wrote, "Jennifer Coolidge is such an icon." This video for e.l.f. follows Coolidge receiving another recent chance to live out her dream of acting as a dolphin. On February 4, Coolidge wore a dolphin-themed towel on her head during an onstage performance in which she played the aquatic animal, Access Hollywood reported. This took place as Coolidge was given the Woman of the Year Award from Harvard's Hasty Pudding Theatricals.