The Controversial Way Gisele Bündchen Hid Getting Plastic Surgery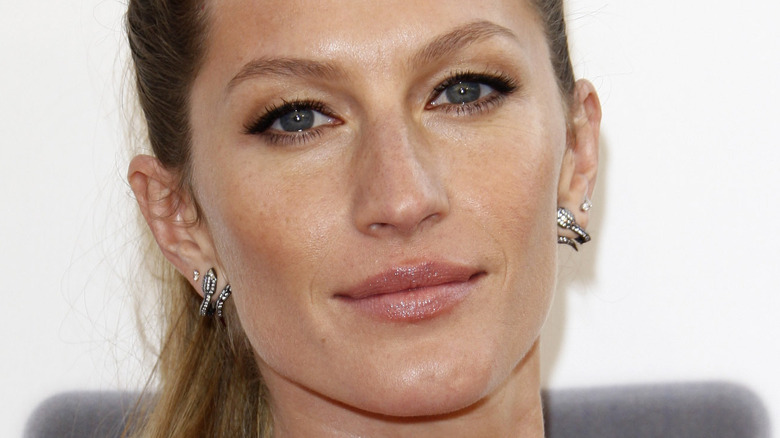 Joe Seer/Shutterstock
Gisele Bündchen is more than just the ex-wife of NFL superstar, Tom Brady. She's been modeling, professionally, since she was 14 according to E! News, and obviously made a name for herself in the fashion industry. The outlet even reported she was probably making more money than Brady at one point. And as CR Fashion Book wrote, Bündchen perfected her unique catwalk strut, known now as the "horse walk" because of how her legs jut out in front of her (it's a lot more glamorous than it sounds, trust us). And even though there's a lot of inherent beauty and talent involved in Bündchen's career and look, the model has gotten plastic surgery in the past.
Bündchen had two kids and she's been candid about how nursing, specifically, changed her body, which is tough when her body is a major tool in her career. "I was always praised for my body, and I felt like people had expectations from me that I couldn't deliver," she told People. "I felt very vulnerable because I can work out, I can eat healthy, but I can't change the fact that both of my kids enjoyed the left boob more than the right. All I wanted was for them to be even and for people to stop commenting on it." However, she said that she immediately regretted the breast augmentation. And it's probably this procedure that she chose to wear a controversial disguise that garnered a lot of criticism.
Gisele Bündchen once wore a burqa to hide from paparazzi
Fernanda Calfat/Getty Images
The New York Post reported in the summer of 2015, Gisele Bündchen and her sister went to Paris for Bündchen to undergo plastic surgery and used a burqa to hide her appearance to do so (via Page Six). She allegedly wore the traditional Muslim garment during the holy month of Ramadan so that paparazzi and onlookers wouldn't see that she was going into a clinic meant for plastic surgery. While some outlets like Vanity Fair weren't convinced by the report (since you obviously couldn't tell who was under the burqa), the Daily Mail did report some hints that proved it was Bündchen and not some paparazzi ploy for photos. According to the outlet, the chauffeur driving the burqa-clad passenger was Bündchen's "longtime" driver. They also reported that Bündchen had visited the same clinic two weeks before this stunt to hide her plastic surgery pursuits.
Obviously, this move ruffled a lot of feathers. Page Six reported that anonymous commenters online were decrying the move, with some saying a stereotypical celebrity disguise of a baseball cap and sunglasses would have garnered far less attention than this stunt. Not to mention, it came off as disrespectful to use a holy garment for such a purpose. Imam Muhammad Abdullah Kamal Al-Azhari told Page Six, "She's not doing it for Islam. This is very bad ... She's wearing a holy thing for a bad purpose."
The burqa debacle didn't stop Bündchen's modeling career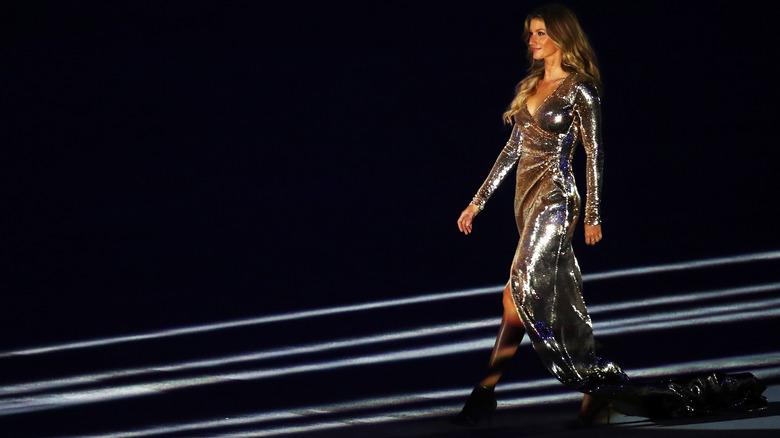 Clive Brunskill/Getty Images
While it doesn't seem like Gisele Bündchen ever really commented on the manner in which she went into incognito mode to get the breast job in 2015, she still regretted it. Again, she told People that it was uncomfortable to live in this new body she created for herself to stop comments about her uneven breasts — which, in the end, wasn't worth it to her. "When I woke up, I was like, 'What have I done?' I felt like I was living in a body I didn't recognize," she said. "For the first year, I wore [baggy] clothes because I felt uncomfortable."
Now that it's been a few years, Bündchen has seemingly come to terms with the procedure and how she looks now. And Gisele Bündchen went right back to modeling after announcing her divorce to NFL quarterback, Tom Brady. As People reported, Bündchen was the face of a new campaign from Louis Vuitton. They also reported that the same month her split was announced, she was also attending jewelry brand dinners and re-establishing her presence amongst the fashion elite. Even though divorces can oftentimes be sad, Bündchen seems to be ready to really step up her career and modeling gigs.