Paul Rudd Has Always Been A Diehard Kansas City Chiefs Fan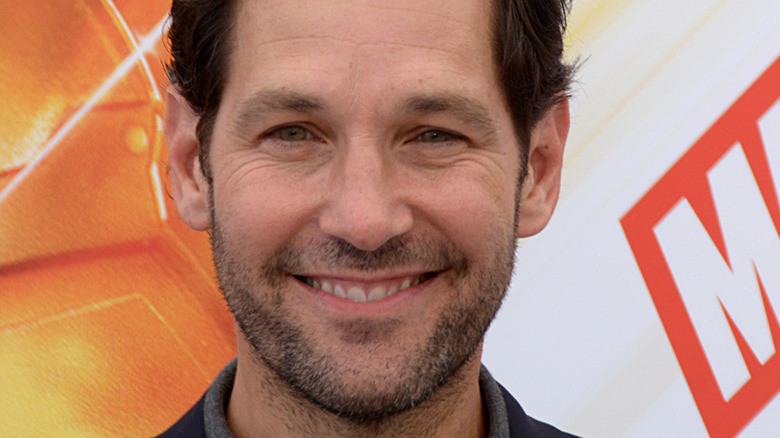 GIO_LE/Shutterstock
Paul Rudd is a loyal fan of this hometown team. As Biography wrote, the "Clueless" actor was born in Passaic, New, Jersey, and his family then moved to a suburb of Kansas City called Overland Park in his youth. The performer attended Overland Park's Shawnee Mission West High School and later, the University of Kansas. During a 2018 visit to "The Late Show with Stephen Colbert," Rudd praised the city he grew up in. "It's a great town," Rudd said of Kansas City. He added, "My family's still there ... Those were the formative years. I wasn't born there, but [from] 10 to 20, I was in Kansas City."
Back in 2016, "Today" reported that Rudd joined fellow celebrities Jason Sudeikis, Eric Stonestreet, Rob Riggle, and David Koechner for the Big Slick Celebrity Weekend in Kansas City. This is the hometown of all of these actors, who participate in the annual event to raise funds for the Children's Mercy Hospital Cancer Center. "It's a pretty exceptional place," Rudd said of the hospital in his hometown. He added, "I mean, it really runs on donations. It's not part of a network. They don't turn anyone away." In addition to giving back to Kansas City, Rudd stays supportive of the city's football team.
Paul Rudd was there to see the Kansas City Chiefs win a past Super Bowl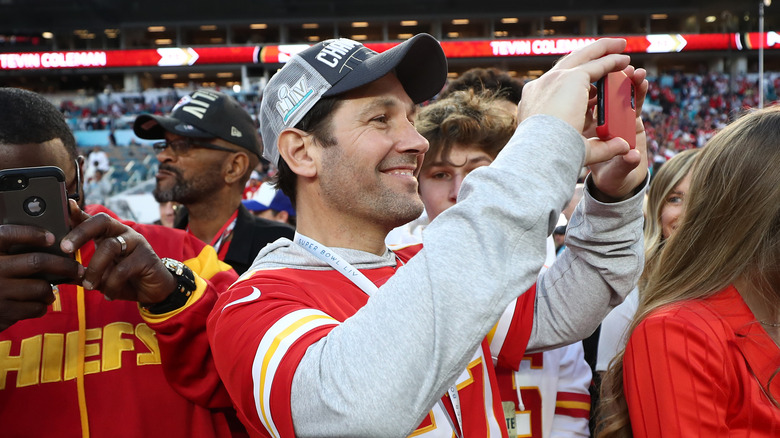 Jamie Squire/Getty Images
Paul Rudd is a longtime fan of the Kansas City Chiefs. The entertainer showed himself to be a Chiefs supporter back in 2007, when he narrated two episodes of a documentary series called "Hard Knocks" that highlighted training camp with the Chiefs. In 2019, Rudd chatted on "Good Morning Football" about his excitement over the upcoming Kansas City Chiefs season. [2:38] Rudd said of Chiefs quarterback Patrick Mahomes, "He's special, and it is the most exciting time, I think, right now to be a Chiefs fan in a long time," before adding, "It's something."
In a 2020 KSHB 41 interview, Rudd said he had a feeling of "total adrenaline" and "excitement" as he celebrated Kansas City winning their second-ever Super Bowl title. The actor then stated that he was at the game in person, which was stressful for him as he anxiously waited to see whether his team would pull off the victory. "Well, seeing your favorite team win the Super Bowl is elation. ... Most of the game was just pure nausea," Rudd said. "I didn't enjoy the experience at all. It was the worst experience but the greatest outcome." The "Ant-Man" star added it was "the greatest thing ever" for himself and his teenage son to witness this triumph together. As the 2023 Super Bowl is approaching, Rudd is again ready to cheer his team on.
Paul Rudd 'want[s] to be elated' with the Kansas City Chiefs' 2023 Super Bowl performance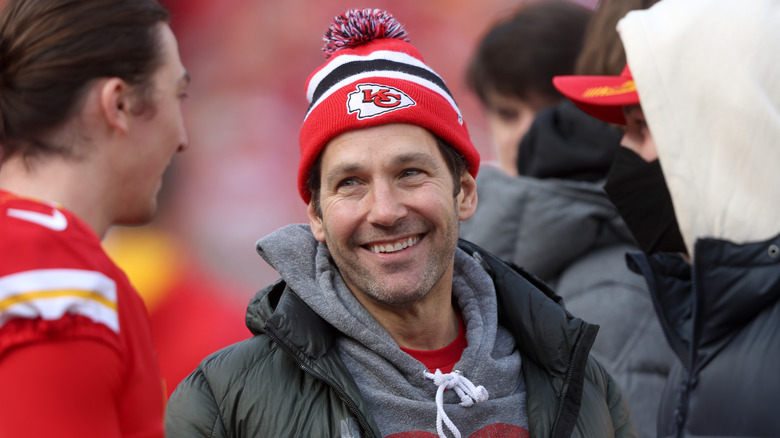 Jamie Squire/Getty Images
Paul Rudd is optimistic that the Kansas City Chiefs can score a Super Bowl LVII victory. The actor and Kansas City superfan talked to People on February 6 about Sunday's game, in which the Chiefs will face the Philadelphia Eagles. "I'm hoping that I can see it in person, although watching that game is very stressful," Rudd said of the Super Bowl. He went on to state, "It's always tough when you have a real vested interest. Unless it's a total blowout, but I'm really hoping that they win. I just want to be elated at the end of the game."
In October 2022, Rudd did a "New Heights" podcast interview with Jason and Travis Kelce and spoke of how special it is for fans to see their team win a Super Bowl title. "It is the greatest thing that can happen to a city," Rudd said. "And especially for Eagles fans and Chiefs fans ... people that have been waiting a lifetime, just truly, decades ... [It's] so enormous. This is what sports can be." Rudd will not only be encouraging the Chiefs throughout the game, but he will also be starring in a major ad on Sunday. In a recent "On The Red Carpet" chat, Rudd discussed how he will appear in a Heineken Super Bowl 2023 commercial for their non-alcoholic beer, per 6 ABC.