Why Maude Apatow Isn't A Fan Of Getting Called A 'Nepo Baby'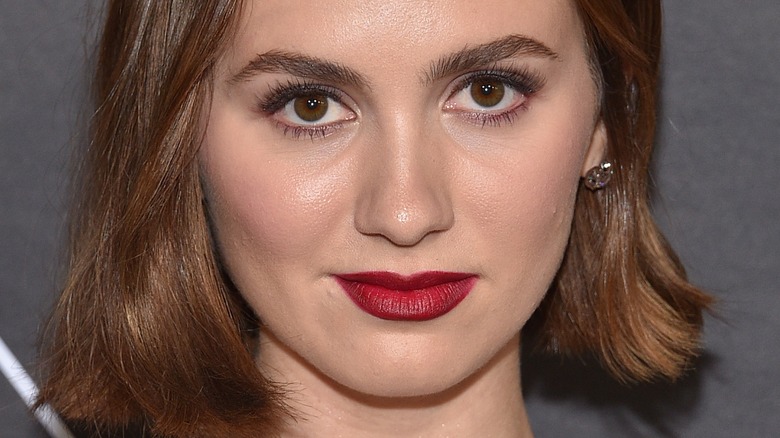 DFree/Shutterstock
When Lexi Howard first came on the screen of HBO's "Euphoria," it wasn't clear just how much of an influential character she'd play on the series. And Maude Apatow, who plays Lexi, is of course a reason why the character has such an impact on viewers in Season 2, specifically. Apatow plays Lexi in such a vulnerable and relatable way. It shows her flawless evolution from a timid younger sister, to the director and star of their high school's most salacious theater production. And even though Apatow has had success on "Euphoria" alongside Zendaya, Sydney Sweeney, and more, she won't ever fully escape the "nepo baby" comments.
If the name "Apatow" doesn't ring a bell, Maude Apatow is the daughter of Judd Apatow, the famed director and producer behind movies like "The 40-Year-Old Virgin," "Knocked Up," and "This Is 40." To top it off, her mother is also well-known comedic actor Leslie Mann, who starred in movies like "George of the Jungle," "Knocked Up," "17 Again," and "Blockers," just to name a few. As you can already tell, Mann and Judd Apatow love to work together as spouses, and you can imagine that Maude was also a part of some of those family productions. So with such successful parents in the movie business, you can understand why many have given Maude Apatow the "nepotism baby" moniker. But how does the actor feel about that?
Maude Apatow wants to prove she's not just a nepo baby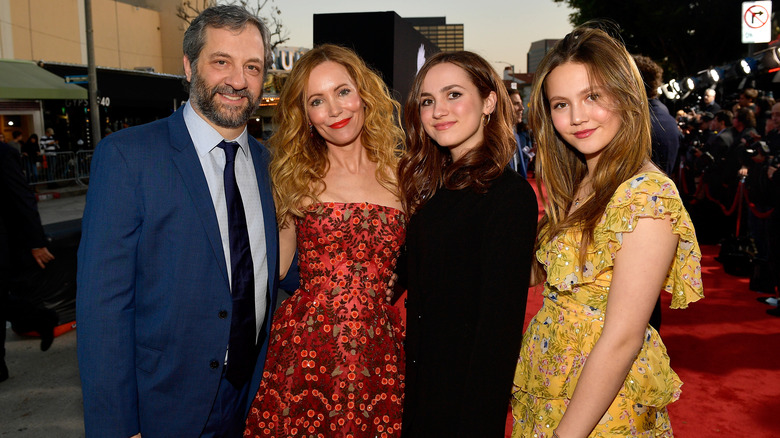 Matt Winkelmeyer/Getty Images
While speaking with Net-a-Porter in 2022, after both seasons of "Euphoria" had been out for a while, Maude Apatow shared that the "nepo baby" comments made her a bit sad "at first." She felt like people weren't seeing her performances and skills as an actor at face value, instead altered by who her parents are. "I try not to let it get to me because I obviously understand that I'm in such a lucky position," she said. "A lot of people [in a similar position] have proven themselves over the years, so I've got to keep going and make good work." 
Right after the first season of "Euphoria," which didn't feature Lexi a ton, Apatow told the Los Angeles Times that she really wasn't a fan of the nepo baby label (via Yahoo!). "I've acted in so many of my parents' movies, and people are going to say it's nepotism," she said. "I mean, it's not even an insult — well, it is an insult, but it is what it is." She was hopeful then, too, that with her upcoming projects, people could see her for her work and not her last name. "I'm gonna spend my whole life trying to prove myself as an individual, and that's a chip on my shoulder," she said. "It's really important to me to show that I work really hard, because I do."
Maude Apatow got her start in her parents' movies
As stated above, one of the main reasons Maude Apatow falls into the nepotism baby basket is not just because her parents have the connections within Hollywood to create a successful actor, but because Maude's first roles were in Judd Apatow's movies. Her first on-screen role was as Sadie in "Knocked Up," starring her mother, Paul Rudd, Seth Rogen, and Katherine Heigl. Her sister, Iris Apatow, played her on-screen sister as well. She also appeared as Mable in "Funny People," and reprised her role as Sadie in "This Is 40."
But, as she told the Los Angeles Times (via Yahoo!) in 2020, she hadn't worked with her father since she was 12. So she hoped that acting in "Euphoria" and other projects "without [her parents'] help" would show she was capable of holding her own. But she, of course, still sees her dad as a major mentor. "I want to be a director someday, and getting to watch my dad do what he does is very important to me," she said.