Kansas City Chiefs' Mecole Hardman May Not Be In Super Bowl 2023 But He Has Another Reason To Celebrate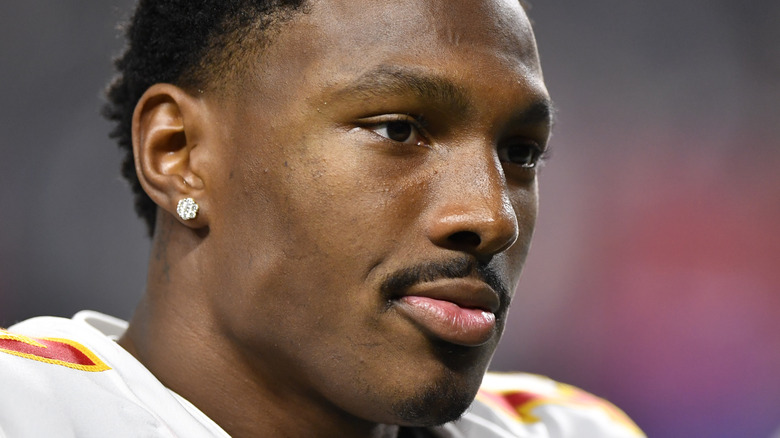 Chris Unger/Getty Images
It's time to sit back, relax, and actually watch the commercials. The Super Bowl 2023 did not disappoint with its star-studded advertisements, like good ol' Pete Davidson getting involved with not Kim Kardashian, not Ariana Grande, nor Emily Ratajkowski, but mayonnaise. Yes, Davidson made a Hellman's commercial alongside Jon Hamm and Brie Larson. It's actually super creative — and if you're picking up on the ham and brie vibes — then you're getting it. Queen Jennifer Coolidge got to live out her dolphin obsession in an E.l.f. Cosmetics ad, so that happened. Meanwhile, Bradley Cooper gets roasted by his mother in a T-Mobile commercial. Good stuff.
But the real reason for the day – and no, it's not Rihanna – is football. Sigh. But there is actually some legitimately interesting football news on Super Bowl Sunday. Kansas City Chiefs' Mecole Hardman won't be present for the game, but he's got a great (and super cute reason) why he can't be there. 
Mecole Hardman is becoming a father during the 2023 Super Bowl
On the morning of the 2023 Super Bowl, at 5:40 a.m., Mecole Hardman jumped on Twitter for what may be the most coincidental tweet of all time. "OMG HER WATER BROKE," he wrote, followed by several eye emojis. The wide receiver was referring to his girlfriend, Chariah Gordon, who was pregnant with their son. In October 2022, the couple posted a gender reveal on Instagram, with Hardman writing, "I was #TeamBoy all the way!" Later he wrote, "Daddy loves you already! And I love you too baby [Chariah]."
Hardman wouldn't have been able to join his team, the Kansas City Chiefs, for the Super Bowl due to a pelvic injury he received in early February. Coach Andy Reid prepped fans ahead of time with an announcement about Hardman. "I think it will be tough for [Hardman]," Reid told reporters (via NBC Sports). "I doubt that he'll make the Super Bowl. But, listen, he was not going to be denied the other day. And it's a tribute to the kid. He pushed himself like no other. He's a tough nut, man. He's all smiles with you, but when it comes down to playing, he is a tough, tough kid." That is some high praise, so Hardman can forget about football for the day and focus on his new bundle of joy.