Jason Kelce Wins Favor Over Brother Travis At Super Bowl 2023 For The Pettiest Reason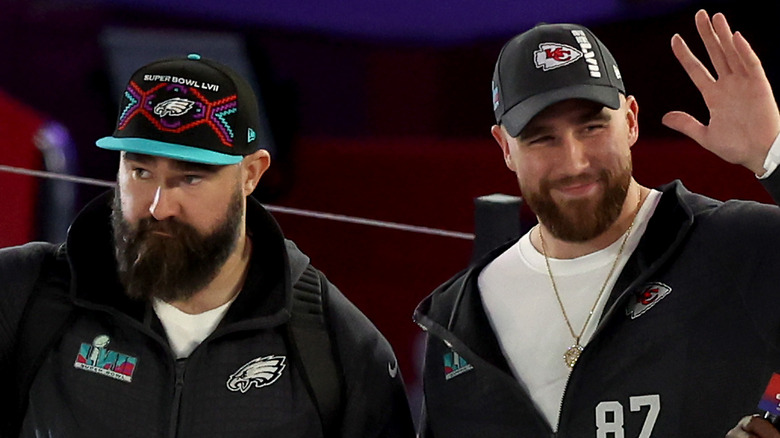 Christian Petersen/Getty Images
Brothers Jason and Travis Kelce may be duking it out on what is arguably the biggest stage in sports, but some fans are judging them not for their athletic talent.
In this year's Super Bowl, the Kelce brothers make history as the first siblings to play against each other, per The New York Times. Apparently, none of them expected it to happen in their career. "I think we more dreamed about being on the same team, but this is pretty good," Jason shared, adding that this unique opportunity is "a really awesome reflection of our family and both of us but more so it's an incredible moment for our community and who we grew up with." For their parents, however, seeing their sons as opponents on NFL's biggest night is a dream come true. "We started thinking that reality is just never going to happen. Then this year started out of nowhere and it just took off on its own almost. It's just amazing," their mother, Donna Kelce, told CBS News.
Meanwhile, per their father, Ed Kelce, the two just wanted to see which of them could lord the win over the other. "Since Travis was a little kid trying to prove he's as good as his brother," Ed dished. "And Jason, since he was a little kid he's been trying to make sure his brother knows he's not as good as he is." But fans have a different idea. They are judging the Kelce's based on their Super Bowl outfits.
Fans think Jason Kelce is a better dresser than Travis Kelce
Whether Jason or Travis Kelce is a better football player than the other is still up for debate, but per fans, Jason is at least the superior one in the fashion department — at least based on what they wore off the field at the Super Bowl.
Travis Kelce was spotted decked out in everything Louis Vuitton, from his coat to his luggage to his shoes, while Jason was clad in what everyone calls "the ultimate dad Super Bowl day outfit" — shorts, a Cleveland Heights shirt, and a hat. And while Travis was the one sporting designer clothing, fans think Jason is the better dresser. "The only look that mattered," one fan tweeted. "Thank you Jason Kelce lol love these type fits. We not here for the met gala, we here to play football," said another. "Excellent wardrobe selection," observed another.
Meanwhile, their mom, Donna, also has quite an interesting choice for an outfit. She wore a shirt, a bag, and shoes with designs representing both the Chiefs and Eagles. "I know that they're very talented and very athletic. It was just a joy to go to all the games ... They played almost every single sport you can think of," she said of their sons (via People). "So it's just been a pure joy to watch them compete and be allowed to do it for this many years. It's just amazing."