Are Riverdale Stars Cole Sprouse And KJ Apa Friends In Real Life?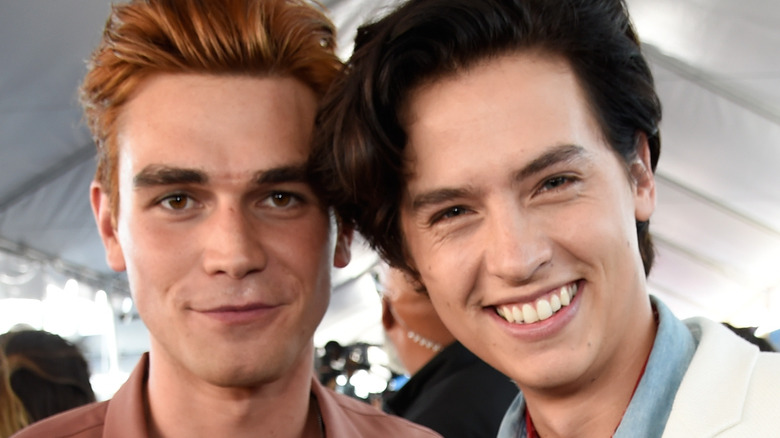 Kevin Mazur/Getty Images
The CW's "Riverdale" is arguably one of the most bizarre and unrealistic shows to ever grace television, with each viewing requiring some level of suspension of disbelief. But the same can't be said for the friendships formed between the actors, specifically the main cast.
According to Camila Mendes, who plays Veronica Lodge on the show, her co-stars, especially Lili Reinhart and Madelaine Petsch, have become her family. "They're like my sisters — we've all seen parts of each other that no one else has seen," she told InStyle. "It's like family — you don't choose them. Maybe these aren't people that I would've been friends with had I just met them once at a party, but we're bonded by this experience." She dished that while they've had their fair share of drama over the years of working together, their shared experiences have strengthened their bond. "We've leaned on each other in those moments," she said.
Just like the trio has become the best of friends, KJ Apa and Cole Sprouse, who play Archie and Jughead respectively, have forged a bromance behind the scenes, too. While they often fool around on social media, not many fans know that they also have a deep bond.
KJ Apa and Cole Sprouse have become solid bros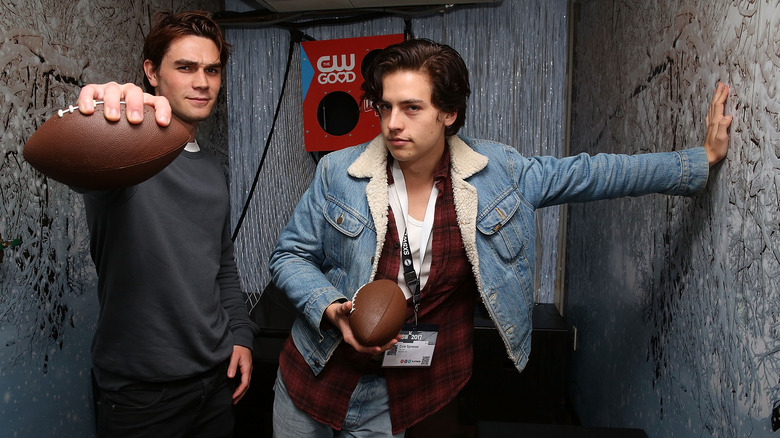 Robin Marchant/Getty Images
KJ Apa and Cole Sprouse may not be as vocal about their friendship as the rest of their co-stars, but the people around them have proven that they're indeed solid. Dylan Sprouse, Cole's very own twin brother, is one of them.
Speaking with Entertainment Tonight in 2020, Dylan divulged that Apa and his brother spent much of COVID quarantine together. It was around the same time Cole had split from Lili Reinhart, so Apa probably made an effort to cheer his buddy up. "Him and KJ in the very beginning of quarantine ended up staying together at KJ's place in Los Angeles. So, they're isolating together, which is very cute," Dylan told the outlet. "I've heard a lot of cute stories. I heard they're just lifting weights and eating cheese... I think that's what they do."
Dylan was definitely not lying. Cole once revealed that Apa was his "fitspiration" and the reason why he feels motivated to whip himself back into shape. "It's good being on a show with people like KJ who are monsters," he told People. "He's ripped, he's been ripped since he was like 10, so it's nice going to the gym with dudes like that because I just mimic what they are doing and by proxy I get an exercise I never thought I would be able to get, which is one of the perks of being on a teen drama!"
KJ Apa and Cole Sprouse did not hit it off right away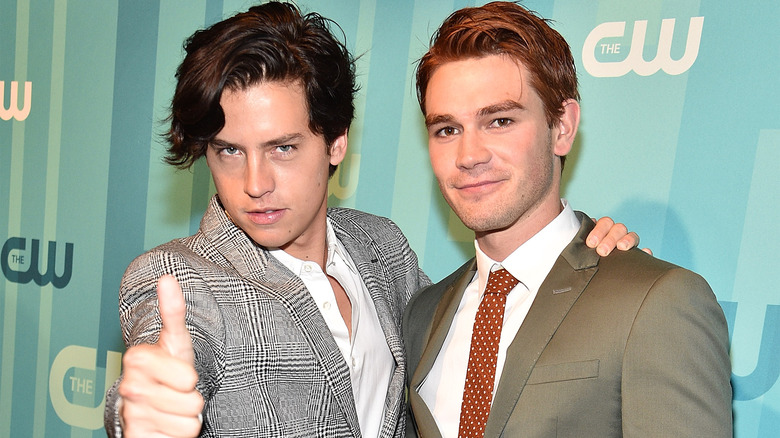 Kevin Mazur/Getty Images
Despite being tight now, KJ Apa and Cole Sprouse surprisingly didn't become close right off the bat. They had to hang out a few times before they formed a relationship, which obviously paid off since the two are pretty much inseparable now. "No, it definitely wasn't instant. He's a good guy. It took us a while for us to become close," Apa told Glamour in 2017, adding that their shared interests are what brought them closer together. "We go camping — we actually drove back to LA from Vancouver which was sick — a really nice trip. And we've been camping out in Canada, which is really beautiful too."
In an interview with Teen Vogue, Sprouse also shared that his friendship with Apa has reached a whole new level, just like their relationship on the show. "I love the way Archie and Jughead's relationship is portrayed: It's very understanding, and there's open communication. KJ and I are both in places of our lives where we feel very comfortable with who we are and our friendship," he explained. " I think the truth about male friendship is often left out of the media, and it's that it has a million different shades, because masculinity has a million different forms." Jarchie forever!