The Many Reasons Alec Baldwin Got On Anderson Cooper's Bad Side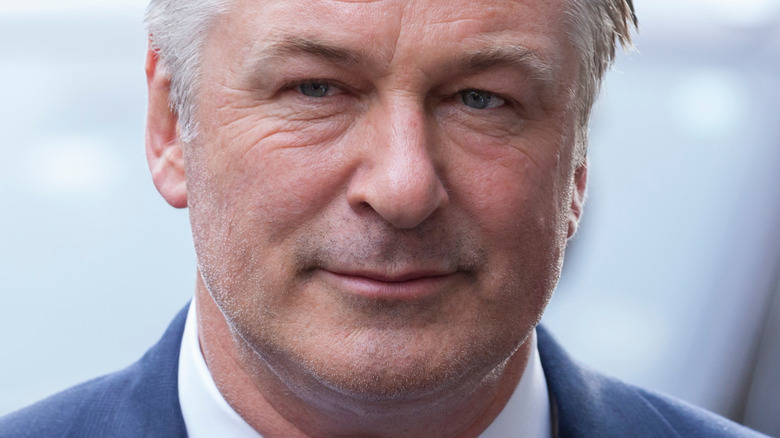 lev radin/Shutterstock
Celebrity feuds can be entertaining and it can be fun to choose sides in all the silly, Hollywood elite hubbub. Think of Lindsay Lohan and Hilary Duff and the fact that they maybe had a love triangle with Aaron Carter that started it all. Or how Mariah Carey and Nicki Minaj's theatrical beef, which played out on "American Idol" when they were both judges, had people glued to their TVs and twitter accounts. And don't even get us started on the Will Smith and Chris Rock feud that resulted in the slap heard around the world at the 2022 Oscars. But when it comes to Anderson Cooper and Alec Baldwin's "feud," it's a bit more serious and one side is pretty obviously wrong, at least when slurs are involved.
Baldwin is known to be a man of many words. His own words and opinions, in fact. He doesn't stand by when criticism is aimed at him or his wife, Hilaria Baldwin of changing-nationalities fame. Moreover, Cooper is an outspoken political commentator for his job at CNN as an anchor with his own show and is a prominent gay man in media. So when Baldwin used homophobic remarks about other people, of course, Cooper was going to tweet about it. And there were many instances Baldwin could have been called out for, according to Cooper.
Anderson Cooper called out Alec Baldwin's use of anti-gay slurs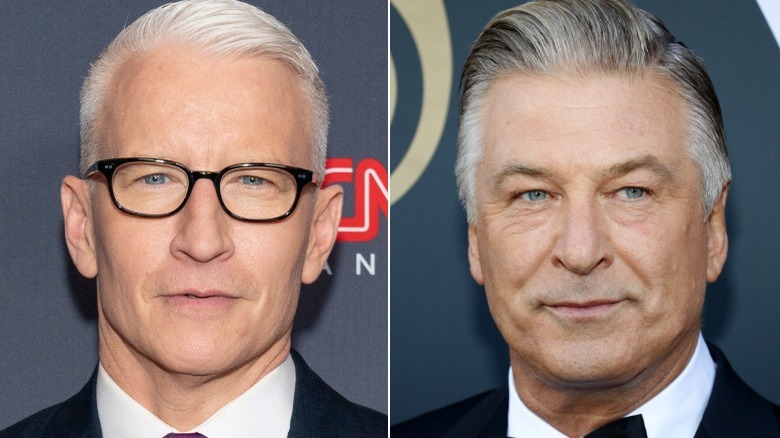 Tinseltown & lev radin/Shutterstock
The fatal shooting on the set of Alec Baldwin's film, "Rust," resulting in cinematographer Halyna Hutchins' death has put Baldwin in the spotlight (and the courtroom), but in the past, he made headlines for distasteful name-calling. Per E! News, Baldwin called a Starbucks barista an "uppity queen" in 2011 and a Daily Mail writer a "toxic little queen" in 2013 for incorrectly reporting that Hilaria Baldwin was tweeting during James Gandolfini's funeral (the story was eventually pulled, per The Hollywood Reporter).
Baldwin's bigger blunder — what spurred Anderson Cooper to speak out — is when he called a paparazzo a "c**ks*cker" and (potentially) "f****t" in 2013, per TMZ. Later, Baldwin swore he said "fat head," (via E!). Cooper later tweeted, "Wow, Alec Baldwin shows his true colors yet again. How is he going to lie and excuse his anti-gay slurs this time?" because Baldwin insisted he didn't know "queen" was a slur. 
The CNN anchor went on the "Howard Stern Show" (via E!) months later, and said he gave Baldwin the benefit of the doubt after the barista comment. However, the paparazzi incident was too much. Cooper said he respected Baldwin, but that it would have been hypocritical to ignore, when he would have called out a conservative for the same thing. "When he called the person 'a c**ks*cker,' and then said he didn't know that 'c**ks*cker' was something that was an anti-gay ... I mean, what adult does not know that calling a guy a c**ks*cker is... [an anti-gay slur]."
Cooper denies ever calling Baldwin homophobic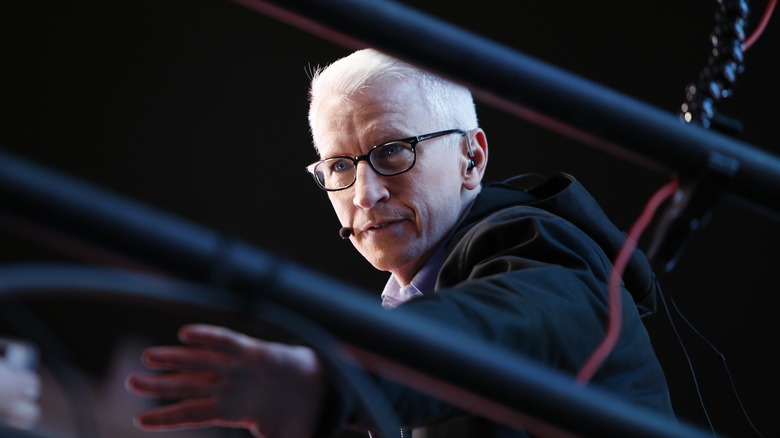 a katz/Shutterstock
Despite all of that back and forth, Anderson Cooper did push back on Alec Baldwin's claims that he called the actor homophobic. "I never said he was homophobic ... I have no idea what's in his head, so ... I was surprised at how upset he seemed to get for some reason at me, and he said something in New York Magazine recently about me again, like out of the blue," Cooper said, referring to Baldwin's essay in the magazine (via E! News). According to Baldwin, he was "labeled a homophobic bigot" by Cooper and others he considered part of the "Gay Department of Justice," in New York Magazine (via Vulture).
Before Cooper went on the "Howard Stern Show," Baldwin had gone on, telling Stern that he understands Cooper "has a job to do" as a person in the media. "And that job is to try to reinforce his credibility in the gay community after the fact that you couldn't get him out of the closet for 10 years with a canister of tear gas," Baldwin said (via Out). "Now he's the sheriff. Now he's running around writing everybody a ticket!"
Basically, Baldwin saw Cooper's valid criticisms as Cooper calling him homophobic and "vilified" him for views. Cooper, however, insisted he "didn't speak out against him," but just "sent maybe two tweets" with his opinion, the CNN anchor told Stern (via E!).