Offset's Beef With Chris Brown Fully Explained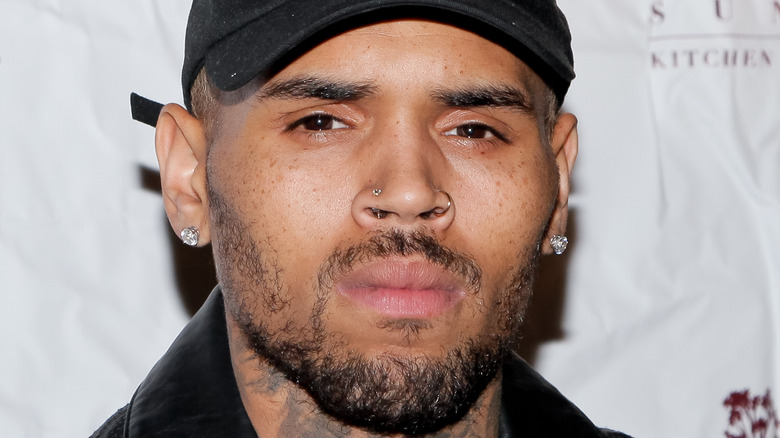 Tibrina Hobson/Getty Images
It's sometimes hard to imagine that Chris Brown used to maintain a clean-cut image and was referred to as the prince of pop. While he started as an R&B singer, he churned out pop hit after pop hit early on in his career, selling a whopping 1.6 million copies of his debut album in the U.S. alone. At one point, pop legend Prince even expressed interest in mentoring him.
But Brown's tenure on top of the world was short-lived, and come 2009, he experienced his downfall after he assaulted his then-girlfriend Rihanna. While he managed to keep much of his fanbase, public mistrust and overall contempt clouded his career, and it's hard to say if it would ever return to its former glory. It doesn't help that he's had multiple run-ins with the law and continues to involve himself in beef with fellow artists. He once fought Drake over Rihanna and got into an altercation with Frank Ocean because of a parking spot. 
Brown also seems to harbor a penchant for starting online feuds with his peers, which contributes to the public's disdain for him. For instance, in 2017, he berated rapper Soulja Boy for liking an Instagram photo of his then-partner Karrueche Tran. In 2019, he also clashed with Migos member Offset when the latter called him out for making fun of rapper 21 Savage's detainment by ICE.
Chris Brown and Offset got into a fight over 21 Savage
In 2019, 21 Savage was brought into custody by Immigration and Customs Enforcement (ICE) for allegedly entering the United States illegally back in 2005. The New York Times reported that the rapper — whose real name is Sha Yaa Bin Abraham-Joseph — was categorized as an "unlawfully present United Kingdom national." Many of his friends in the industry came to his defense, including Jay-Z, Meek Mill, Cardi B, and Pusha T. The exception? Chris Brown, who instead chose to make light of the situation by posting memes about him.
Brown shared a clip of the rapper's performance, but instead of his voice, Brown replaced the audio with Big Shaq's "Mans Not Hot" track, alluding to his British accent. Offset wasted no time calling out Brown, commenting, "memes ain't funny lame." Feeling that Offset spoiled his fun, Brown then went on an online rampage, telling the "Stir Fry" rapper to "worry about what u got going" and that, if he's a "real man," he must "fight me."
Offset also didn't back down, revealing on Instagram Stories that Brown's camp had apparently reached out to him to "squash the s**t," but he won't hesitate to "smack the s**t" out of Brown when they see each other. Apparently, they also traded DMs, with Brown posting screenshots of him inviting Offset to his home to fight. Things only died down when TMZ reported that instead of Offset, it was the authorities who pulled up to Brown's residence to check on the singer.
Offset regrets getting involved with Chris Brown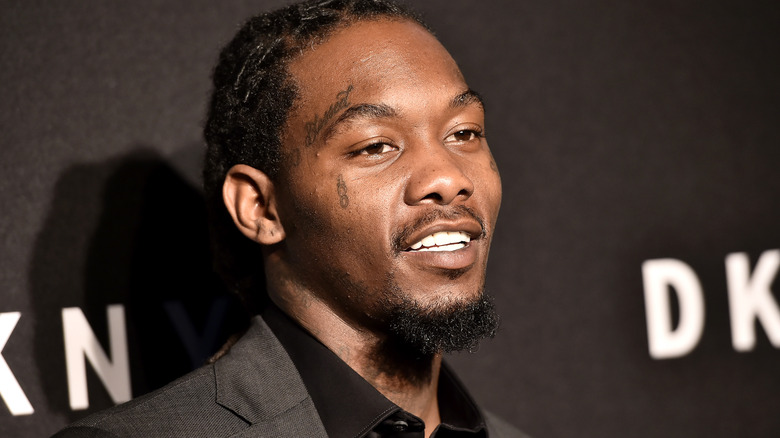 Steven Ferdman/Getty Images
A few days after their online beef, Offset admitted that he felt regret over what he had done. In an interview with Hot97, the rapper admitted that his feelings got the best of him and that he should have known better than to get involved in some petty drama.
"I shouldn't have even did that. I don't let people reel me up because I'm really — whatever message you trying to put, I've done it for real," he explained. "See, the thing about the internet, people wanna go, 'hahaha', but when something goes left, the internet gonna tell on you and the person gonna tell on you. I ain't trying to get in no trouble."
Meanwhile, 21 Savage told The New York Times that he understands why such memes exist, but at the end of the day, they don't affect his life. "It ain't about the meme, it's about the bigger picture," he shared. "But I done been through way worse things in my life than somebody putting me on a meme. I been shot — what is a meme? A meme is nothing. That's something on the internet that I can do like this [turns over phone] and never see again. I look at bullet scars every day, so it's like, a meme, bro?"