Colin Farrell And Angelina Jolie Sparked Romance Rumors While Filming Alexander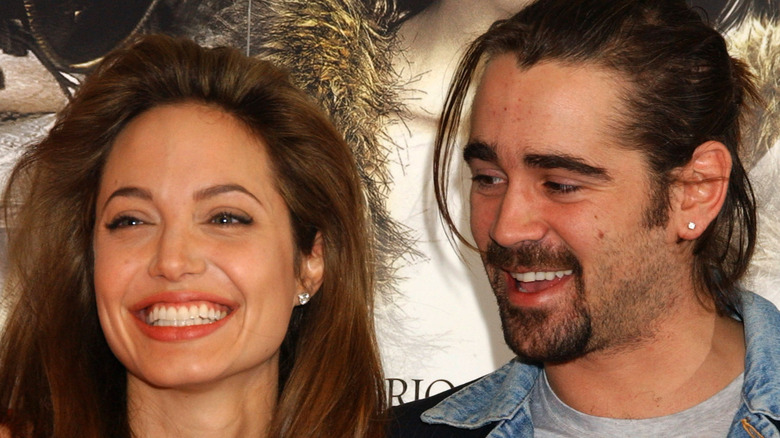 Dave M. Benett/Getty Images
For celebrities, there are not that many fish in the sea. Given their grueling work schedules, it's tough for many of them to explore the dating pool beyond their immediate circles, which is why many of them end up with fellow celebrities. There's an almost endless list of stars who have dated colleagues, with quite a number of them having met on set.
Case in point: Rachel McAdams and Ryan Gosling first laid eyes on each other on the set of "The Notebook," and while they didn't strike up a romance until after filming ended, theirs was a love story that fans still fawn over to this day. Another notable example is Angelina Jolie and Brad Pitt, who worked together on "Mr. & Mrs. Smith." Their relationship was highly contentious at first since Pitt was still married to Jennifer Aniston at the time (this is, of course, a whole other story), but the two later admitted that it was during the production that they "fell in love."
Interestingly, Pitt isn't the first co-worker Jolie was romantically linked with. Rumor has it that she also had a romantic past with Colin Farrell, who she worked with on "Alexander," where she played Olympias while Farrell played Alexander the Great.
Colin Farrell and Angelina Jolie denied dating each other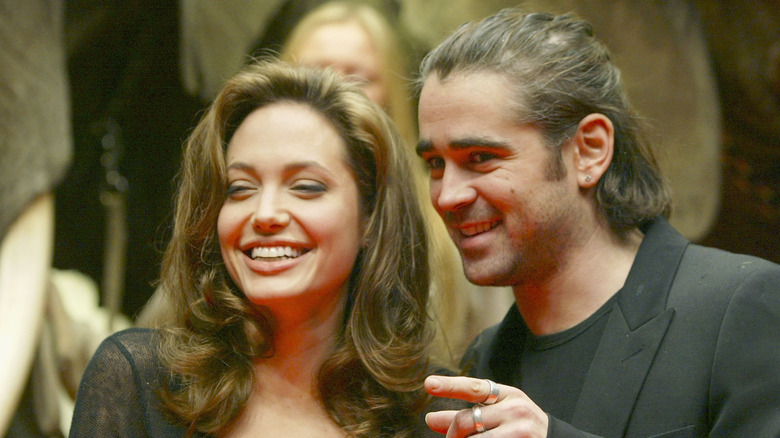 Ralph Orlowski/Getty Images
Colin Farrell would be the first one to tell you that he doesn't have fond memories of "Alexander." After the movie bombed at the box office, he admitted to The Hollywood Reporter that he felt "so much shame" at the time. "I found myself in a place where with everyone I met I wanted to say, 'Have you seen 'Alexander?' If you have, I'm really sorry.' I'm not even joking," he said.
If there was something positive to come out of the experience, though, it's probably his romance with Angelina Jolie — or so the grapevine says. There's no confirmation that the two ever dated, but Jolie had nothing but praises to say about her co-star when they worked together. "He knows when he needs to take care of business. I think that's why he should be allowed and excused to be as wild and crazy as he wants," she said of Farrell, per People. Meanwhile, Farrell once described Jolie as his type. In a press release, he gushed about his co-star: "Angie's pretty close to my perfect woman," he confessed (via Cinema.com). "At the moment I am single but Angelina could well and truly be the right woman. She certainly comes close."
Whether they had the hots for each other or if they simply respected one another as colleagues, we'll never really know, but Farrell once denied the dating rumors outright. "Angelina and I work together. Do you go out with people you work with?" he mused.
Is romance still in the cards for Colin Farrell and Angelina Jolie?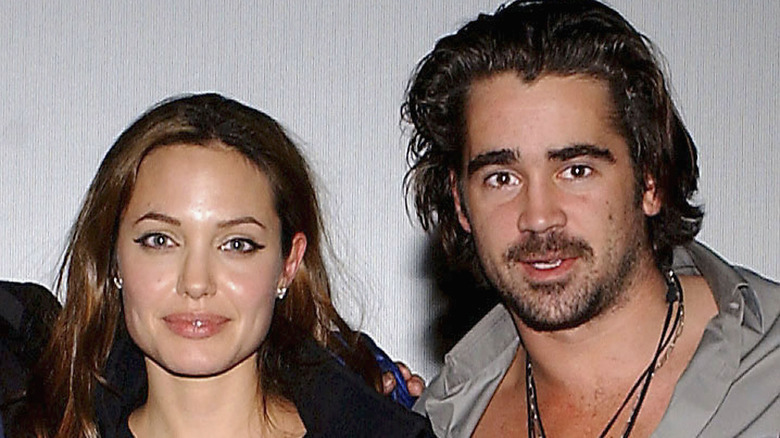 Stephen Shugerman/Getty Images
After filming "Alexander," Angelina Jolie went on to marry Brad Pitt, while Colin Farrell was linked to a string of high-profile names, including Britney Spears, Lindsay Lohan, Carmen Electra, and Elizabeth Taylor. In 2013, in an interview on "The Ellen DeGeneres Show," Farrell noted that Taylor was the "last kind of romantic relationship" he had (via Us Weekly).
But in 2019, rumors about romance sparking between him and Jolie made the rounds once again, especially since the latter made an appearance — with her kids, no less — at the "Dumbo" premiere, a movie in which Farrell starred in. At the time, a source dished to Life & Style Magazine that the two former co-stars have talked about reconnecting and that over the years, the "flirtation" between them "has never gone away." The insider noted: "He still thinks [she's] sexy and a badass, and she loves that he's such a ruggedly handsome who's sensitive, too. They're actually perfect for each other."
Sad news for Angelina and Colin shippers, though. The "Tomb Raider" star reportedly isn't planning on getting serious with anyone in the foreseeable future. "Angelina isn't dating anyone and won't be for a very long time," a source close to her revealed to Entertainment Tonight. "She is focused on her children and their needs."