What's The Real Meaning Of Mountain With A View By Kelsea Ballerini? Here's What We Think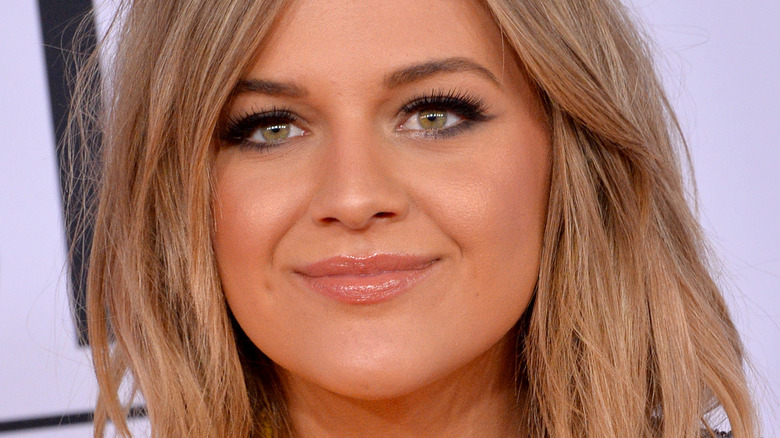 Featureflash Photo Agency/Shutterstock
As a little kid, Kelsea Ballerini knew precisely what she wanted to do when she grew up — she wanted to be a country music superstar like her idol Taylor Swift. So, she packed up her guitar and headed to Nashville, Tennessee, when she was just 15. Ballerini signed her first record deal with the independent label Black River Entertainment four years later. She was on the way to achieving her dream and showed no intention of looking back.
Ballerini is renowned for writing about her feelings and emotional struggles and laying her life bare in her music. "If I can openly and vulnerably talk about that, then the majority of the people that listen to it will identify with probably one of those emotions, whether they're younger or older," She told Vulture.
In August 2022, Ballerini had some sad relationship news to share with her fans. After five years of marriage, she was getting divorced from her husband, fellow country star Morgan Evans. "This deeply difficult decision is the result of a journey of love, growth, and effort that has ultimately come to an end," she wrote on her Instagram Story. It was inevitable that Ballerini's feelings about the sad split would work themselves into her music. And they did, resulting in "Rolling Up the Welcome Mat." One of the tracks from the surprise EP seems particularly personal. So, what's the real meaning of Mountain With A View by Kelsea Ballerini? Here's what we think.
Mountain With A View by Kelsea Ballerini is about when she knew her marriage was over
Kelsea Ballerini put the final nail in the coffin of her marriage to Morgan Evans in November 2022. She was young, free, and single — but she headed to the studio, not the nightclubs. The result of her turmoil, "Rolling Up the Welcome Mat," is filled with self-reflection as she mourns the end of their relationship. So, what's the real meaning of "Mountain With A View" by Ballerini?
Well, it's about Ballerini being alone in the home she shared with Evans and realizing that things are over. "It's 7 A.M., and I'm on a mountain with a view. I'm the only one alone at a table meant for two," she sings in the son's intro. "Big Sur looks beautiful this morning. And I should be missin' you. I should be missin' you."
On the track, Ballerini confesses she feels like the two have stopped trying to save their marriage. "I'm wearin' the ring still, but I think I'm lyin','" she croons in the chorus. "Sometimes you forget yours; I think we're done tryin'. I realize you loved me much more at twenty-three. I think that this is when it's over for me." As Ballerini tells herself to walk away, she ponders if Evans even realizes how she's feeling. "I think that this is when I cut the ties. I think that is when I set myself free. One day you'll ask, 'When was it over for you?'" She pipes during the song's bridge.
Kelsea Ballerini's rumored to be enjoying a totally different view these days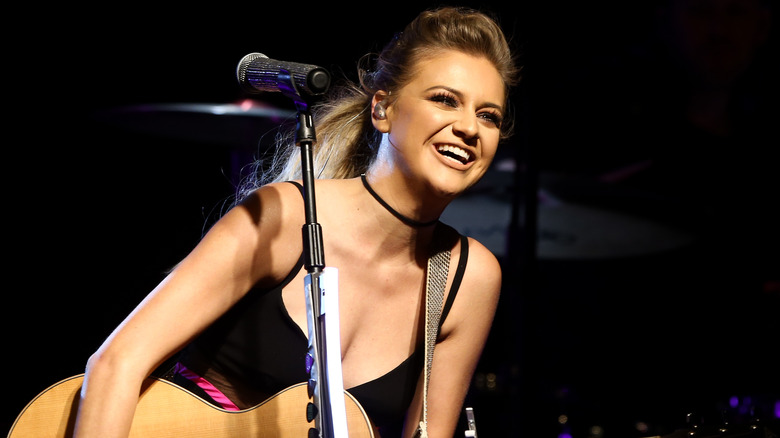 Debby Wong/Shutterstock
Kelsey Ballerini and Morgan Evans didn't throw in the towel on their marriage at the first hurdle. The couple gave it their very best shot before filing for divorce in August 2022. "They've been working on their marriage for a very long time," a source told People. "Prior to this, they had separated privately once before and have been in therapy for several years." There was no need for squabbling over money and assets as, thankfully, there was a prenup in place before the couple walked down the aisle. This is just as well, given that Celebrity Net Worth estimates Ballerini's mega-successful career has already bagged her a cool $6 million.
Meanwhile, according to the Nashville gossip mill, Ballerini has landed herself a new man, Chase Stokes. She was rumored to be getting hot and heavy with the "Outer Banks" actor after an Instagram pic surfaced, showing the back of a mystery lady's head leaning on his shoulder. Fans were quick to ID her as the country singer.
However, Stokes insists he's just vibing with Ballerini and that they're keeping it strictly casual. "Kelsea is a lovely, lovely girl. She's great," he told People. "We're having a good time." Fans believe that the two are having a much better time than he's letting on, though, as TikTok evidence appears to show, things are getting pretty steamy between the two, who are already enjoying sleepovers at each other's pads.