T.J. Holmes Praised Amy Robach's Marriage Not Long Before Their Scandal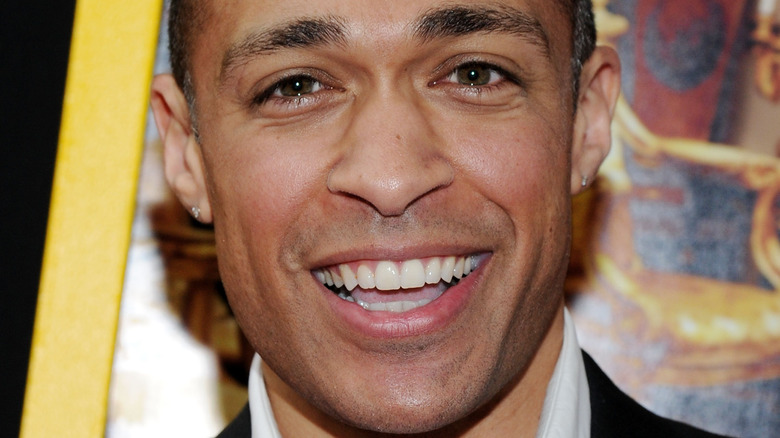 Ilya S. Savenok/Getty Images
There's an old saying amongst journalist: Never become the news. However, that's exactly what happened in 2022 when The Daily Mail published photos of "Good Morning America" hosts T.J. Holmes and Amy Robach snuggling up to each other. The co-anchors — who were both married to other people at the time — caused an Internet sensation that led to their dismissal from ABC a few months later.
While network president Kim Godwin first suspended Holmes and Robach, she ultimately felt it was in the show's best interests to cut ties. "After several productive conversations with Amy Robach and T.J. Holmes, about different options, we all agreed it's best for everyone that they move on from ABC News," a spokesperson said in a statement, via CNN.
These conversations were supposedly "extremely contentious," but Robach and Holmes are taking everything in stride. Jobless they may be, but unhappy they are not. At least, judging by their loved-up photos, anyway. "Amy found love and now she has to find a new job and she's OK with it," a source told Us Weekly in February. Unsurprisingly, Roach's new romance has made things difficult between her and her ex-husband, Andrew Shue, who aren't "on the best terms." "Andrew wants nothing to do with [Amy] leaving GMA and her being with T.J.," the insider revealed. It's a total 360 degree swivel from how Holmes once described Robach's marriage, prior to the scandal with his co-star.
T.J. Holmes gushed over Amy Robach and Andrew Shue's love story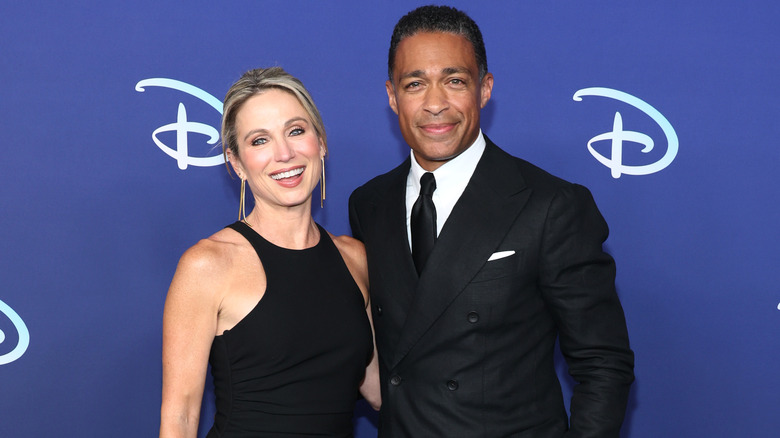 Dia Dipasupil/Getty Images
So much can change in a year. In October 2021 — about a year before T.J. Holmes and Amy Robach's affair broke the Internet — Holmes introduced Robach and her then-husband in a "GMA3" segment. "These are absolutely two of my favorite people on the planet. So, of course, you all know Amy Robach and her husband here Andrew Shue, who is a dear, dear friend as well," Holmes said, when the pair went on-air to promote their book, "Better Together." Referencing Shue and Robach's blended family, Holmes went on to praise their relationship, calling it "a love story like no other."
What's unclear is whether this was a genuine comment from Holmes, or whether he was taking his cues from a script. Furthermore, the state of Holmes and Robach's relationship at the time of this comment is murky. It's true that their affair only made headlines as of late 2022, but some fans speculate that they may have been intimate long before that. "TJ Holmes and Amy Robach must be bumping pelvises," one Twitter user wrote in 2020. "There were rumors they were having an affair about a year ago," a source dished to People in December 2022, after the Daily Mail photos went viral. "...You can see there's a mutual affection there. But everyone ultimately chalked it up to friendship because they always said they were both happily married."
T.J. Holmes' marriage wasn't what it seemed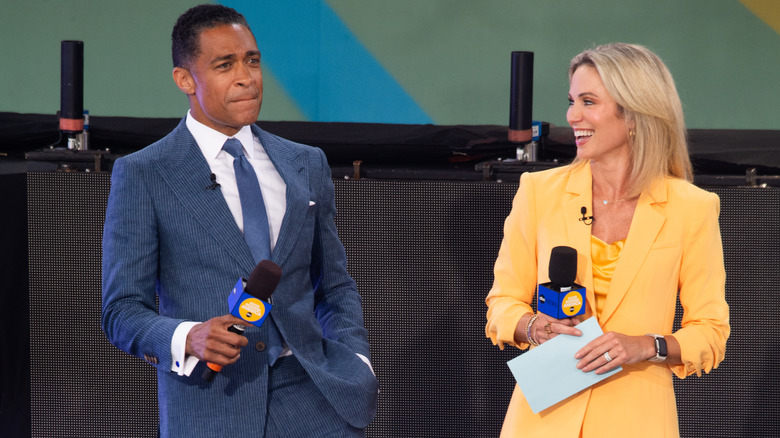 Noam Galai/Getty Images
T.J. Holmes and Amy Robach's affair was made doubly painful because the pair were friends with each other's spouses. "We've gone on tons of double dates with our spouses and my daughters babysit his daughters," Robach told People. The affair was a betrayal for both former spouses — and though Andrew Shue hasn't spoken on it much, Holmes' ex, Marilee Fiebig, broke her silence in January. Noting that Fiebig's focus remains on the pair's daughter, Fiebig's lawyer Stephanie Lehman said, "We continue to be disappointed by T.J.'s lack of discretion, respect and sensitivity toward Marilee and the party's daughter." Ouch.
But was Fiebig truly blindsided by her ex-husband's affair with Robach? Clearly, their marriage wasn't as picture-perfect as it seemed on the surface. In 2020, Holmes posted a telling Instagram tribute to Fiebig, in which he thanked his wife for standing by him, "despite his best efforts," because he'd given her "plenty of reasons, excuses, and opportunities to walk her fine a** out the doooooooor." It's not exactly the standard for happy birthday messages to your significant other on Instagram.
Furthermore, there was the matter of Holmes' previous indiscretions in the workplace. In 2015, a source told The Daily Mail that he had a fling with a 24-year-old staffer. "He was a predator who took full advantage of his position," the insider added. For now, it remains to be seen whether Holmes' relationship with Robach will go the distance.