Where Is Ben Affleck And Jennifer Garner's Former Nanny Christine Ouzounian Now?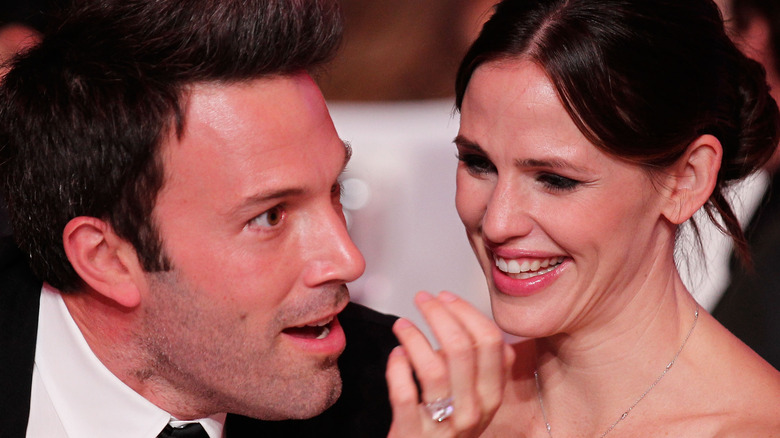 Christopher Polk/Getty Images
At the time that they were married, Jennifer Garner and Ben Affleck seemed to have a solid relationship. While it's never clear what people are going through behind closed doors, they were together for a decade — a century in Hollywood couples' terms — and had three kids. Despite seeming like they had few problems (or that they were just healthier than other celebrity partners), Affleck and Garner announced their divorce in the summer of 2015, a day after their 10th anniversary. Breakups are never fun, especially when kids are involved. However, there were rumors at the time that the couple's former nanny, Christine Ouzounian, had an affair with Affleck resulting in the divorce.
While Affleck denied the existence of the affair completely, Garner also denied an affair had anything to do with the divorce. It was soon dubbed "Nannygate" by the media at the time, and Ouzounian seemed to thrive in the spotlight. Ouzounian made a quippy Instagram post right around the time all of these rumors were hitting their peak. On top of that, they said that she allegedly tipped the paparazzi off to snap some pictures of her delivering champagne to Affleck's residence one month earlier. Regardless of what the truth was, what happened to the celebrity nanny?
Rumors said Ben Affleck cheated on Jennifer Garner with nanny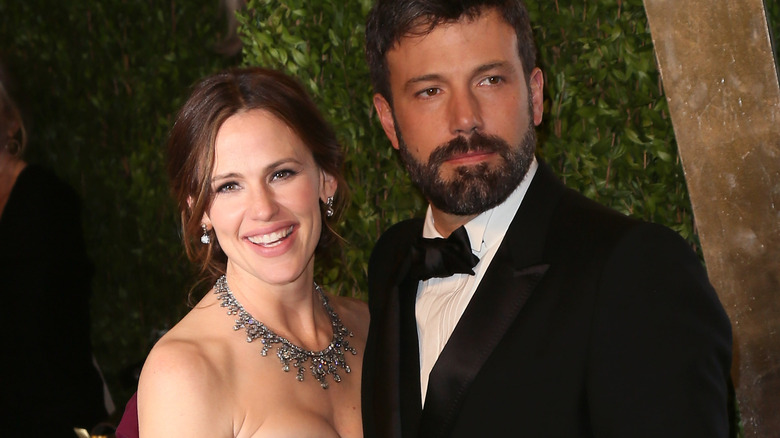 David Livingston/Getty Images
A month after Ben Affleck and Jennifer Garner's divorce was announced, a tabloid alleged that Affleck was cheating with Christine Ouzounian, causing the split. The then-28-year-old was a nanny to the three Affleck-Garner kids for only a few months. At this point, the tabloid claimed Garner fired her before this news of an affair came out. Ouzounian's friend told the tabloid "they were very flirty" and hung out without the kids. Affleck's camp quickly and passionately denied the rumors. "It's tabloid journalism hiding behind blind sources," they said, according to E! News. "It's a shameful ploy to stay relevant for the magazine." They even said they were "considering legal options" regarding the matter.
A year afterward, Vanity Fair interviewed Garner and asked about the whole scenario. "Let me just tell you something," Garner said. "We had been separated for months before I ever heard about the nanny. She had nothing to do with our decision to divorce. She was not a part of the equation." The "Alias" star did say that it was "bad judgment" to hire her, but mostly because "it's not great for your kids for [a nanny] to disappear from their lives." She said her "eyes were wide open" during the marriage. Due to the affair and abrupt departure of Ouzounian, Garner said she'd have to have "conversations about the meaning of 'scandal'" with her kids. They were between the ages of 4 and 10 at the time.
The former celebrity babysitter now works in insurance
Now that we're seven years removed from the drama, what is former nanny Christine Ouzounian up to? While there were rumors Ouzounian was going to appear on "The Bachelor" franchise at some point, that never came to be. And the former nanny didn't get into show business. According to Ouzounian's LinkedIn, after her position as a personal assistant — most likely her job right before her short stint as the Affleck-Garner household's nanny — she went into real estate. She was a property manager for residential properties in Palm Springs and Bel-Air, California for about a year and a half. By January 2017, Ouzounian was a Lead Account Executive at StepsAway, Inc. Now Ouzounian has been working as an Assistant Vice President of National Commercial Sales for four years at Commonwealth Land Titles Insurance Company in Los Angeles. This company has been providing "Title Insurance, Escrow Services, and National Commercial Services since 1876," she wrote on her profile.
Her profile says she's an "experienced national sales executive with a demonstrated history of working in real estate." It lists her skills in "negotiation, sales, hospitality industry," and more, and states that she got a B.A. in communications at Arizona State University. She no longer has an Instagram account, and really only has a reliable LinkedIn. However, with her communications and management skills backing her last few jobs, she seems to be doing pretty well.