What Really Happened Between Ashton Kutcher And Rihanna?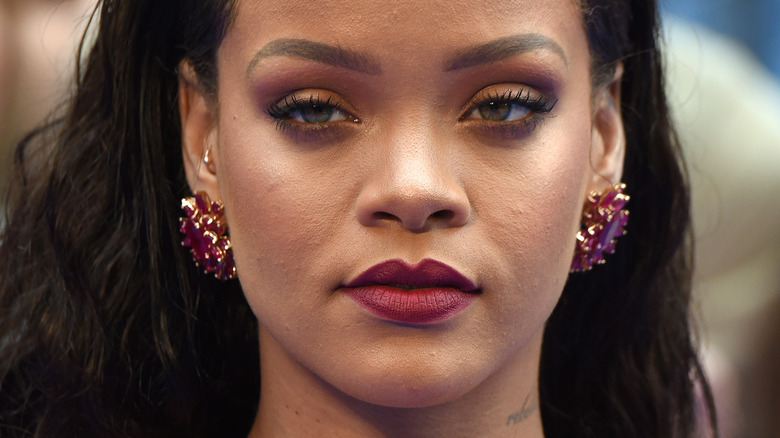 Anthony Harvey/Getty Images
Global icon, billionaire, and founder of Savage x Fenty, Rihanna could probably be with any man she wanted. Ever since she broke into the music industry at just 16 years old, there's been no shortage of men who have lined up to be her Mr. Right. One of her most famous exes, Drake, tried his best to make it "work work work"with Ri. After first meeting on the set of "Pon de Replay" in 2005, the two were spotted bowling and canoodling, according to Page Six. Drake later referenced the date night in his song "Fireworks," singing, "Who could've predicted Lucky Strike would have you stuck with me / D**n I kept my wits about me luckily." Despite calling Ri his "ultimate fantasy" in 2014, and publicly professing his love at the 2016 MTV Music Video Awards, it wasn't meant to be.
As of this writing, Rihanna shares a son with A$AP Rocky and the happy couple is expecting another child. "When you become a mom, there's something that just happens where you feel like you could take on the world. You can do anything," Ri said about motherhood at a press conference ahead of Super Bowl LVII. Now, with her second child on the way, and a Super Bowl Halftime show under her belt, Ri seems happier than ever. While we're speculating whether wedding bells might soon ring out in her future, let's take a look at one of her lesser-known exes.
Rihanna had a fling with Ashton Kutcher during his divorce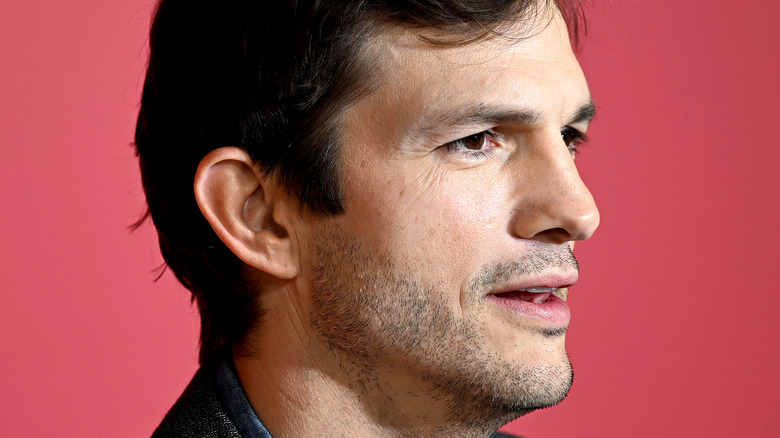 Albert L. Ortega/Getty Images
No, you're not getting "Punk'd" — Rihanna and Ashton Kutcher really did make headlines for their alleged fling in 2012. At the time, Kutcher had separated from his wife, Demi Moore, though their divorce wouldn't be finalized until 2013. Meanwhile, Ri was doing her thing: making great music and having fun. Extra reported that the two first connected at a friend's house in December 2011, where they swapped numbers and made plans to hang out. "Rihanna has told friends [Ashton is] funny and cute. Both of them love a good time and think they're too busy for anything serious just yet," a source reportedly told The Sun. In March of 2012, Ri was spotted leaving Kutcher's house very early in the morning, according to the Daily Mail. Given their respective breakups from high-profile exes — Kutcher from Moore, and Ri from Chris Brown — it made sense that they'd want to keep their "8-week fling" under wraps.
Even though it was short-lived, things were hot and heavy between the actor and the singer. "[Rihanna] is starting to inquire about Kabbalah sessions with his rabbi," another source claimed. "If she and Ashton are getting really close, she wants to be able to understand it." As far as we know, Ri is no Kabbalah convert, and she also didn't speak publicly about her time with Kutcher, which put a damper on their budding relationship.
Rihanna prefers to maintain her privacy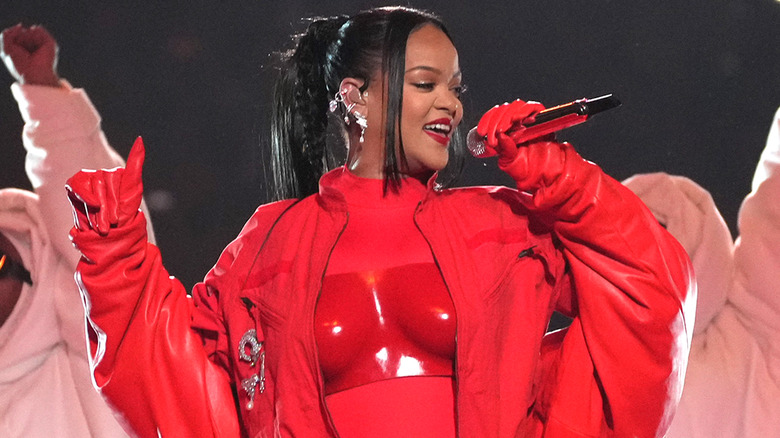 Kevin Mazur/Getty Images
Maybe Rihanna didn't want to cause problems between Ashton Kutcher and his ex, Demi Moore. Whatever her reasons, the "Umbrella" singer remained tight-lipped about what went down with Kutcher. In fact, according to TMZ, when she was directly asked about her relationship, she tore into a reporter for asking an invasive question. "Wow, how disappointing was that question," she replied when asked whether Kutcher would be visiting her on the set of her 2012 movie "Battleship." "I'm happy and I'm single, if that's what you're really asking." On a separate occasion, Rihanna was asked a softball question about her love life, and walked out of the interview, according to PopCrush. In the same discussion, she called the rumors about who she does or doesn't date "very frustrating."
Historically, Rihanna has never been one to give the media free rein with her romances, preferring instead to maintain some privacy. For example, when asked who she was dating in 2019, Ri told the reporter to "Google it." And since becoming a mom, privacy has only become more important to the entrepreneur. In the March issue of British Vogue, the singer explained how she went into full mama bear mode when she caught paps trying to take a picture of her son. "We've been protecting him thus far and you don't have any consent to be posting photos or selling photos of my child, a minor. Get the h**l out of here with that," she said. 
In other words, don't mess with RiRi's son. Also, she doesn't kiss and tell.