Shaquille O'Neal Fiercely Defends Rihanna's Super Bowl Halftime Performance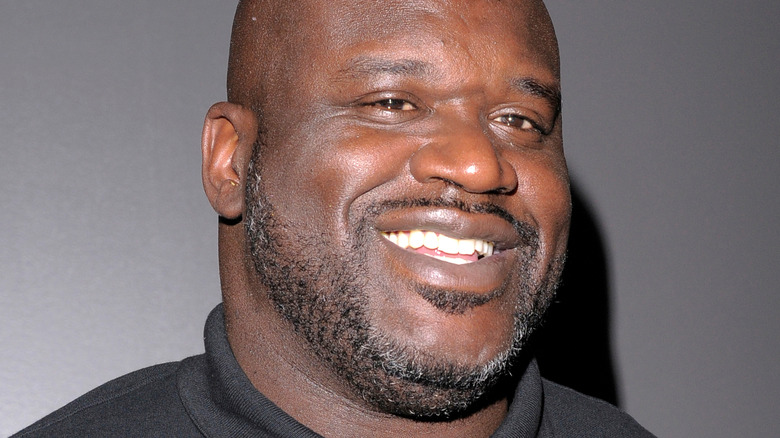 Ron Adar/Shutterstock
While celebrities like Adele attended Super Bowl 2023 for the sole purpose of catching Rihanna's halftime show, not all were blown away by the "Umbrella" singer's first live performance in seven years. Former WWE star Bill Goldberg, for instance, said he was "disgusted by it," calling out one of the singer's suggestive gestures mid-performance. Unlike Rihanna, Goldberg said, national anthem performer Chris Stapleton "didn't grab his crotch every 15 seconds." Bethenny Frankel had a slightly more temperate take. In an Instagram video, Frankel compared the "Diamonds" chanteuse's performing skills to those of pop singer Pink, opining that Rihanna is "much less inspired than Pink" live, dubbing the halftime show in her caption as "good not great." Frankel did concede, however, that "being pregnant cannot make that easy." 
Meanwhile, former commander-in-chief Donald Trump and his White House physician, Ronny Jackson, bashed the Fenty Beauty mogul on Trump's Truth Social platform. Trump wrote in a February 9 "Truth" that, without her stylist, Rihanna would be "NOTHING. Bad everything, and NO TALENT!" The ex-POTUS' insult came in response to Jackson's own post, asking, "Why is the NFL showcasing this crap?" Jackson, in particular, called out the singer for spray-painting "F*** Donald Trump" on a car years ago and "spewing degenerate filth while badmouthing America every chance she gets." 
Apparently, RiRi's bad-mouthers have gotten on Shaquille O'Neal's last nerve, as the NBA legend recently called out her haters directly.
Nobody stans Rihanna quite like Shaq, apparently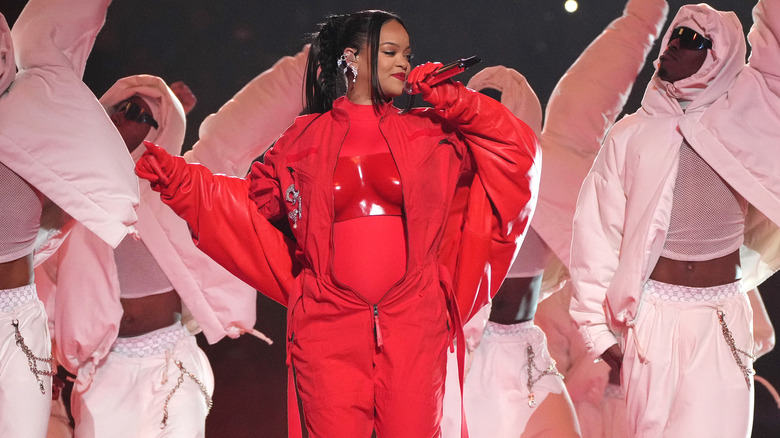 Kevin Mazur/Getty Images
Make room for Shaq aboard the Navy... Speaking on his "The Big Podcast with Shaq" podcast on February 16, Shaquille O'Neal laid down the law with critics of Rihanna's Super Bowl halftime performance. "All you people disrespecting my Rihanna, shut your face. Shut it up. Keep your f***ing thoughts to yourself," the four-time NBA champ began. Noting that the Barbados-born singer was "pregnant" during the show, he continued, "She did a wonderful job... She blessed it. She didn't fall. Just leave it there." 
Addressing Trump and other celebs sharing critiques of RiRi's comeback show, O'Neal said that he would take it even more personally (if that's possible...) if he were A$AP Rocky, Rihanna's beau-slash-baby daddy. "If she was my woman and I seen one of you superstars do that, I'm gonna have to get at you... rappers, presidential candidates... Leave her alone," O'Neal concluded firmly.
Of course, Shaq isn't Rihanna's only celebrity fan who enjoyed the spectacle at Super Bowl LVII. Ellen DeGeneres literally tweeted that it was the "Best #SuperBowl performance ever," adding (with a lot of emphasis) that the "Stay" crooner "sounded great!!! Looks great!!!" Meanwhile, author Jason Tartick took to his Twitter with his own glowing review, writing, "Queens will always be queens. 10/10." Even Rihanna's controversial ex, Chris Brown, fired off a "GO GIRL" on his Instagram Stories after the singer wrapped her set.