What Is Ryan Cabrera Doing Now?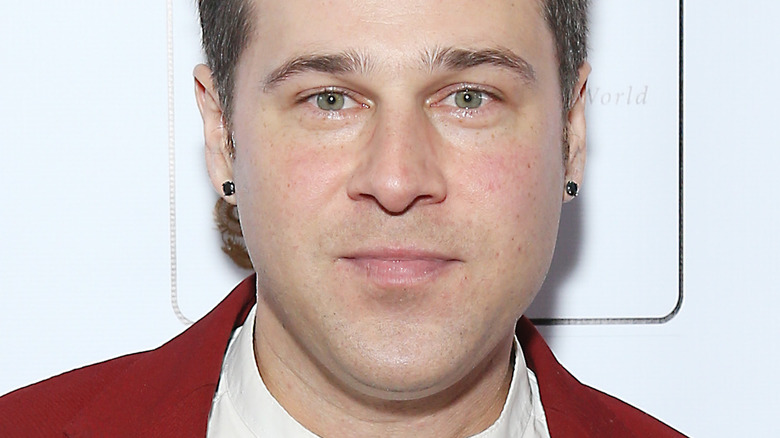 Michael Tran/Getty Images
If you're a fan of early 2000s pop, chances are you're familiar with Ryan Cabrera. The artist first drew recognition as the lead singer for the Dallas band Rubix Grove. He then decided to venture into solo projects, releasing his debut independent album "Elm St." in 2001. In 2004, he released his single "On the Way Down," which quickly dominated iPod Nano libraries everywhere. (Remember those days?) Teenage girls from all over the world fell head-over-heels in love with the dreamy Cabrera, who strummed his guitar while sporting a spiky blond haircut in the Ashlee Simpson-starring music video. (Cabrera and Simpson were even in a relationship at one point, but split after just a year of dating.) Cabrera also famously dated "The Hills" star Audrina Patridge.
Following these high-profile romances, Cabrera eventually found the love of his life. As for his music career? Cabrera may not be pop music's knight in shining armor anymore, but he hasn't fallen out of the spotlight, either.
Inside Ryan Cabrera's heartwarming romance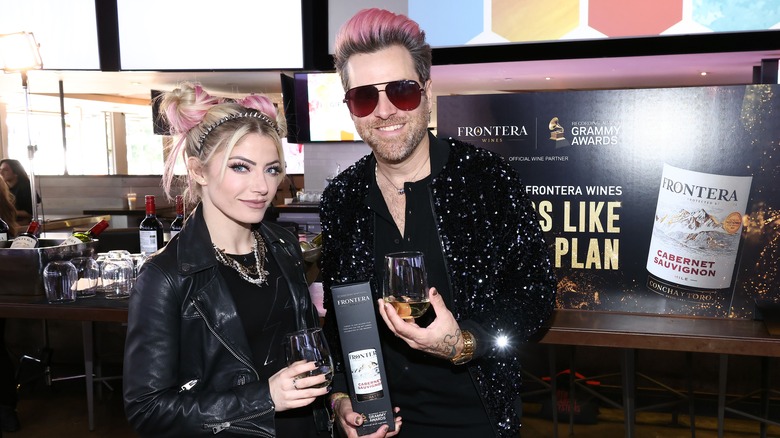 Tommaso Boddi/Getty Images
Ryan Cabrera is now happily married. In April 2022, Cabrera tied the knot with WWE star Alexa Bliss. Ahead of their special day, they shared the inside scoop on their wedding, which took place at the Kempa Villa in Palm Desert, California. Cabrera told People, "It's very us. The whole thing's meant to bring out our personalities, and we are far from just normal." They were captivated by the sweet getaway, which a friend owned. Cabrera noted, "It's absolutely gorgeous and nestled within the mountains. At the bottom, there are vineyards, and behind the house there's a beautiful lake. It's just far enough outside of Los Angeles, too." Their wedding was decorated with unique touches, like a massive, light-up sign that said, "Welcome to the S***show." Instead of flower girls, people strutted down the aisle, handing out shots to the guests. The couple also inspired attendees to get creative with their clothing, prompting them with the question, "What would Harry Styles do?"
As seen on Cabrera's Instagram page, the pair is still going strong. On February 14, 2023, he dedicated a post to Bliss, writing, "Thank you @alexa_bliss_wwe_ for making me look forward to waking up every day!!! Happy Valentine's Day." Bliss also expressed her love for Cabrera on Instagram by sharing a romantic photo of the two kissing. She captioned it, "Happy Valentine's Day no words can explain how much I love you xoxoxo."
Where does Ryan Cabrera's music career stand?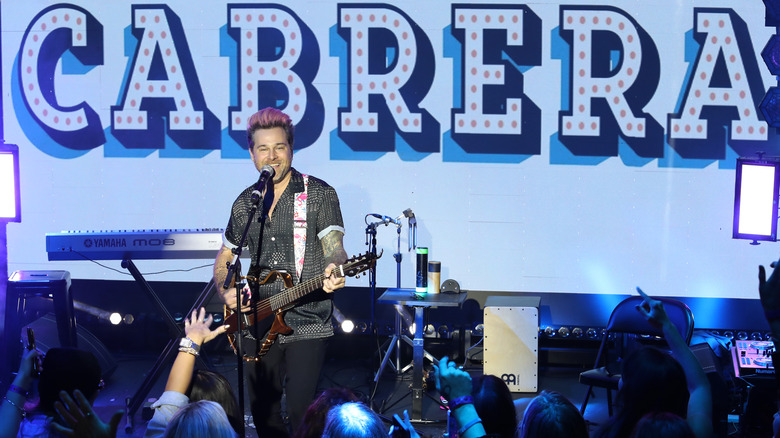 Jerritt Clark/Getty Images
Following Ryan Cabrera's six year hiatus from releasing music, he came out with the single "Worth It" in September 2022. None other than his wife Alexa Bliss served as the inspiration for his song. The music video even includes snippets from their wedding! In a piece by Broadway World, Cabrera revealed, "'Worth It' is a heartfelt song about the journey to find love. Through ups and downs, everyone has a story!! and this one has a happy ending. its a song about reflection, a song that says, even if I had to search a lifetime to find your soulmate, it'll be worth it!" He also released the Christmas single "Spend It With You" in November 2022. Fans can expect more from the singer, as Cabrera has plans to continue sharing new music. 
Cabrera has also recently appeared at major events. In the aftermath of Aaron Carter's tragic death, a benefit concert was arranged to pay tribute to the late star and raise funds for a nonprofit organization focusing on children's mental health, according to The Hollywood Reporter. Cabrera joined other celebrities, such as Nick Carter and David Archuleta, in performing. In addition, Cabrera, along with NSYNC member Joey Fatone, are set to appear at an upcoming St. Patrick's Day karaoke event in Orlando, Florida. Fans have the opportunity to show off their singing chops alongside the two pop icons. Sounds like an unforgettable night!