The Insanely Lavish Gift Justin Bieber Once Gave His Wife Hailey For Her Birthday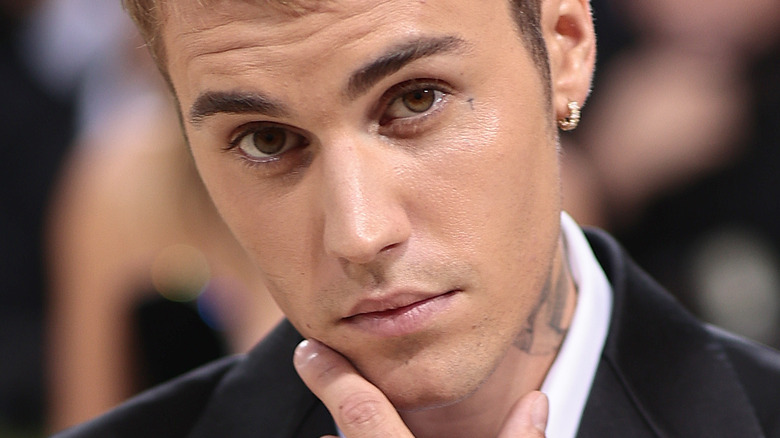 Dimitrios Kambouris/Getty Images
Justin Bieber and Hailey Bieber are spouses who have publicly voiced their love for each other. The couple quietly tied the knot at a New York City courthouse in September 2018, People reported. Later, in 2019, they hosted an elaborate wedding celebration with family and friends in South Carolina, per Elle. Hailey has since spoken about how having been married for a year made this get-together even more special for the love birds. " ... We had gone through so much together in that year, that ... the timing was so perfect, and it was so right," she said in a 2020 Hillsong Channel chat. "And we were so in the right headspace emotionally and physically and mentally."
Justin and Hailey first met as kids, which the "Holy" singer revisited in January 2020 on "The Ellen DeGeneres Show" while calling his wife "an amazing, amazing, amazing person" who is "super precious." In an Apple Music interview with Zane Lowe a month later, Justin opened up about married life with Hailey while discussing his album, "Changes," which sought inspiration from their union. "I'm frigging married now, and I got the best wife in the world," Justin said. "She supports me through so much. I'm really honored to be her husband." In addition to loving words, the two have offered each other gifts as tokens of affection.
Justin Bieber got Hailey Bieber a pricey blinged-out watch for her birthday
In recent years, Justin Bieber got his wife, Hailey Bieber, a luxurious birthday gift worth a pretty penny. In November 2019, Justin posted a short video clip displaying the present on Instagram. The gift was a custom diamond-encrusted watch by Audemars Piguet that Justin bought at Jadelle Jewelry Beverly Hills. The watch was given to Hailey in honor of her 23rd birthday. The "Yummy" vocalist captioned the post, "had to stop by @jadellebh for Hailey's birthday gift flooded AP.. ONLY THE BEST FOR MY BOO." Page Six compared Hailey's watch to a similar model by the luxury watch brand, which is worth $155,000. Since the watch that Justin got for Hailey is a custom item, the news site estimated that this would be worth "a significantly higher price" than a $155,000 price tag.
Aside from extravagant purchases, Justin has also given Hailey simpler gifts that are sweet and sentimental. "I got home from work one day and my husband had flowers just because on the table for me, and no one had ever done that for me before for just no occasion, no specific reason," Hailey told Harper's Bazaar in February 2019 for a video celebrating Valentine's Day. For her part, Hailey has likewise given Justin memorable presents.
Hailey Bieber returned the favor and didn't hold back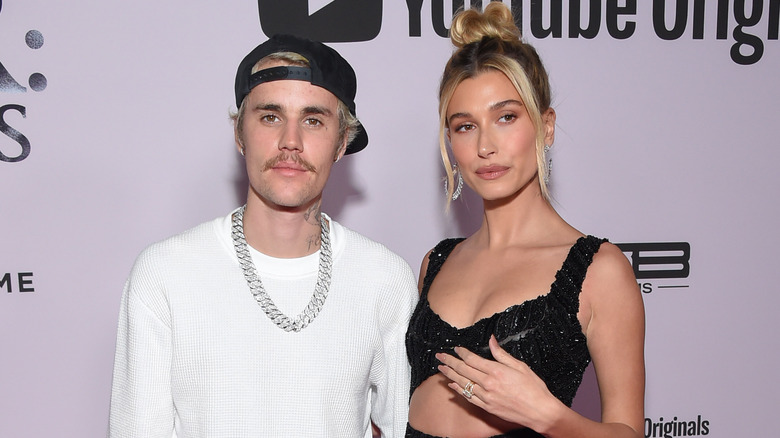 DFree/Shutterstock
Both Justin Bieber and Hailey Bieber have both proven themselves to be skilled gift-givers. Right after Justin gave Hailey a costly blinged-out watch for her birthday in 2019, Hailey got her hubby a diamond-studded necklace, as reported by TMZ. The news outlet wrote that the chain is worth a cool $90,000 and is made up of VVS super white diamonds. Justin showed off his icy chain on Instagram, writing, "got the ice on lock." Following offering this present, in 2020 Hailey gave Justin a $10,000 pink crystallized Dreamsicle for Valentine's Day, per People. This item was made by artist Dan Life, who had previously made a green crystallized Beanie Baby that Kylie Jenner purchased for $12,000. 
Justin's meaningful relationship with Hailey remains a source of inspiration for his music. "I said it before, but love is kind of like the foundation of life and love being the foundation of my music in general," Justin told SiriusXM in April 2022 during an interview on his single, "Honest." "So it's important to me that I'm singing about what I'm living first ..." He then detailed how he focuses on his union with Hailey first and foremost, saying, "She's my priority before anything else."