Here's Why T.J. Holmes Really Left His Job At CNN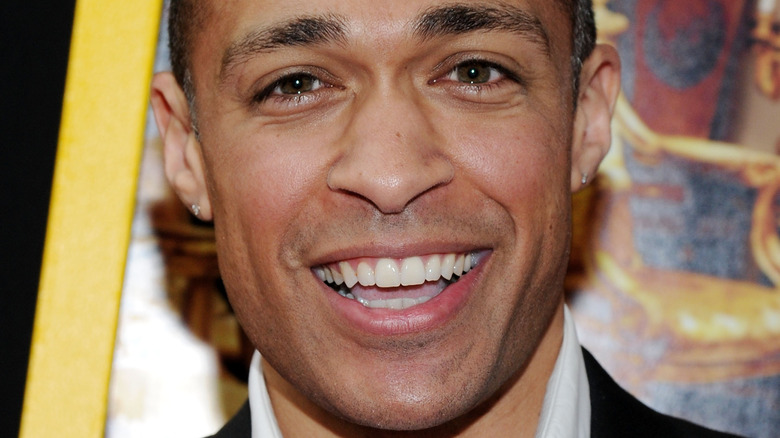 Ilya S. Savenok/Getty Images
In the three months since T.J. Holmes and Amy Robach's affair scandal rocked "Good Morning America" and subsequently led to their firing, there's been plenty of speculation about the ousted news anchors' futures beyond ABC. In February, details of the former "GMA" stars' respective severance packages were revealed, with Robach apparently cashing out higher than Holmes. Apparently Robach's longer history and broader job titles within the company contributed to her heftier payday. In any case, both anchors were paid handsomely in spite of their scandal. Neither Holmes nor Robach have directly addressed their scandal or announced plans for their future, though the likelihood of them landing similarly lauded positions seems rather low — at least until the smoke clears. 
Given Holmes' alleged romantic history with various other "GMA" employees, and both parties subsequent divorce proceedings, that reality seems a long way off. With that said, the pair has silently stood firm in recent months, proudly flaunting public hugs and kisses as recent as late January. Unfortunately, this scandal has overshadowed both anchors' long, decorated history in media. In Holmes' case, his "GMA" axing isn't the first time he's moved on from a high-profile job. In 2011, Holmes left a high-profile position at CNN. However, this particular career pivot wasn't nearly as salacious in nature.
T.J. Holmes got a job at BET Networks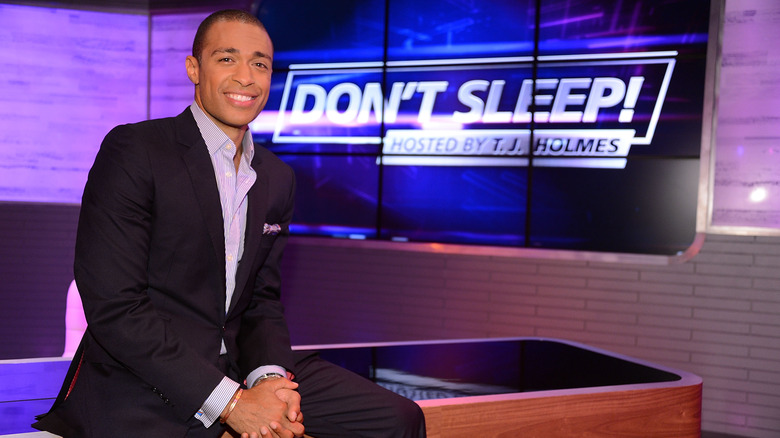 Andrew H. Walker/Getty Images
T.J. Holmes may be best known for his decade at ABC where, in addition to hosting "GMA 3: What You Need To Know," since 2020, he was involved with various other programs. However, ABC was just the latest stop on his career journey. Originally, Holmes worked for CNN as a weekend anchor from 2006 until 2011. According to a memo obtained by HuffPost, Holmes left the network in 2011 to "pursue other opportunities." As it turns out, one of these opportunities included an exciting new opportunity with BET Networks.
In December 2011, BET announced they had scooped up Holmes in a "multi-talent platform agreement." "We are simply ecstatic to have T.J. Holmes coming to our fold. He's been an outstanding news anchor and we look forward to working with him in a variety of new ways on BET," said network executive Stephen G. Hill. "It's now upon us to develop vehicles that capture his intelligence, curiosity about the world, warmth, humor and compassion. It's a challenge that we are happy to have." One of Holmes' new ventures included hosting a late-night show, titled "Don't Sleep,"  which premiered in the fall of 2012. The show allowed Holmes to report on a variety of topics revolving around the African American community, including politics and pop culture.
Why T.J. Holmes and BET parted ways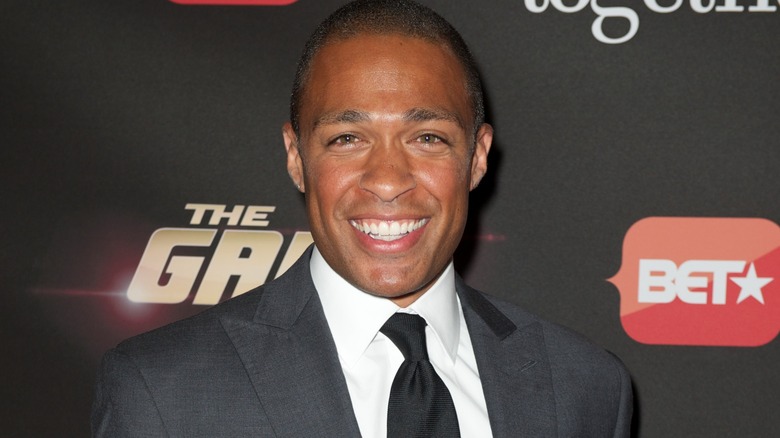 Earl Gibson Iii/Getty Images
Unfortunately, T.J. Holmes tenure with BET would be a short one. The network canceled "Don't Sleep" after only one season due to lack of interest from viewers. Originally, "Don't Sleep" premiered to rather impressive ratings, garnering more than one million viewers during its debut. However, the show lost nearly two-thirds of its audience. The next year, Holmes addressed BET's decision to cancel his short-lived show and also shared some insight about his journey. "I will never, ever regret thinking that my heart was in the right place," Holmes shared in a now-deleted column for The Root, according to Essence. "You learn from your mistakes, there are questions I should have asked, things that should have been cleared up." 
Fortunately, Holmes eventually found another pathway. Following his departure from BET, Holmes joined ABC network, where he kicked off his long history with the company. His first roles entailed co-anchoring "America This Morning" and "World News Now." From there, Holmes slowly gained more responsibilities at ABC until officially becoming a "GMA 3" co-anchor in 2020. And while Holmes' relationship with ABC is likely over for the foreseeable future, he's already proven that he knows how to bounce back from a setback or two.