RHONJ: Who Is Frank Catania's New Girlfriend, Brittany Mattessich?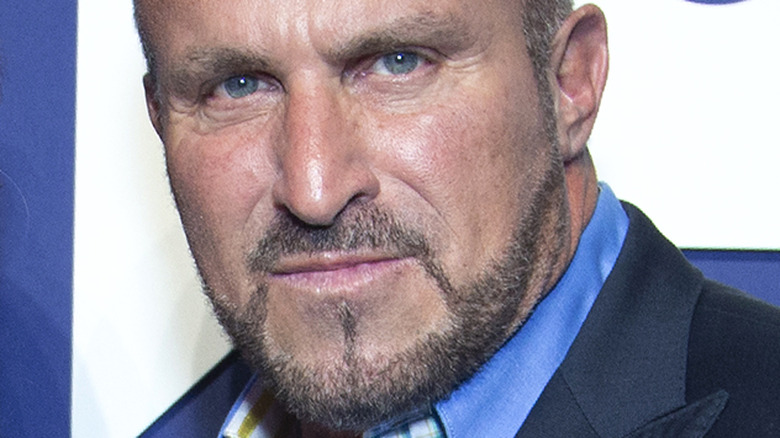 Santiago Felipe/Getty Images
Dolores Catania's famously chummy ex-husband, Frank Catania, has a new lady in his life. But just what do we know about her?
First things first: While Brittany Mattessich's current relationship with Frank is still relatively new, the two have known each other for a hot minute. And by hot minute, we mean more than a decade. The two were friends for ten years before their relationship took a romantic turn, they revealed in an exclusive interview with Page Six. The two officially became an item around the start of 2022 but told the outlet they'd been romantic for three years before things got serious. That said, it seems the two opted to keep things quiet — on social media, at least — for the early days of their courtship. Despite being romantic for years at that point, Brittany's first Instagram post featuring Frank came in May 2022 and saw Brittany wishing her bae a happy birthday alongside a picture of the two on the beach. Soon enough, the social media floodgates opened, and a month later, she shared a shot of her and Frank at Dolores' charity baseball game. Oh — and did we mention that in their Page Six interview, Frank said Brittany would appear in "Real Housewives of New Jersey" Season 13?
It's obvious then that these two are fully involved in each others' worlds. However, our question remains. Just what do we know about Brittany Mattessich? 
Frank was her trainer
Sure, Frank Catania and Brittany Mattessich are an item today, but they had a working relationship at first. As Brittany revealed in an episode of the "Side Piece with Melissa Pfeister" podcast, Frank was her personal trainer once upon a time.
"He was my bodybuilding coach when I did bikini," she explained. The two worked together for the duration of her time doing bikini contests, but that was the extent of their relationship at the time, although Brittany did note that she was attracted to him. As for Frank, he revealed he has always been attracted to her but never attempted to cross the line. "I was afraid to make the first step, you know. Because I'm very shy," he admitted. Eventually, after Brittany quit doing competitions, they began spending time together in a personal capacity, and the rest is history. 
Training together wouldn't mark the end of their working relationship, though. With Brittany now featuring in "Real Housewives of New Jersey" Season 13, the couple has gone from coach and contestant to co-stars. That said, don't expect Brittany to get involved in any drama. Speaking to Page Six, Frank made it clear he's kept a close eye on that. "I'll interject before it gets anywhere," he said. While that's a sweet gesture, there's a good chance that wouldn't be necessary, anyway.
... and his family and co-stars alike are her biggest fans
Frank Catania may have told "Side Piece with Melissa Pfeister" that he was determined to shield Brittany Mattessich from negativity online. However, when it comes to his circle IRL, it seems that was never a cause for concern. 
Case in point: Everyone in his life loves her just as much as he does. He told Page Six that when it came to the "Real Housewives of New Jersey" cast, everyone knows better than to start a beef with her — simply because she's so sweet. "You can't start with Brittany. You can't argue with Brittany. You just can't. If you do, you look bad," he gushed. As for his family, Frank revealed that they, too, were massive fans. Speaking of the daughter he shares with Dolores Catania, Gabrielle Catania, he said, "Gabby says, 'How do you not like Brittany? You can't help but like Brittany!'" The same goes for Dolores herself. As Instagram users may have noticed, Dolores regularly leaves comments under Brittany's posts. One shot even had her posing with Frank, their son Frank Catania Jr., and a friend in a group shot at Bravocon. Given how close Frank was with Dolores' now ex-boyfriend, David Principe, we love the amicability between Frank's loves, past and present.
So, who is Brittany Mattessich? A former bikini contestant, a new addition loved by co-stars and family members alike, and Frank Catania's undisputed leading lady.