Do David And Victoria Beckham Really Lead Separate Lives?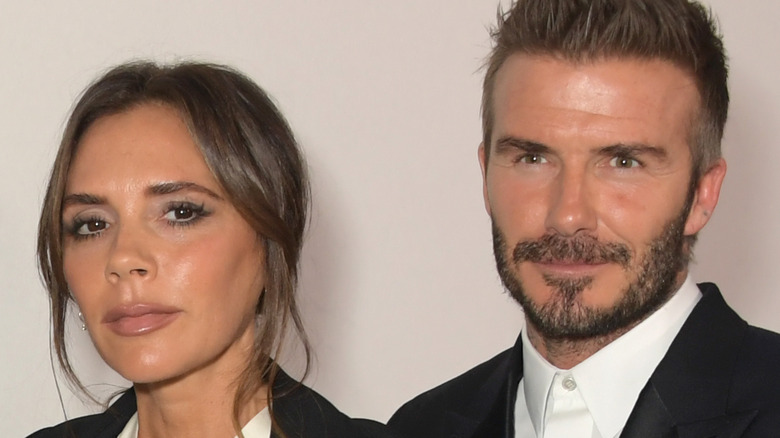 David M. Benett/Getty Images
Long-lasting marriages in Hollywood are few and far between, but David and Victoria Beckham are among the lucky few whose love has stood the test of time. What's more impressive is that the two were smitten with each other from the very first time they met.
Even before their chance encounter in 1997, David had already harbored a crush on Victoria, who was an active member of the girl band Spice Girls a the time. Speaking with W Magazine, the footballer recalled watching one of their music videos a year before their first meeting, confessing that he knew right there and then that Victori was the one for him. "I turned around to Gary [his Manchester United teammate] and said, 'That one there, that's the girl I'm going to marry.'" And when they did finally meet, Victoria revealed to British Vogue that it was "love at first sight."
The couple tied the knot in 1999, and on their 23rd anniversary in 2022, Victoria dished that many people thought they "wouldn't last." But they have been together for decades at this point, so it's safe to say they possess the secret to a long-lasting union. As it turns out, one of their marriage hacks is to live nearly separate lives.
Sources say leading different lives keep David and Victoria Beckham's marriage strong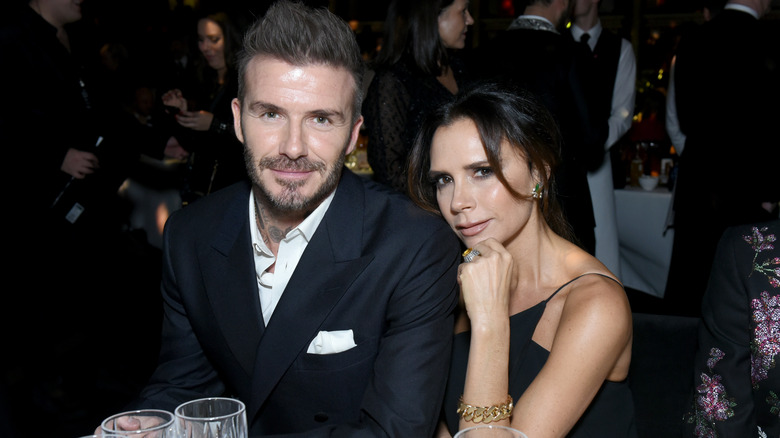 Joe Maher/bfc/Getty Images
Even though David and Victoria Beckham appear every bit the definition of a power couple, they've still had their fair share of setbacks. In 2018, some sources claimed there was trouble in paradise, resulting in the couple keeping most of their lives separate. But instead of their unusual setup keeping them further apart, it reportedly tightened their bond.
"Even when the pair are in their countryside home in Oxfordshire, England, at the same time, they can be worlds apart. The house has been designed with 'his and hers' wings," a source told Us Weekly. "I think they quite like having somewhat separate lives. When you've been married that long, some regular distance does you both good!" The insider also insisted that it "works" for them and that, like most couples, they're "lovey-dovey" on some days and "cold" on other days. Their common ground, though, is their children. "The kids are the common bond that will keep them united," they dished.
While the couple never publicly confirmed that they let their lives deviate from each other, they agreed that keeping their family together is a top priority. "You know, we love our family. Everything we do revolves around our family," Victoria said during an appearance on the "Today" show. "I think it's just being focused, working hard [and] having a great support team around us."
David and Victoria Beckham maintain a solid relationship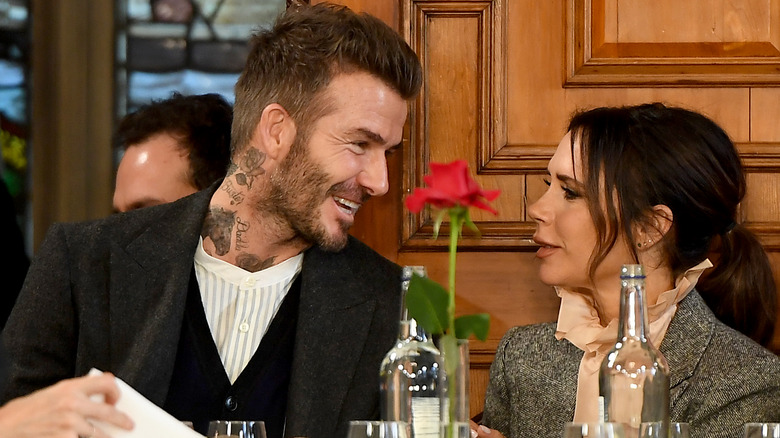 Ian Gavan/bfc/Getty Images
The jury is out regarding David and Victoria Beckham's current living setup, but we know they're still together despite their relationship being put through the wringer. And while each of them is incredibly busy — David with football and Victoria with her fashion line — they still make a point to bond from time to time.
"Yes, we travel a lot with our respective businesses and charitable commitments, but we always make time for each other as a couple and as a family," Victoria shared with Grazia. "David and I have nothing to prove. We love each other, look out for each other and are strong as both partners and parents." She also pointed out that rumors they were headed to splitsville are all baseless, and that over the years, she's learned to tune them all out.
Additionally, in 2017, the same year they renewed their vows, David debunked all speculation that the two are only staying together because they are considered a "brand." Speaking with BBC Radio 4, the athlete admitted the two encountered issues in their marriage but have worked through them together. "We know each other better than anybody. People have talked about, 'Do we stay together because it's a brand?' Of course not. We stay together because we love each other. Because we have four amazing children," he explained. "Do you go through tough times? Of course. That's part of relationships. It's part of marriages. It's part of having children. It's part of having responsibilities."