Megan Fox Has Starred In Machine Gun Kelly's Music Videos More Than Once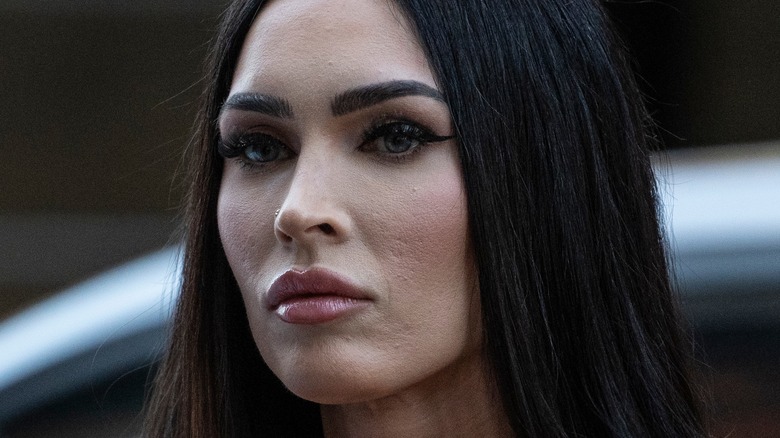 lev radin/Shutterstock
According to Newsweek, Megan Fox and Machine Gun Kelly met while filming "Midnight in the Switchgrass" in March 2020. Fox was married to Brian Austin Green, but that didn't stop the romance rumor mill from turning. It went into overdrive after they were snapped together on numerous occasions. "They have been spending time together at Megan's house in the past few weeks," a source told People. "They seem to have fun and look happy together." It wasn't long before Green announced the end of his and Fox's tumultuous ten-year marriage. He shared on his podcast, "With Brian Austin Green" (via Grazia) he'd had a premonition that it was over. 
 "I had a dream," Green proclaimed, falling far short of Dr. Martin Luther King Jr. "Which most people dream, but I don't ever remember my dreams." To cut to the chase, he dreamed it was over between him and Fox. He texted her when he wasn't dreaming anymore, and she insisted everything was "fine." However, clearly, it wasn't because she dumped him. 
Just days later, Fox was waking up in Kelly's bed, tying him up in bondage tape, electrocuting him, dancing around half-naked, pretending to play the guitar, and walking all over the musician's face with her bare feet. No, it wasn't another Green dream; it was the video for Kelly's single "Bloody Valentine." It was the couple's first small-screen collaboration, but it wasn't their last. Because Megan Fox has starred in Machine Gun Kelly's music videos more than once.
Megan Fox paints Machine Gun Kelly's nails pink and they make out like bandits
In addition to "Bloody Valentine," Megan Fox appeared in Machine Gun Kelly's docu-style video "Drunk Face," where she paints his nails pink, and they make out like bandits. "I didn't know what [love] was until me and her made eye contact," Kelly admitted to Howard Stern (via People). "That's when I was like, 'Whoa.'" He said their connection was instant and electric. "I did fall in love for the first time. It was my first experience with being open to love and stuff like that," he shared.
Per IMDB, they starred together in the movie, "Good Mourning," which he directed. Fox also featured in Kelly's documentary "Life in Pink," which gets dark as it details his mental health and addiction battles, "pulling back the curtain on the musician's meteoric rise to fame and the struggles that come with it," Grazia writes. Fox also cheered on Kelly when he made his "Saturday Night Live" debut. "Best performance that show has ever seen!" She gushed on Instagram (via E!) along with candid snaps of the two.
In January 2022, he got down on one knee. "And just as in every lifetime before this one, and as in every lifetime that will follow it, I said yes. ...and then we drank each other's blood," Fox captioned video of the romantic moment (via Seventeen). However, a year later, Fox has seemingly burned her engagement to Kelly to the ground.
The couple that collaborates together doesn't always stay together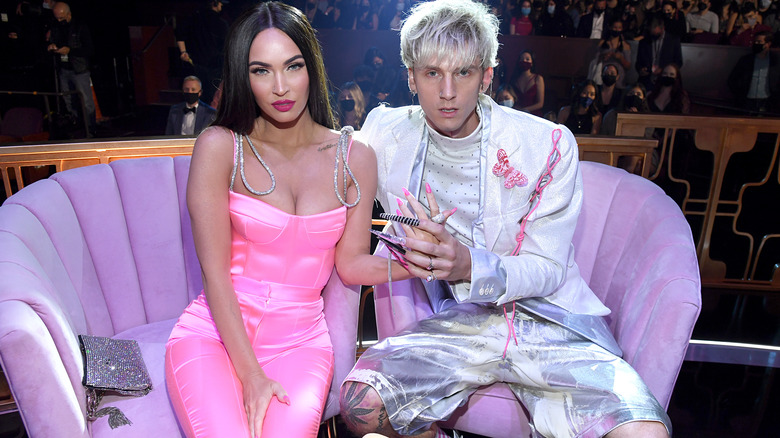 Kevin Mazur/Getty Images
Per Nylon, Megan Fox and Machine Gun Kelly got matching voodoo dolls inked on their fingers. But as many know, couple's tattoos often spell doom. "Memories may last a lifetime, but the tattoo did not," Nylon writes of Angelina Jolie's giant "Billy Bob" that was quickly inked over post-split. Fox and Kelly's matching tattoos might have been the beginning of the end too as things are not looking good romantically. 
People reports that Fox has reportedly taken off her ring from Kelly and on Sunday, she hinted at a breakup. The actor posted a slew of pics of herself along with a video of a burning envelope. "You can taste the dishonesty/it's all over your breath," she captioned the post, borrowing from Beyoncé's "Lemonade" (via People). Meanwhile, Yahoo! reports that after a fan speculated that Kelly "probably" cheated with his guitarist Sophie Lloyd, Fox fired straight back. "Maybe I got with Sophie," she wrote. 
However, it may not be the last we see of these two. According to Daily Mail, they were snapped leaving a therapist's office after a couple of hours of counseling, and Megan has since returned to Instagram to defend her relationship in a now-deleted post.