Quavo Spells Out Migos' Fate In New Takeoff Tribute Song Greatness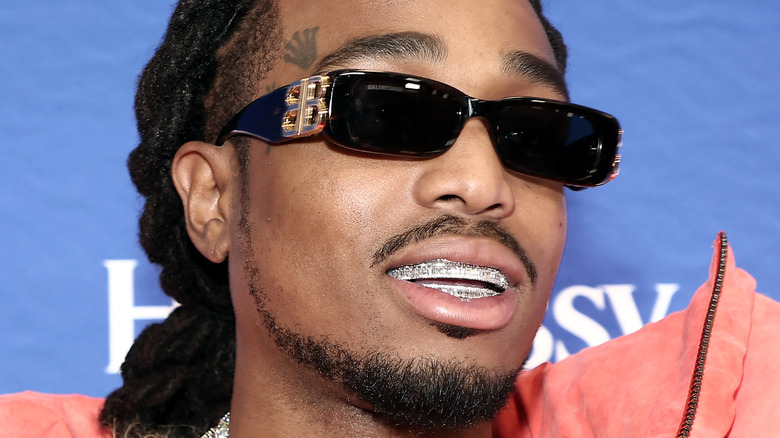 Arturo Holmes/Getty Images
Ever since Takeoff's tragic death on November 1, Migos fans have not only been mourning the heartbreaking loss of the young rapper but also wondering what exactly, if anything, the future holds for the group.
Migos, made up of Takeoff, Quavo, and Offset, had their ups and downs as a music group prior to Takeoff's passing. Migos seemed to be going their separate ways shortly before he died. Though there never appeared to be much in the way of an official announcement about a breakup, it was pretty telling when Takeoff and Quavo decided to release music as a duo, with the latter telling "Big Facts" in October 2022, "I just feel like we want to see our career as a duo because we just came from a loyal family." Takeoff then added of no longer working with Offset, "We're supposed to stick together, and sometimes s*** don't work out. It ain't meant to be."
But while some fans had been hoping to see Migos potentially regroup as Quavo and Offset in Takeoff's memory, it seems like that probably won't be happening.
Is Migos really over?
Quavo — who's had drama with Offset — shared the music video for his tribute to the late Takeoff, titled "Greatness," on February 22 and appeared to address Migos' future, as well as Takoff's death, in the lyrics. On the track, Quavo raps, "Came in, swept the game like a storm with the m*********** flow, Take' did that/So don't ask 'bout the group, he gone, we gone. Young n****. It can't come back. Damn."
Many fans took the lyrics to be Quavo's way of suggesting the band is officially no more and won't be releasing any new tracks without their late bandmate. "Take" appeared to be the rapper referencing Takeoff and his impressive rapping skills, while the words "he gone, we gone" seems to allude to his untimely death and the end of the band.
Notably, Quavo was always full of praise for Takeoff's musical ability and shared on at least one occasion that he believed he was the most talented member of Migos. "In my opinion, [he's] the best one out of all of us. You know what I'm saying? ... To me he's the best one!" he admitted to Apple Music in 2018, and Offset agreed.