How Much Did Russell Brand Get From Katy Perry In Their Divorce?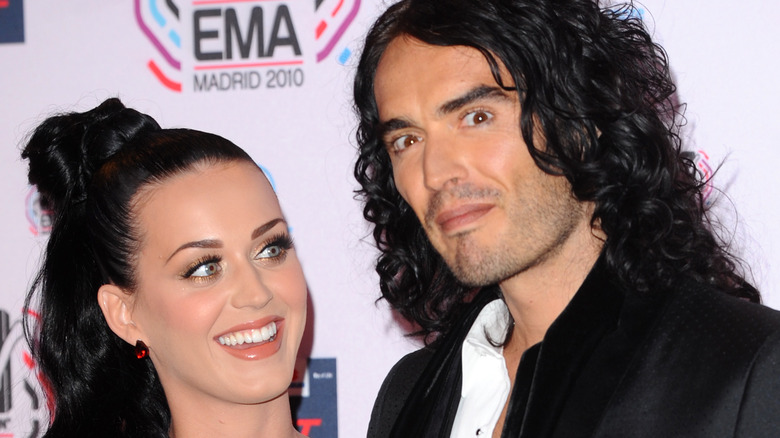 Anthony Harvey/Getty Images
It feels like forever ago, but Katy Perry and Russell Brand used to be in love. The two famously met on the set of "Get Him to the Greek" in 2008, and while their initial meeting wasn't made from the stuff of your dreams (Perry reportedly threw a bottle at Brand's head), the comedian and "Firework" singer were immediately smitten with each other once they were formally introduced.
Their relationship soon escalated into a full-blown romance, with the former couple announcing they were tying the knot a few short months after they began dating. In October 2010, they flew to India to have a traditional Hindu wedding, but 14 months later, they announced they were calling it quits. The kicker? Brand apparently ended things over a text message. "He's a very smart man, and I was in love with him when I married him," Perry shared in an interview with Vogue (via the Los Angeles Times). "Let's just say I haven't heard from him since he texted me saying he was divorcing me December 31, 2011."
At the time of their divorce, Perry was well on her way to being one of the biggest — not to mention richest — artists on the planet. She earned an impressive $44 million from 2010 to 2011, but when she parted ways from Brand, the actor apparently didn't want any of her pop star money.
Russell Brand refused to take any of Katy Perry's money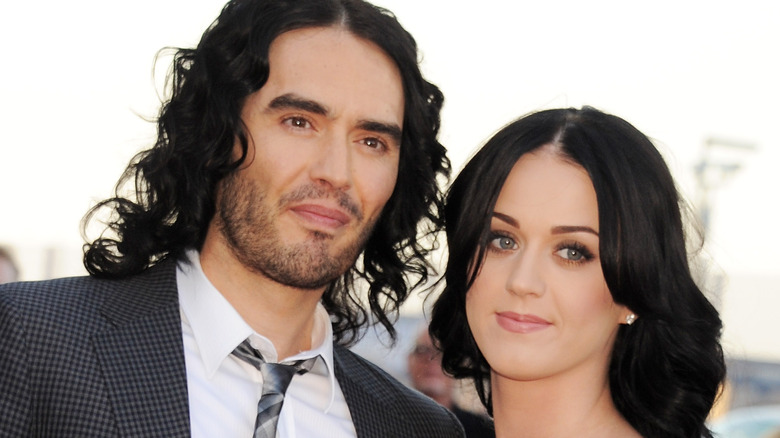 Dave M. Benett/Getty Images
Katy Perry and Russell Brand didn't bother putting together a prenuptial agreement when they skirted off to India to get hitched. And so, during the time they were together, they were, by default, entitled to each other's money and assets. However, when they finalized their divorce, Brand apparently didn't want to take advantage of his ex-wife and refused to take so much as a single cent from her.
At the time, TMZ reported that Brand could have taken around $20 million from the "Dark Horse" singer, but chose not to in an effort to make the divorce proceedings as fuss-free as possible. "This divorce is as amicable as it gets," a source close to the actor told the outlet. "And Russell was a mensch (Yiddish for a good person)." This was good news for Perry, who reportedly drew a smiley face after her last name when they signed the divorce papers. Brand's filing also stipulated the former lovebirds "agree this cause may be decided as an uncontested matter." In short: While their love story may have been as dramatic as it gets, their divorce surely wasn't.
Are Katy Perry and Russell Brand friends?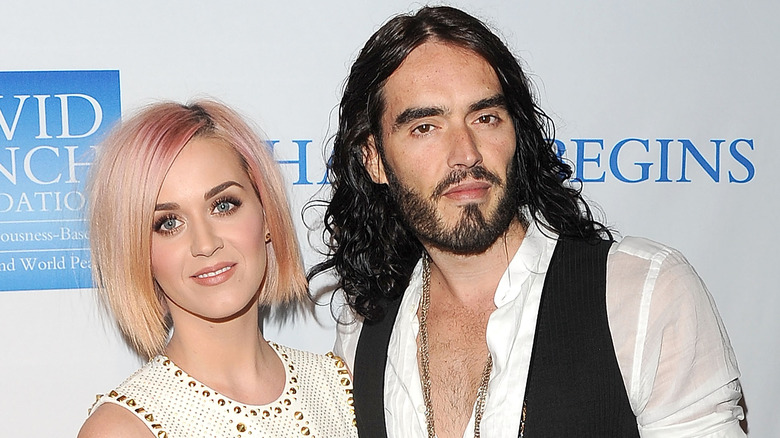 Jason Merritt/Getty Images
Katy Perry and Russell Brand are on opposite sides of the spectrum with regard to how they feel about one another. Brand looks back at his time with the singer-songwriter fondly, and Perry? Well, let's just say that her memories of her ex-husband aren't as warm.
In her Vogue interview, Perry revealed that Brand wasn't a fan of her superstardom, and might have even been intimidated by it. "At first when I met him he wanted an equal, and I think a lot of times strong men do want an equal, but then they get that equal and they're like, 'I can't handle the equalness.' He didn't like the atmosphere of me being the boss on tour,'" she dished. Brand seemed to have admitted this in his interview on "John Bishop: In Conversation With," saying that their split was a result of "the undulating nature of fame" (via Billboard). 
He doesn't harbor any ill feelings towards her, though, insisting that he feels "very warm" when thinking of Perry. "I feel like when I hear about her or see her, 'Aw there's that person. There's that person in the world.'" But for Perry, all she could think about was how chaotic that phase of her life was. "I was having great success at 23, 24 and 25, and then I met someone that was interesting and stimulating," she told 60 Minutes Australia (via E! News). "It was just like a tornado."