Camilla Reportedly Set To Override Late Queen Elizabeth's Wishes With Royal Title Upgrade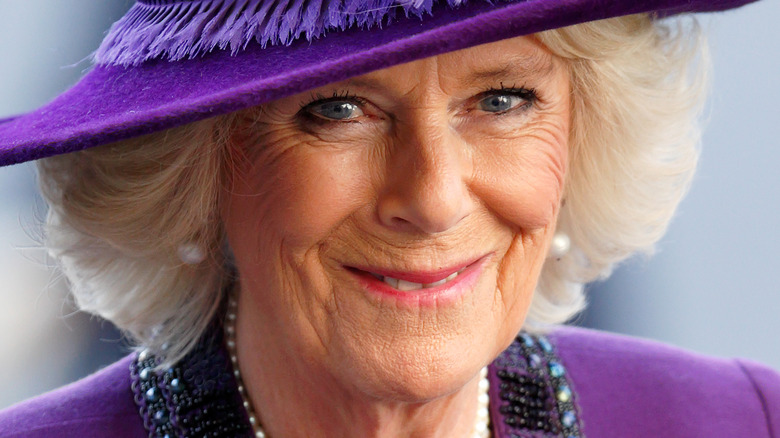 Max Mumby/Indigo/Getty Images
The tragic death of Queen Elizabeth II this past September led to the biggest power shift in the royal family's recent history. Prior to her death, Elizabeth had earned the title of the longest-reigning monarch, achieving 70 years on the throne. Once she died, her oldest son, Charles instantly became king. But where did that leave his wife of 18 years, Camilla Parker Bowles? Well, if Queen Elizabeth's wishes were honored, Bowles would thereafter be known not as queen, but as queen consort — a title traditionally given to the monarch's husband or wife. 
In February 2022, Queen Elizabeth posted a statement in celebration of her 70th reigning year and laid out her wishes for Camilla. "I remain eternally grateful for, and humbled by, the loyalty and affection you continued to give me," wrote Elizabeth. "And when, in the fullness of time, my son Charles becomes King, I know you will give him and his wife Camilla the same support that you have given me; and it is my sincere wish that, when that time comes, Camilla will be known as Queen Consort as she continues her own loyal service." 
Like King Charles, Camilla instantly inherited the title of queen consort upon Queen Elizabeth's death. And while King Charles's May 6 coronation will be ceremonial in nature and won't actually impact his right to succession, a new report states that Camilla is set to override the queen's wishes and will receive a bump in her title.
Camilla wants to be called queen, not queen consort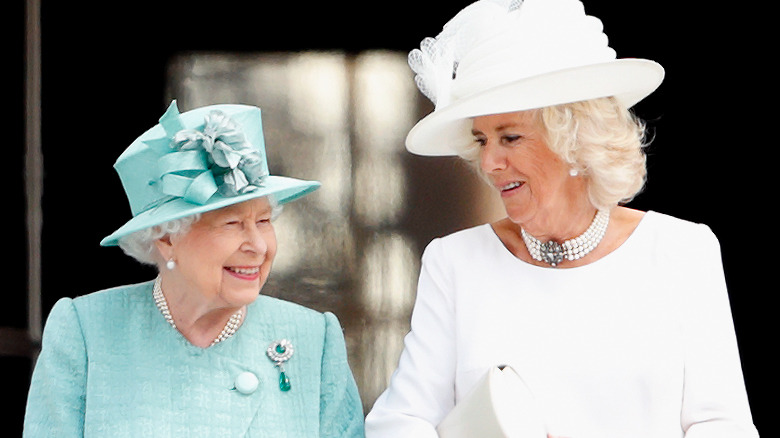 Max Mumby/Indigo/Getty Images
Camilla Parker Bowles may be acting against Queen Elizabeth II's wishes, according to the Daily Mail. Instead of taking on the title of queen consort, reports are asserting that Bowles wishes to simply be known as the queen in the future. "There's a view in the Palace that Queen Consort is cumbersome and it might be simpler for Camilla to be known just as the Queen when the time is right," shared an anonymous source. The publication cited Bowles' recent decision to change the name of her charity to Queen's Reading Room as proof. "Her Majesty is the Queen after all. Prince Philip was Prince Consort officially, but he wasn't known as Prince Consort," continued the source. 
Given that Bowles is reportedly set to receive her new title at Charles' coronation, the palace may be waiting until the date draws nearer for an official announcement. In the meantime, select publications have already started addressing Bowles by her new title, giving credence to this report. And while Charles hasn't addressed the speculation, he previously supported his mother's wishes concerning Bowles. "We are deeply conscious of the honour represented by my mother's wish," shared Charles in a statement (via CNBC). "As we have sought together to serve and support Her Majesty and the people of our communities, my darling wife has been my own steadfast support throughout."
It's likely that King Charles will have more to say about the change when it becomes official. 
How Camilla Parker Bowles may break from tradition during the coronation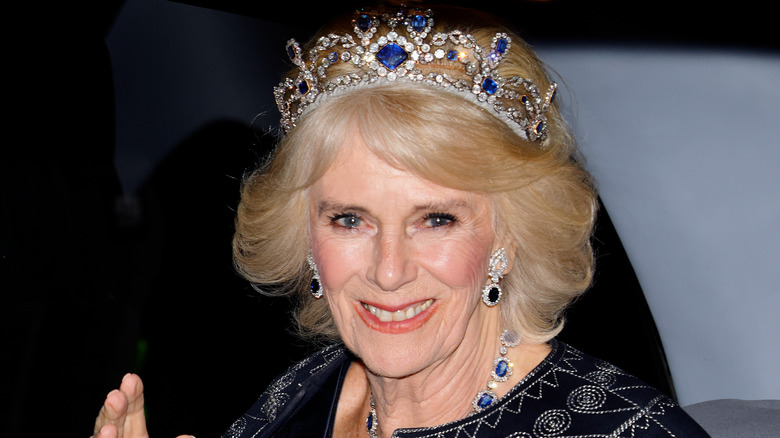 Max Mumby/indigo/Getty Images
Thanks to Sussexit and the subsequent book, interviews, and Netflix docuseries that lifted the lid on the inner workings of the royal family, one of the biggest storylines developing ahead of King Charles III's coronation is whether Prince Harry and Meghan Markle will make an appearance at the event. Sources told The Times that their attendance may be contingent on the couple receiving an apology.
Even if they are not there, their specters will undoubtedly hang over the event. One columnist who covers the royals suggested to the Express that the Sussexes might try to snatch a few extra headlines on the day of the coronation, which just so happens to fall on their son Archie's birthday, by releasing new pictures of the little boy. But an New Zealand Herald columnist believes that Camilla Parker Bowles is going to make a move of her own that will counter any potential upstaging, suggesting that the Sussexes will be dealt a great blow when they have to watch some of Bowles' relatives actively participate in the coronation ceremony — something Harry and Meghan presumably will not be asked to do. According to The Times, [link w/out paywall] a royal insider has claimed that Camilla's teenage grandchildren — Freddy Parker Bowles, Lola Parker Bowles, Eliza Lopes, and twins Gus and Louis Lopes — will do the honor of hoisting a canopy above their grandmother during her oil-anointing ceremony. Traditionally, this role is fulfilled by duchesses, but the queen consort reportedly requested the change herself.