Did Kylie Jenner's Friendship With Justine Skye End Because Of Travis Scott?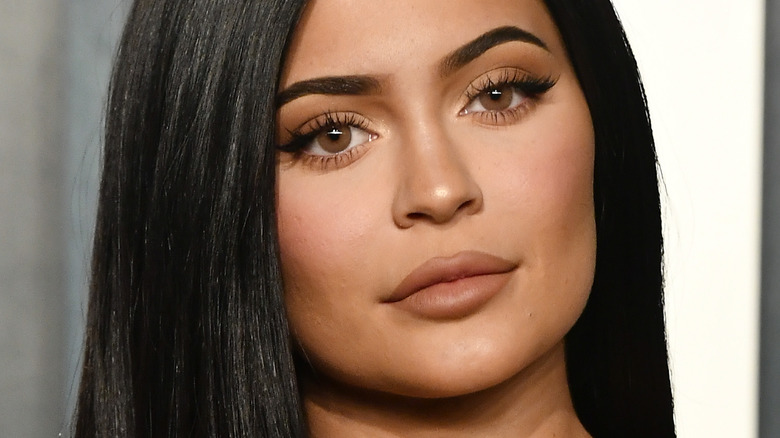 Frazer Harrison/Getty Images
Kylie Jenner has a great group of girlfriends, but over the years, her girl gang has changed quite a bit and sometimes, she seems to have a revolving door of friends. Undoubtedly, it pays to be friends with the lip kit mogul, who often treats her friends to lavish vacations, trips on her private jet, and even makeup collaborations —just to name a few things!
One of the friends we have seen stick by Jenner's side over the years is Anastasia Karanikolaou, aka "Stassie." She has made plenty of appearances on Jenner's Instagram feed and stories. The two BFFs first met at an event at Barnes and Noble, of all places, as Jenner once explained on her Instagram stories. Though her relationship with Karanikolaou still seems to be going strong, that doesn't mean that she hasn't had ups and downs with plenty of other members of her girl gang, including model and singer Justine Skye. Jenner and Skye were good friends around 2014 and did a lot together. Jenner was in attendance at Skye's birthday in 2014, and the two ladies attended Art Basel in Miami with Jordyn Woods when they were pals. Jenner and Skye were also spotted hanging out at Rihanna's second annual Diamond Ball a year later. 
But it seems as though Jenner broke girl code, causing a rift in her friendship with Skye, and the two haven't been the same since then. 
Kylie Jenner and Justine Skye's rift over Travis Scott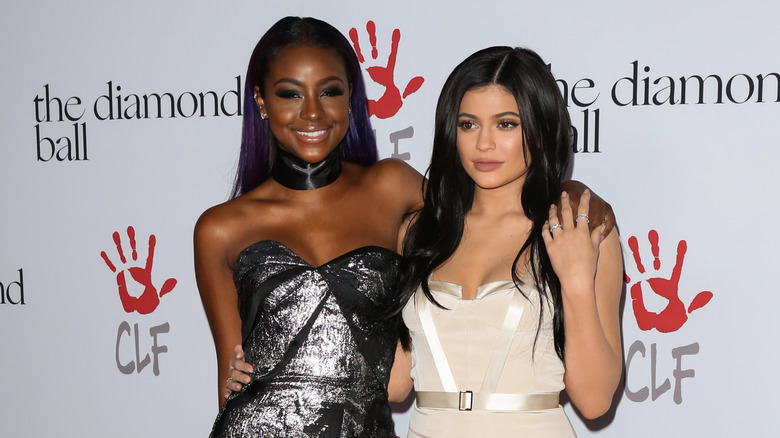 Paul Archuleta/Getty Images
Kylie Jenner and Justine Skye used to be good friends, but Jenner's romance with rapper Travis Scott may have played a role in their demise. Skye reportedly dated Scott before he and Jenner got together and Skye unfollowed Jenner in 2017 — when Jenner and Scott were dating.
Skye has talked about her former friendship with the reality star, including in an interview with The Breakfast Club in 2019. "I mean, we were friends like back in the day. I mean, like, this is about, like, four years ago, I guess, and then we weren't," Skye told the outlet, noting that "things happen." Ahem, maybe Jenner's romance with Scott? "We speak — I mean, we're not as close as we once were, and that's probably obvious to the rest of the world," she added while insisting there was "no beef" with the "Keeping Up With the Kardashians" star.
But, it doesn't seem as though Skye has let things go. According to The Sun, Skye appeared to slam Jenner on Snapchat over her makeup line in 2022. "Making TikToks every day like you haven't got a sh***y makeup brand to run? Hmmmm ... just whack as hell," Skye wrote for all to see. The post went so viral that there's even a Reddit thread dedicated to it. While most fans speculate that Skye was talking about Jenner, a few others pointed fingers at Selena Gomez, who also has a makeup line. 
Kylie Jenner had another falling out with a friend over a guy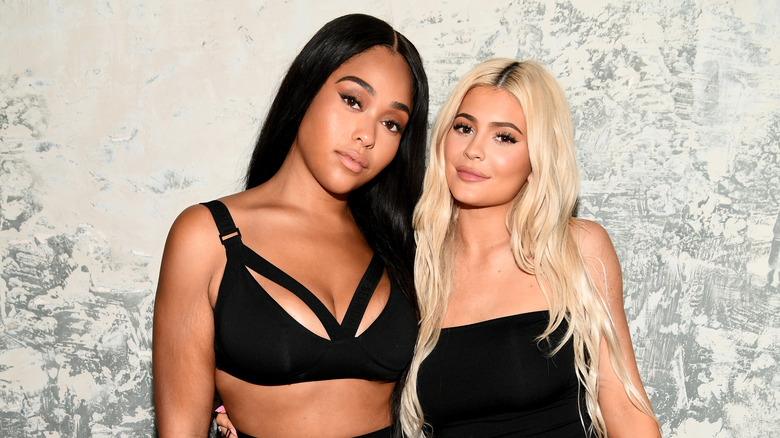 Emma Mcintyre/Getty Images
Kylie Jenner's falling out with Justine Skye was not her only friendship that seemingly ended poorly over a guy. Jenner and her former BFF, Jordyn Woods, also had a major falling out over another man, though not one that Jenner was dating. Things hit the fan in 2019 when rumors swirled that Woods locked lips with Khloé Kardashian's ex-beau, Tristan Thompson at a party.
Jenner remained tight-lipped after the incident but spoke about her friendship with Woods at the "Keeping Up With the Kardashians" reunion in 2021. "Jordyn and I did have a talk after that. When we were friends, we never thought that we wouldn't be friends," Jenner said. "It was kind of an overnight thing, and, you know, when she did something to my family, it felt like she did something to me."
Woods has also spoken about the drama that transpired in her relationship with Jenner, sitting down with her friends Jada Pinkett-Smith and Willow Smith on "Red Table Talk," where she admitted that Thompson kissed her. "It was like a kiss on the lips, but no tongue kiss, no making out," she confessed. "Nothing. But I don't think that he's wrong either, because I allowed myself to be in that position. And when alcohol's involved, people make dumb moves or people get caught up in the moment." Oh, the drama!