Inside Kelsea Ballerini And Morgan Evans' Contentious Divorce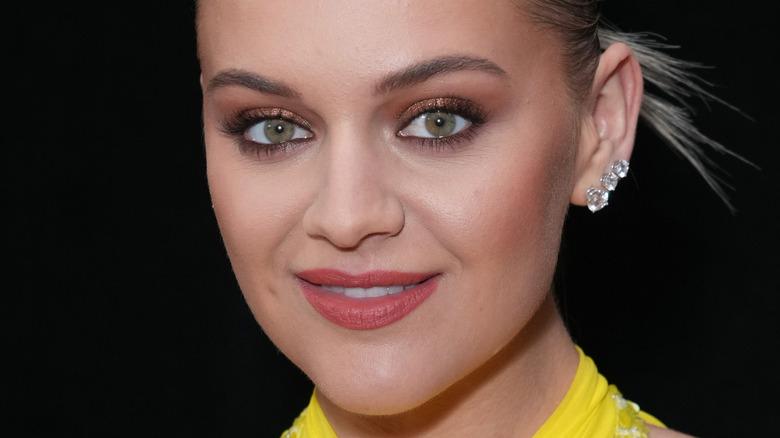 Kevin Mazur/Getty Images
In December 2017, country singers Kelsea Ballerini and Morgan Evans walked down the aisle in a private beach wedding. After the big day, Evans posted a photo on Instagram of the two of them running into the ocean in their wedding day finest. "2017. The year I kissed somebody," he wrote. The caption makes reference to his song "Kiss Somebody," in which he sings, "You can kiss like your heart ain't ever been broke." Unfortunately, heartbreak was on the horizon. 
The ceremony was just one piece of the celebration. According to People, the then-lovebirds had not one, not two, not three, but four post-wedding stops planned. They kicked off their honeymoon in Mexico, jetted off to Nashville, then spent time with his family in Australia, and finished the adventure off in Bora Bora. It all sounded like the beginning of a happily ever after, when in reality, their love story would take a sharp and unrelenting turn. 
Over the course of their relationship, Ballerini and Evans went from sharing their affection for one another onstage to expressing regret in songs. Here are the details of their messy divorce.
Kelsea Ballerini and Morgan Evans split in 2022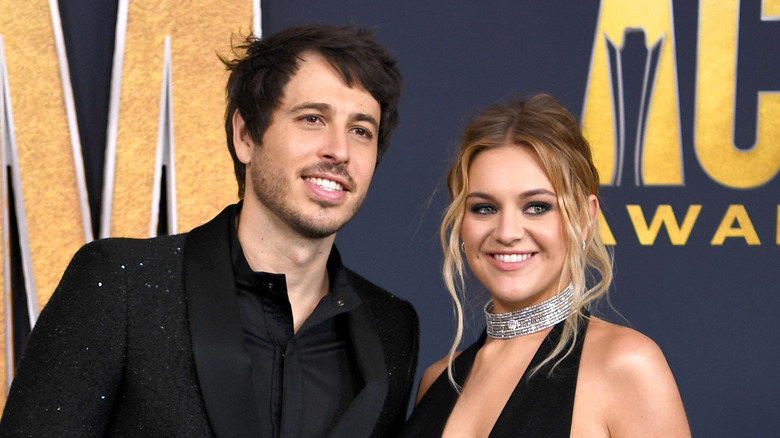 Denise Truscello/Getty Images
In August 2022, Kelsea Ballerini took to her Instagram Stories to relay the news that she and Morgan Evans would be ending their marriage. The announcement came months after the ex-couple had celebrated four years together by penning heartfelt posts on Instagram. "Friends, I've always tried my best to share my life with you in a real and vulnerable way, while also protecting layers of my personal life as they unfold," Ballerini wrote. "This is now public record so I wanted you to hear from me directly that I am going through a divorce."
She went on to ask for grace from her fans as they both continued to work while uncoupling. Ballerini showed gratitude toward the time they spent together and equally embraced a new phase of their lives. The news was confirmed by Evans, who conveyed his sadness via Instagram Stories. The "Everything Changes" singer wrote in part, "I wish it were otherwise but sadly it is not."
The former couple had sought therapy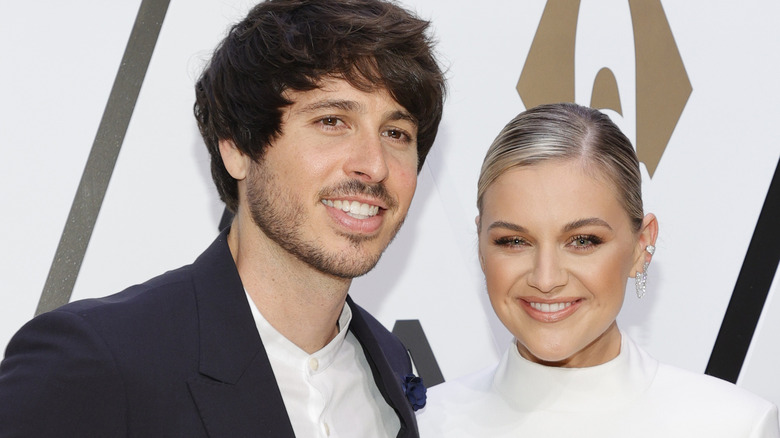 Jason Kempin/Getty Images
In her 2021 poetry book "Feel Your Way Through," Kelsea Ballerini divulged that after her own folks got a divorce, she wasn't exactly a huge fan of matrimony. "I swore I was never going to get married," she said in an interview with People.
Along the way, Ballerini must have had a change of heart — so much so, that she did indeed walk down the aisle. And in an effort to keep their relationship strong, they sought the help of a professional. "We go to couples therapy all the time," she told the publication. "We have really good couples friends that we vacation with, but we also can sit down with and have the hard conversations."
Soon after news of Ballerini and Morgan Evans' divorce broke, a little birdie whispered to Us Weekly that the pair had exhausted all possible options, counseling included. "They ultimately decided that they had no choice but to officially separate," the unnamed source said.
Kelsea Ballerini's gets real on her divorce album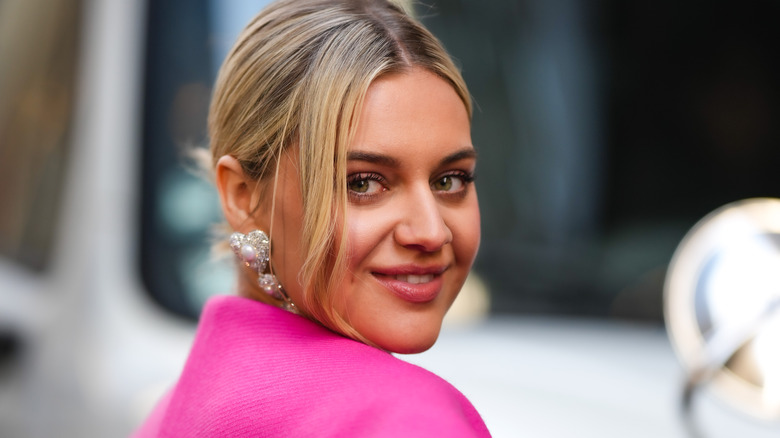 Edward Berthelot/Getty Images
Kelsea Ballerini's fifth studio album "Subject to Change" debuted in September 2022. The body of work includes a collaboration with Kelly Clarkson called "You're Drunk, Go Home." (As Clarkson shared on an episode of her daytime chat show, she was, in fact, intoxicated when she did her part of the track. Thankfully, she did not go home without recording her vocals first.) The album also features a song called "Doin' My Best," which is about her dissolved friendship with fellow singer Halsey.
Speaking to People, Ballerini maintained that the album was meant to be relatable to her fans despite whatever mood they were in. "If you're just experiencing growing up and the beauty of that, there's something for you. The messiness of that, there's a lot for you," she said. "If you're experiencing love, there's something for you. If you're experiencing turmoil, there's something for you."  
And it looks like the lyrics on "Subject to Change" are subject to change. As People recapped, Ballerini altered the words to "What I Have" during a New York City tour stop. The country songstress switched "I got a warm body in bed" to "I got my own body in bed," seemingly taking a jab at her ongoing rift with Morgan Evans.
Morgan Evans released a breakup single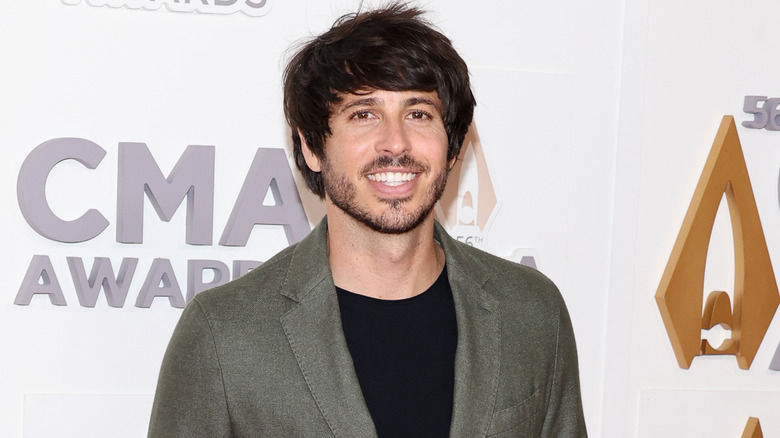 Jason Kempin/Getty Images
Morgan Evans released the song "Over for You" in October 2022. From the moment he sings those attention-grabbing opening lyrics ("How long have you been waiting to take our pictures down?"), it's clear that the hurt that inspired this track is still fresh. The song is about not only being in love with someone who has fallen out of love, but wondering if they're the last person to find out their partner has moved on. Eesh.
"I recorded this vocal on the same day we wrote the song," Evans said in a press statement, per Coyote Country. As he shared with Access Hollywood at the CMAs, the song reflects a rather bumpy chapter of his life. "Writing the song, just really helped me sort through a lot of that," he said. "It's also been a really great experience sharing that and just seeing the reaction to that." 
On a February 2023 episode of the "Call Her Daddy" podcast, Ballerini disclosed that "Over For You" vexed her. "I had a pretty good grasp on, like, my grieving journey until that song came out and I was livid," she stated. "I did not blindside him. I think two things can be true." She also took issue with the timing of the song's release, calling the move "opportunistic."
They finalized the divorce in November 2022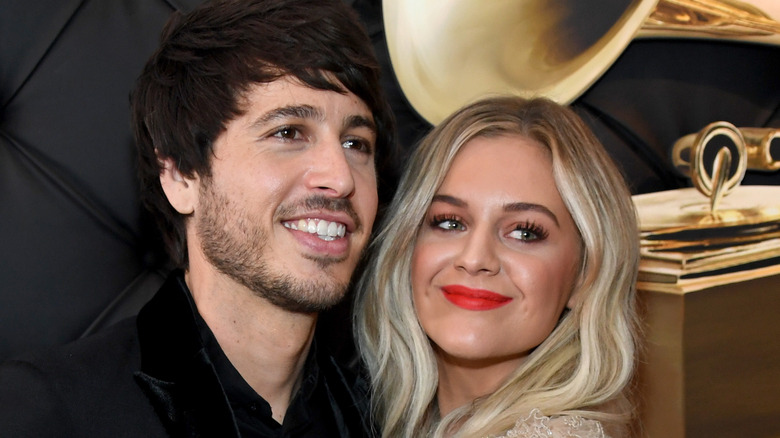 Kevin Mazur/Getty Images
The day Kelsea Ballerini and Morgan Evans' divorce was settled was a bittersweet affair for the "Peter Pan" singer. On one hand, she was officially unmarried by law, and on the other, her career had reached a major milestone. "The truth is that this morning I started my day at the courthouse, finalizing my divorce, and then getting nominated for a Grammy," Ballerini told fans during a performance at the Grand Ole Opry that night.
Additionally, she'd closed on her dream residence, a property that once belonged to six-time Grammy award-winning country star Kacey Musgraves, per The Dirt. According to People, earlier that month, Ballerini and Evans had reached a consensus to put up their once-shared Nashville house for sale. The exes had inhabited the suburban home since 2020, and It became a bone of contention during their split.
"Who you marry is not who you divorce," Ballerini said on the "Call Her Daddy" podcast. "As he's putting out a song about being blindsided, he's taking half the house that he didn't pay for." This, she claimed, was in spite of the duo having a prenuptial agreement in place. "It was kind of like that or alimony," she shared.
Kelsea Ballerini opened up about their drama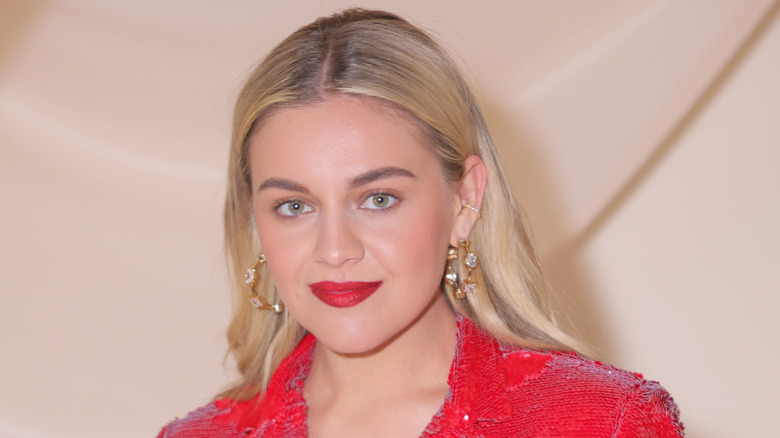 Michael Loccisano/Getty Images
On the aforementioned episode of the "Call Her Daddy" podcast, Kelsea Ballerini maintained that there were a number of reasons why she and Morgan Evans went their separate ways, but at the center of the room there was a big elephant: parenthood. "The moment I think it was over-over, was I was realizing that I wasn't ready for kids," she shared. Ballerini revealed that she was, at the time of the interview, still fence-sitting and had gone as far as consulting on cryopreservation. "He was ready. He was like 'I don't want to be an old dad,'" she said of Evans, who is around nine years her senior.
Things were so tense between Ballerini and Evans, that the former opted to sleep separately amidst smaller breakups within their marriage. "I slept on the couch the night before the CMAs," she recalled, "and I remember I went to rehearsal at the arena and texting him, and him being like, 'I'll just see you at the carpet.'" That particular night, she said, played a big role in shaping their future by piling up her plate of contempt.
Did Kelsea Ballerini really cheat with a Chainsmoker?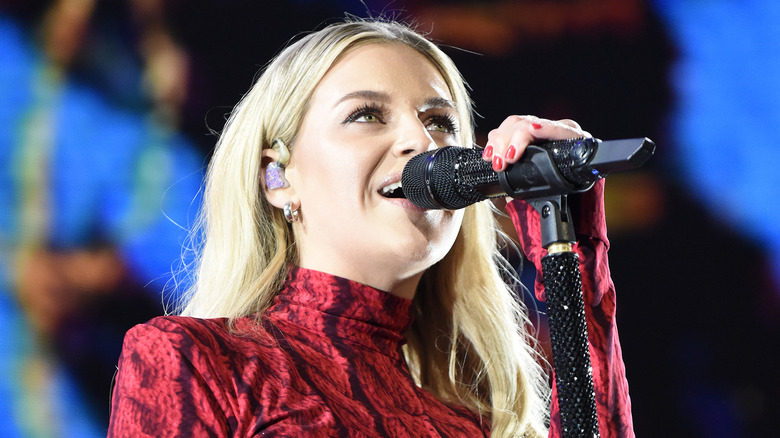 Tim Mosenfelder/Getty Images
In 2018, Kelsea Ballerini went dance pop and teamed up with the electronic duo The Chainsmokers for "This Feeling." The single found a decent amount of success: After debuting on "The Ellen DeGeneres Show," "This Feeling" spent 20 weeks on the Billboard Hot 100 chart, peaking at No. 50, and it climbed its way to No. 6 on the US Hot Dance/Electronic Songs chart. 
Years later, Page Six claimed that the relationship between Ballerini Chainsmokers member Drew Taggart apparently did not stay professional. According to the publication, Ballerini not only supposedly cheated on Morgan Evans with Taggart at Lollapalooza 2019, but apparently admitted to the alleged affair to her then-husband. While the claims have not been verified, Ballerini did perform "This Feeling" alongside The Chainsmokers at the music festival and was elated to be on the lineup, as she shared in a tweet. Taggart has since been rumored to be getting a bit cozy with "Kill Em With Kindness" singer Selena Gomez.
Kelsea Ballerini called out his 'character'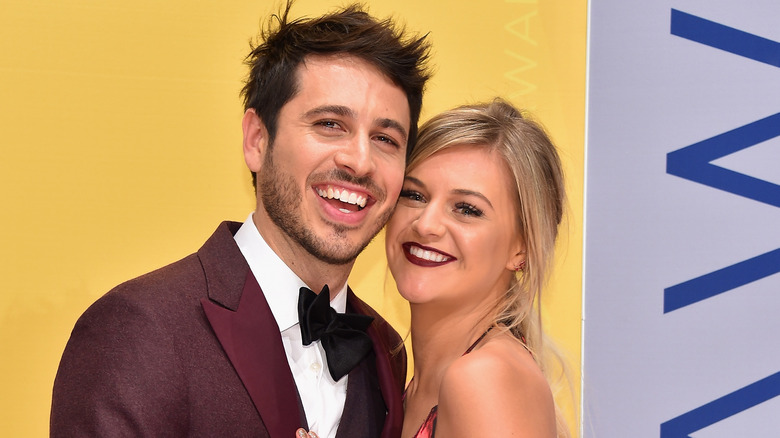 Michael Loccisano/Getty Images
On "Call Her Daddy," Kelsea Ballerini pulled no punches about her failed relationship with Morgan Evans. "Hurt people, hurt people. I totally get that," she said about him apparently making her choose between parting with half of their house or a lifetime of spousal support. Ballerini expressed that she was disappointed to see this side of Morgan. "How was I married to this person for this long and I had no idea that, that bit of character was tucked within that human being?" she wondered. 
In response, Evans took to Instagram to issue a statement that read in part, "It's really sad for me to see this person, who I spent so much of my life with, and loved with all my heart, saying things that aren't reality and that leave out what really happened." Evans added that he was not the type to air their dirty laundry in public, a fact that Ballerini was aware of. He asked his followers to show kindness since Ballerini was likely healing the best way she knew how.
She released a short about a troubled relationship
On Valentine's Day 2023, Kelsea Ballerini premiered a six-track extended play dubbed "Rolling Up the Welcome Mat" and a short flick that bears the same name. Both pieces of work are deeply personal in a way that fans would assume is her answer to Morgan Evans' "Over For You," especially since one of the songs happens to be titled "Blindsided." "Here's my healing journey. here's my heart. here's my truth. i've never been this open, i've never been this bold, and i've never been this proud of my art," Ballerini partially wrote in a Twitter post announcing the launch of the project.
The film "Rolling Up the Welcoming Mat" incorporates all the songs into one long feature that tells the story of a successful woman whose spouse feels intimidated. At the very end, Ballerini's tear-jerking lyrics to the song "Leave Me Again" make for an emotional close: "I hope when I see you there you smile/I hope that you find somebody new/I hope that you get the house and the good wife and the kids/And I hope I never leave me again."
She slid into Chase Stokes' DMs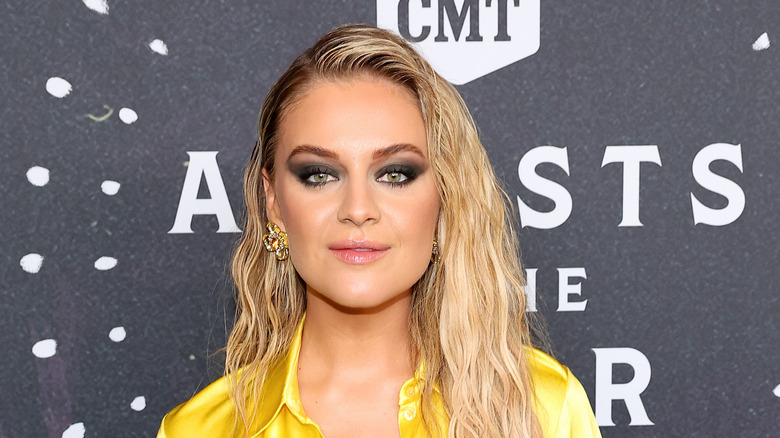 Terry Wyatt/Getty Images
Despite the back and forth between Kelsea Ballerini and Morgan Evans, there seems to be a light at the end of the tunnel, at least on Ballerini's part. The "I Hate Love Songs" singer appears to be dancing to the tune of cupid's music if her new relationship with "Outer Banks" star Chase Stokes is anything to go by. Ballerini admitted on the "Call Her Daddy" podcast that she initiated the connection with Stokes. "I slid into his DMs," she disclosed. "I've never seen ['Outer Banks'] but I just knew of him." Ballerini's bold move was in part due to the influence of her manager, who thought the pair would make a perfect match.
Stokes was in agreement when TMZ caught up with him on the road. "She's a sweet girl. We're having a good time and that's all I'll say," he remarked. In late January 2023, TMZ shared video of Ballerini out on what surely looked like a date with Stokes. The duo couldn't keep their hands off of each other. What's more, they've had something of a soft launch on social media, suggesting things have only just begun.
Are there any wedding bells ringing as of this writing? Well, on Ballerini's part, another long-term commitment is not in the offing. As she said on "Call Her Daddy," "Right now, I would say I don't think I will get married again."