Travis Barker Heads To Surgery For Grisly Finger Injury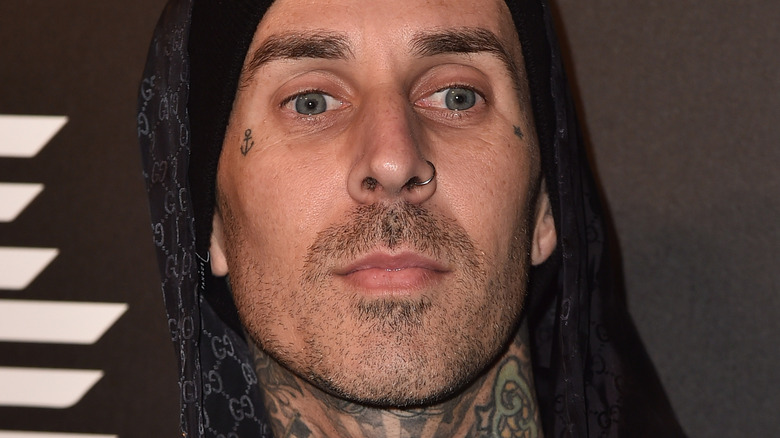 Alberto E. Rodriguez/Getty Images
Travis Barker has had a lot going on in the past year. In 2022, he and Kourtney Kardashian had a massive wedding in Italy. Dolce & Gabbana was rumored to have sponsored everything, including the complex and intricate outfit changes, per the Daily Mail. In addition, the party reportedly included a controversial pasta bar and a plethora of Italian desserts. Soon after the wedding, he and Kardashian started trying to get pregnant – a journey which was closely followed on "The Kardashians."
While his personal life evolved, Barker's professional life also took a turn. In October, Blink-182 announced a highly anticipated reunion tour. "We're coming. "Tour's coming. Album's coming," the official Blink-182 account tweeted. "Tom's coming. Tickets on sale Monday. New song 'Edging' out Friday." This was huge news, as Blink 182 hadn't toured or recorded together since 2015. The band officially claimed they were going their separate ways to focus on their personal lives and projects, but fans were always hopeful for a reunion, per Mirror. Barker has become a major cultural figure in the intervening years thanks to his connection to the Kardashians. He's seen as something of a Prince Charming: after years of ups and downs with Scott Disick, Kourtney finally seems content and happy with Barker (if their PDA is any indication).
However, when it seemed like everything was working out for Barker, the drummer has faced a severe medical issue that could hinder his ability to perform.
Blink-182's tour could be in trouble
Instagram users and Blink-182 fans were treated to gruesome photos of Travis Barker's broken finger on Monday evening. In the first video in a lengthy carousel, an unnamed medical professional can be seen trying to bend Barker's severely warped finger. In other photos, Barker showed off a two-finger cast and more pictures of his bruised knuckles. The carousel included the caption: "Surgery tomorrow." Kourtney Kardashian chimed in in the comments with a series of heart emojis.
This is the latest in a string of injuries for the drummer. Last year, he underwent surgery to remove a polyp from his pancreas, per People. Since then he's fully recovered with no other issues related to his pancreas, but he has continued to have problems with his hands. "I was playing the drums at rehearsals yesterday, and I smashed my finger so hard I dislocated it and tore the ligaments," he wrote in a February 8 tweet. It's unclear if the issues he's suffering now are an extension of the February 8 injury or something new. Either way, for Barker, a finger injury is no joke. As a drummer, Barker relies on his hands to grip his sticks, and as the drummer in a punk band, he's often playing with significant force.
The injury couldn't have come at a worse time as Blink-182 is scheduled to begin their worldwide reunion tour in Mexico on March 11, per Deadline, giving Barker a little over a week to recover from his surgery.