Chris Noth's Strained Relationship With Tara Wilson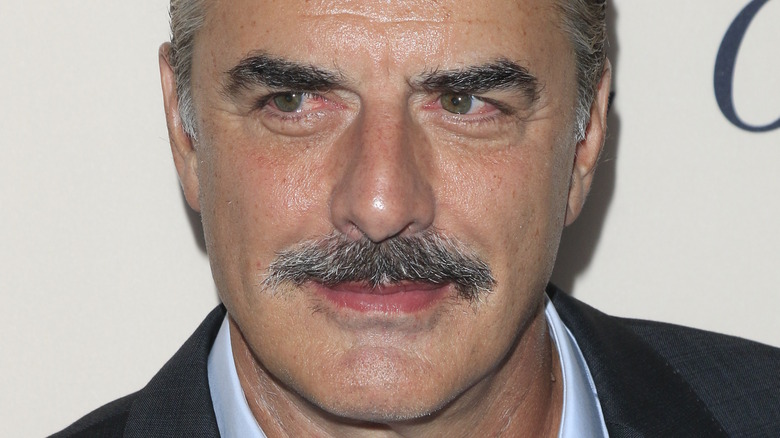 Kathy Hutchins/Shutterstock
"Law & Order" actor Chris Noth and his wife Tara Wilson have been together for over two decades. The pair met back in 2001 while Wilson was working as a bartender. She was actually Noth's employee at the time as he owned the bar she worked at, The Cutting Room. The couple's relationship blossomed quickly. They eventually welcomed two children together and even became business partners. Noth and Wilson starred alongside each other in the 2009 film "Frame of Mind." They also opened up a kid-friendly tea room called Once Upon A Teacup in 2008.
Noth spoke about the business venture during an interview with Ladies Home Journal (via People). "It's a place where a mother or a couple can relax and kids can play," the former "Sex and the City" actor said. "We have costumes and children's yoga. I had no idea when we started this that we'd be bringing our own child there. I can't wait to watch my son dress up as a fireman or a cop." It's clear that Noth and Wilson's careers are very intertwined, so it might be safe to say that their lives were shaken up after some concerning allegations came to light.
Let's take a look inside Chris Noth's strained relationship with Tara Wilson.
Chris Noth faced sexual assault allegations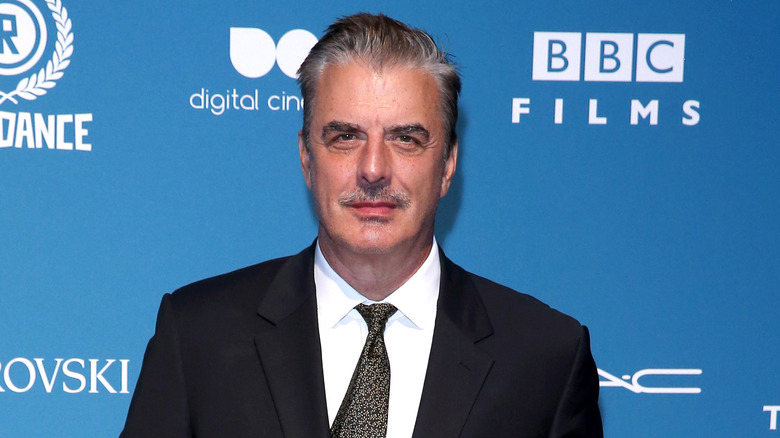 Fred Duval/Shutterstock
Chris Noth and Tara Wilson appeared to be doing well until Noth faced sexual assault allegations in December 2021. The Hollywood Reporter revealed two women came forward to allege they were attacked by the former "Law & Order" actor. One woman, who was given the pseudonym Zoe in the article, claimed Noth assaulted her after he invited her to his apartment back in 2004. A friend insisted she go to the hospital, but she didn't reveal Noth's identity to authorities at the time. "They gave me a little crisis counseling brochure and some medicine," Zoe said of her hospital stay.
The second woman, who was given the pseudonym Lily, alleged that in 2015 she was also attacked in Noth's apartment. She shared that she mentioned the actor was married with children, but his response suggested he didn't care about how the alleged attacks would impact his marriage. "He said marriage is a sham. Monogamy is not real," Lily said of the actor. Noth denied the claims made by both women in a statement shared with The Hollywood Reporter.
A third woman told The Daily Beast that she was also sexually assaulted by the actor at a restaurant in 2010. He denied this claim as well, with a rep telling People, "The story is a complete fabrication, and the alleged accounts detailed throughout read like a piece of bad fiction. As Chris stated yesterday, he has and would never cross that line."
If you or anyone you know has been a victim of sexual assault, help is available. Visit the Rape, Abuse & Incest National Network website or contact RAINN's National Helpline at 1-800-656-HOPE (4673).
Tara Wilson was spotted without her wedding ring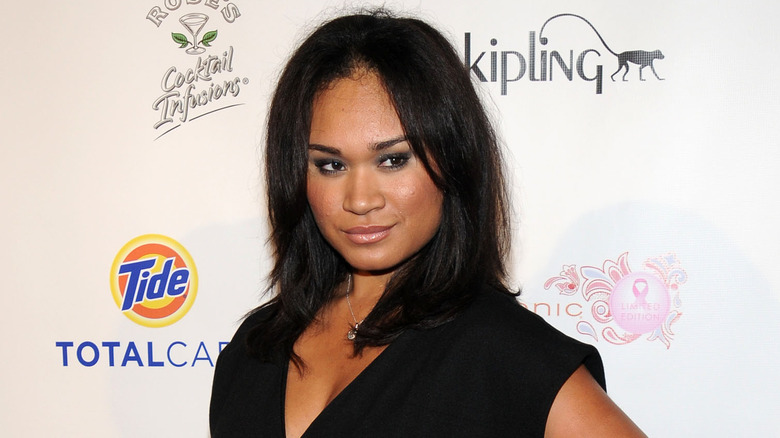 Fernando Leon/Getty Images
While Chris Noth's reps denied the numerous sexual assault allegations against him, it appears that they may have still taken a toll on his marriage. Tara Wilson was spotted out without her wedding ring just one week after the story from The Hollywood Reporter was released. Wilson appeared upset in the photos that caught her without her ring. She was also reportedly photographed crying in her vehicle while out running errands. Outlets assumed this was due to marriage troubles that arose after Noth was accused of sexual assault, especially considering some of the alleged attacks occurred while the actor was married.
An anonymous source came forward to make claims about the state of Wilson and Noth's relationship after the allegations. "He may be non-monogamous, we have established that his wife didn't know," they told The U.S. Sun. "If anything, he is guilty of that. She is in L.A. and is very upset... she's not doing well. They planned to spend Christmas together but that is now unknown."
If you or anyone you know has been a victim of sexual assault, help is available. Visit the Rape, Abuse & Incest National Network website or contact RAINN's National Helpline at 1-800-656-HOPE (4673).
Chris Noth was reportedly seen out with a mystery woman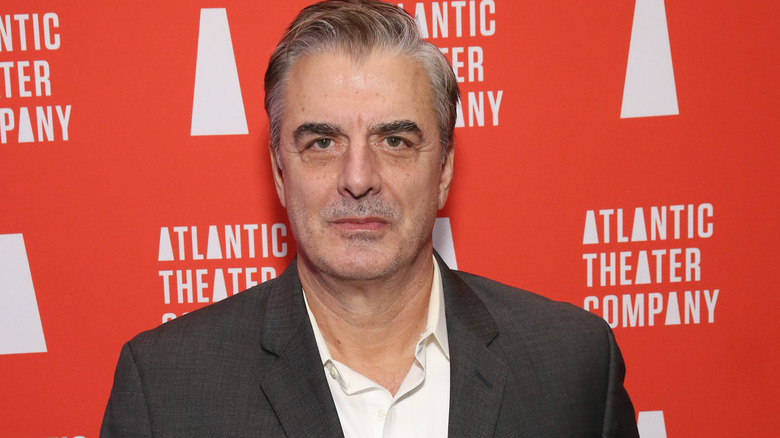 Walter Mcbride/Getty Images
Divorce rumors plagued Chris Noth and Tara Wilson's marriage after Wilson was spotted out without her ring. It likely didn't help that Noth was reportedly seen out and about with a new mystery woman while there already seemed to be tension between him and his wife. He was photographed leaving a party with an unnamed brunette by his side in mid-January 2022. It's unclear whether or not the two were romantically involved. Regardless, some might say this wasn't exactly a good look given Noth's public reputation at the time.
Rumors continued to swirl as Noth and Wilson seemingly grew distant. An unnamed source spoke to Page Six about how Wilson allegedly felt following the scandal. "Tara is upset and things are hanging by a thread," they claimed. "She just wants to protect the kids. That is her number one priority." Neither Noth nor Wilson released statements about the state of their marriage themselves. Unfortunately, as of this writing, these claims from anonymous sources might be the only information we have on the couple's relationship troubles unless they eventually decide to break their silence.
Chris Noth and Tara Wilson made up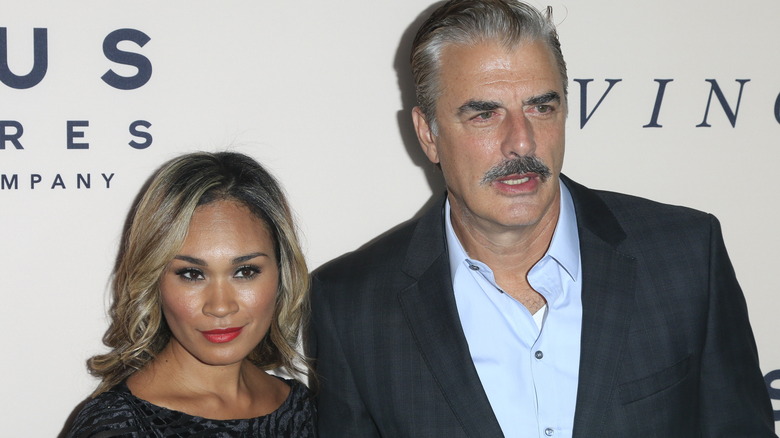 Kathy Hutchins/Shutterstock
It looks like Chris Noth and Tara Wilson were eventually able to make amends for the sake of their children because they were spotted together once again in late January 2022. This was reportedly the first time they were photographed together since the sexual assault allegations against Noth came to light. While Noth and Wilson were in each other's presence once again, their meeting appeared to be strictly about their little ones. Wilson was spotted standing outside of a vehicle handing her son off to his father. Is there a chance the two were co-parenting while their marriage was still up in the air?
If Noth and Wilson did ever split, it didn't last long. They were photographed together in May 2022. Their children didn't tag along this time, so it might be safe to say that this probably wasn't a co-parenting meet-up. The couple appeared to be enjoying a stroll in front of a shopping center in Sherman Oaks, California.
Chris Noth supported Tara Wilson's play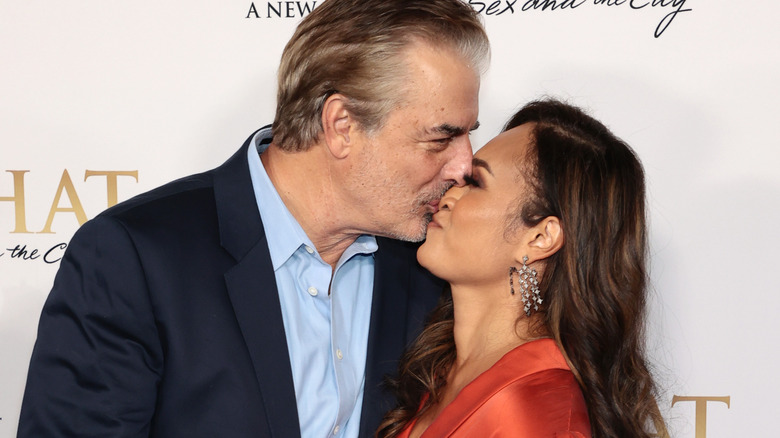 Dimitrios Kambouris/Getty Images
Chris Noth (kind of) broke his silence regarding the status of his relationship with Tara Wilson in June 2022. He took to Instagram to praise his wife's play, "B.R.O.K.E.N Code B.I.R.D Switching." The actor shared a photo of him and his oldest son standing in front of a poster for the play. "Orion and I are so proud of Tara's new play opening this Saturday in Stockbridge at @berkshiretheatregroup!," he wrote in the caption of the post. "Closes July 9th- come see this beautiful production!!!"
The star also supported his wife's project with a post he shared to his Instagram Stories. "The family is over the moon w/ Tara's premiere of her new play at @berkshiretheatregroup," he penned. Noth's very public support of his wife could indicate that they're back on good terms. Of course, there's also always the possibility that he's simply promoting her play and remaining civil for the sake of their kids. We'll have to wait and see if the husband and wife ever come forward to reveal what really went on between them.