Ozzy Osbourne Debunks Rumors About His Health In Candid Update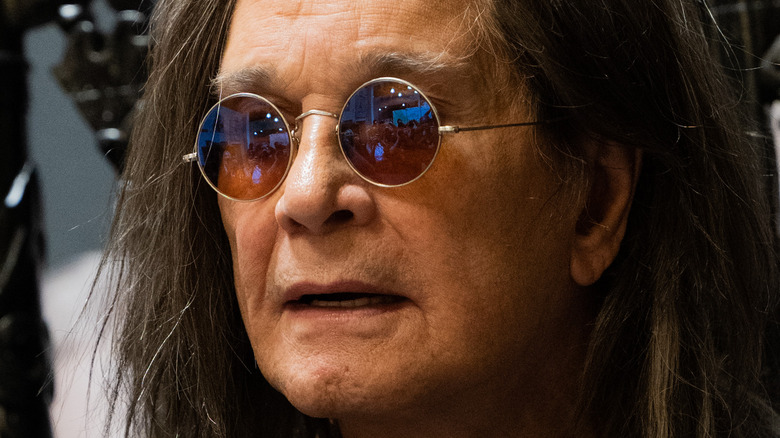 Scott Dudelson/Getty Images
Ozzy Osbourne is setting the record straight about the state of his health.
Osbourne's announcement of the cancellation of his tour in February left fans concerned about his well-being. In a lengthy statement posted on Twitter, the rockstar revealed that he still feels the physical repercussions of an accident that occurred years ago, which affected his spine. While he had undergone a series of treatments, none were enough to render him tour-ready. "After three operations, stem cell treatments, endless physical therapy sessions, and most recently groundbreaking Cybernetics (HAL) treatment, my body is still physically weak," he wrote.
In a December 2022 episode of his SiriusXM show, Osbourne expressed his frustration with his limited ability to perform even the simplest tasks, saying, "I am lying on the couch, go to get up, and I cannot do that anymore. My sense of balance is all over the place." And while he is undergoing physical therapy, he described his progress as "f***ing hell." And while he said his "creativity" and "singing" are "okay," he lamented that his inability to walk much now prevents him from doing what he wants. However, in a recent episode of his show, he clarified that there are still years ahead of him.
Ozzy Osbourne assures fans that he's not dying
Ozzy Osbourne wants everyone to know that the reports about his health are greatly exaggerated. In the latest episode of SiriusXM's "Ozzy Speaks," he reassured his fans that he is not "f***ing dying."
Since canceling his tour, the Black Sabbath frontman shared that he's been "working my guts out to try and get back on my feet." Despite his wife Sharon reprimanding him for "booking tours and failing," Osbourne backtracked on his previous statement that he'll probably never be on the road again. "So, if I can ever get back to where I can tour again, fine. But right now, if you said to me, 'Can you go on the road in a month?' I couldn't say 'yes,'" he explained. "I mean, if I could tour, I'd tour. But right now, I can't book tours. Because right now, I don't think I could pull them off." The musician added that he is still "in constant pain," but he's pulling out all the stops to recover.
And even if the Black Sabbath frontman never tours again, fans need not worry about seeing him perform live in the future. When he announced his tour cancelation, the rockstar revealed his team is doing their best to help him "perform without having to travel from city to city and country to country."