Where Selena Gomez And Bella Hadid Stand Now After They Both Dated The Weeknd
Ga Fullner/Shutterstock
Hollywood is small — so small that many of our favorite celebrities share exes or have love lives that are entangled with each other. It's become pretty common for stars to have similarities in their respective dating histories. Taylor Swift and Olivia Wilde, for instance, both dated Harry Styles, while Joe Jonas and Zayn Malik both dated Gigi Hadid. Most of them are pretty chill about it and even chose to stay friends after getting linked to the same person. Case in point: Sandra Bullock and Julia Roberts, who both reportedly have George Clooney on their list of past lovers (although the rumors were never confirmed). The two even joked about having collective ownership over the "Ocean's Eleven" actor. "Apparently, Julia [Roberts], you and I are in a dispute over George Clooney. We talked about this, right? It's shared custody and we're both fine with it," Bullock once joked.
For some celebrities, though, seeing their pal date their ex isn't something they could easily brush off. Such was apparently the case with Selena Gomez and Bella Hadid, who both dated The Weeknd. When the "Only Murders in the Building" star got involved with the singer almost immediately after he broke up with Hadid, the supermodel reportedly wasn't happy — and made sure to tell the world about it.
Selena Gomez and Bella Hadid have a complicated history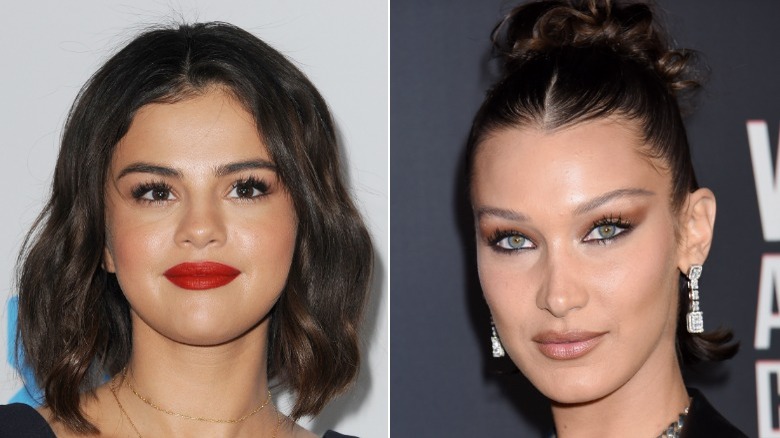 Tinseltown & Ga Fullner/Shutterstock
Selena Gomez and Bella Hadid weren't particularly close, to begin with, but their relationship soured when they both got involved with The Weeknd. It was Hadid who dated the crooner first, and well, let's just say their romance was nothing close to smooth. They had a textbook on-and-off relationship starting when they began dating in 2015. In November 2016, when the couple had split for the second time, The Weeknd found himself in the arms of Gomez two months later.
Things seemed fine and dandy until Hadid posted a picture of herself on Instagram with her middle finger up, which fans thought was her way of expressing how she felt without words. She also revealed to Teen Vogue that it was her first breakup, so she took it "very heavily." It wasn't surprising that she unfollowed Gomez on the platform when the 30-year-old started seeing The Weeknd, with Gomez doing the same not long after.
Gomez and The Weeknd didn't last long — they broke up less than a year after they sparked dating rumors. Hadid and the "Starboy" singer got back together before officially splitting for good in late 2019. What's interesting, though, is that Gomez tried extending the olive branch by re-following the model on Instagram in November 2019. Hadid returned the favor months later but unfollowed Gomez again shortly after for reasons still unknown. As of this writing, it's only Gomez who's following Hadid on the social media site.
Selena Gomez admits that Bella Hadid is her girl crush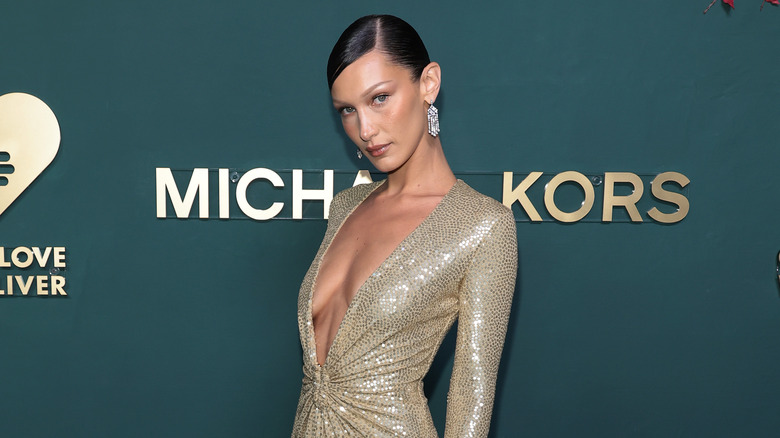 Dimitrios Kambouris/Getty Images
Years after the whole Selena Gomez and Bella Hadid social media beef, the "Calm Down" singer confessed she's always admired the Victoria's Secret model. In a series of Instagram Stories posted in February 2023, Gomez wrote that she wishes she was "as pretty as Bella Hadid." She also shared a photo of the model from her shoot with Vogue and captioned it with #girlcrush.
This isn't the first time Gomez sang praises for the 26-year-old. Back when she re-followed Hadid, she commented on one of her photos, telling the California native she was "stunning." And while Hadid took down that particular post and caused a frenzy among fans for doing so, Gomez assured everyone she and Hadid were on good terms. "NO. I shouldn't of [sic] spoken without knowing the truth. I'm sorry. Please don't be hurtful," she wrote in a comment. "She is a wonderful person and it was all a misunderstanding."
It's still unclear where the two stand, but a source once told Us Weekly they were never BFFs in the first place. "Selena is not good friends with either Gigi or Bella," they said. "She knows them through other people, but they are just acquaintances. She is friendly with them, but not friends with them."