How Riley Keough Made Her Connection With Ben Smith-Petersen Permanent Early On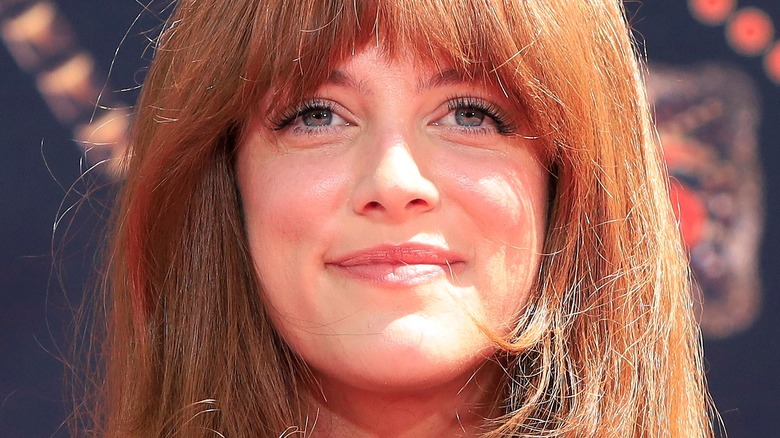 Joe Seer/Shutterstock
Despite being the granddaughter of one of America's biggest cultural icons (or perhaps because of it), Riley Keough feels protective of her personal life. The "Terminal List" star is pretty good at it, too. During her mother Lisa Marie Presley's funeral in January, Keough subtly revealed she had welcomed a child. Keough mentioned her baby girl in a letter that her husband, Ben Smith-Petersen, read during the ceremony, Us Weekly reported. "I hope I can love my daughter the way you loved me, the way you loved my brother and my sisters," he read.
As she landed in L.A. following the memorial service, Keough was photographed holding her baby, who was born in 2022, according to TMZ. While Keough isn't as secretive about her love for Smith-Petersen, she still has always preferred to keep her relationship low-key. In February 2015, Keough and Smith-Petersen tied the knot in a intimate ceremony. "Riley and Ben were married in a small, private afternoon ceremony surrounded by close family and other loved ones," her rep told Hello!
Keough met the Australian stuntman while working on "Mad Max: Road Fury" in 2012, but they didn't really get to know each other until the following year. "We only started dating after we did re-shoots in Australia," she told USA Today in 2016, "because the crew is smaller and I got to meet him." Their chemistry was so intense, Keough showed no hesitation when marking it on her skin not long at all after meeting him.
Riley Keough and Ben Smith-Petersen got matching tattoos while dating
Riley Keough and Ben Smith-Petersen tried to be together as much time as possible while filming in Australia, knowing their days were numbered. But their connection was real, and they decided to act on it — even if they risked never seeing each other again. "We got matching tattoos the third day we hung out, just for fun, never thinking the relationship would go anywhere," Keough wrote in a 2022 essay for Vogue Australia. Later on, the stuntman proved once again he isn't afraid to show his love for his wife through his body.
In September 2021, Keough shared an Instagram photo featuring a large tattoo on Smith-Petersen's lower abdomen dedicated to her. Keough may have thought the relationship wasn't in the cards for them, but her instincts were picking up the vibes that he might become more than that. "Two weeks into dating him, we were at a gas station and I was like, 'I could see myself having kids with this person,'" she told USA Today. "It was kind of like I knew I was meeting my husband. It was very cool."
Two months after kissing for the first time, Keough and Smith-Petersen moved in together. Four months after, they were engaged. All these years later, Keough and Smith-Petersen have never looked back. "7 years of RAD luck. I love you to the moon & back. 7,000 more years please," Smith-Petersen captioned an Instagram post marking their wedding anniversary.
Riley Keough also had complementary tattoos with her brother
In late July 2020, Riley Keough debuted ink in honor of her brother, Benjamin Keough, who died by suicide earlier that month. Riley took to her Instagram Stories to show the words "Benjamin Storm" written in cursive right above her collarbone. Benjamin also had a tattoo of his big sister's first name, according to People. Since his death, Riley has given her social media followers glimpses into their sibling relationship, while opening up about her grief. "Mornings are the hardest. I forget you're gone. I can't cry because of the fear that I will never stop. A pain that's new to me," she captioned a July 2020 Instagram post.
Benjamin also had a matching tattoo with his mother. He and Lisa Marie Presley inked a large Celtic knot on the top of their feet. Upon his death, Presley shared a picture of the art on her Instagram, using the opportunity to reveal its symbolism. "Several years ago, on Mother's Day, my son and I got these matching tattoos on our feet ... We carefully picked it to represent our eternal love and our eternal bond," Elvis Presley's daughter wrote.
Benjamin's death hit the family hard. Riley relied heavily on Ben Smith-Petersen and other loved ones to work through her pain, which she didn't want to mask. "I wanted to make sure that I was feeling everything and I wasn't running from anything," she told The New York Times in July 2021.
If you or anyone you know is having suicidal thoughts, please call the National Suicide Prevention Lifeline by dialing 988 or by calling 1-800-273-TALK (8255)​.