Jennifer Aniston Has A Tight Relationship With Goddaughter Coco Arquette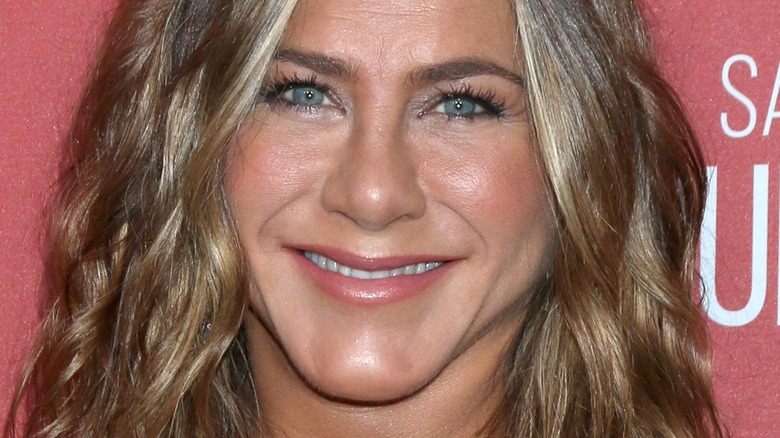 Kathy Hutchins/Shutterstock
As fans know, Jennifer Aniston and Courteney Cox are super-tight BFFs, and they go way back. The two ladies began appearing on this little show, "Friends," which began airing in 1994 (yes, we're that old), and they have remained close ever since. It's cool that their roles as pals Rachel Green and Monica Geller transpired from on-screen to off-screen, and we're just a little jealous of their relationship. Over the years, the ladies have not been shy about singing one another's praises and gushing over their long-standing friendship. In 2014, Aniston raved over her pal to More magazine (via E! Online). "There's absolutely no judgment in Court," she told the outlet. "You'll never feel scolded. She's extremely fair, ridiculously loyal, and fiercely loving." She even added that she's slept in Cox's guest room during some tough times.
Aniston and Cox have also been by one another's side for many milestones, including Cox's Hollywood Walk of Fame induction. where Aniston had nothing but nice things to say. "To be friends with Courteney is to be family with Courteney, and she is responsible for all of that from the beginning," Aniston said of Cox. "When we met her she was immediately inclusive, warm, loving, interested in everything about you, and you know I was really nervous to meet her because I was a huge fan." How freaking sweet is that? 
So, it's only fitting that Aniston is also super tight with her goddaughter, Coco Cox Arquette.
Jennifer Aniston seems like the coolest and nicest godmother to Coco Arquette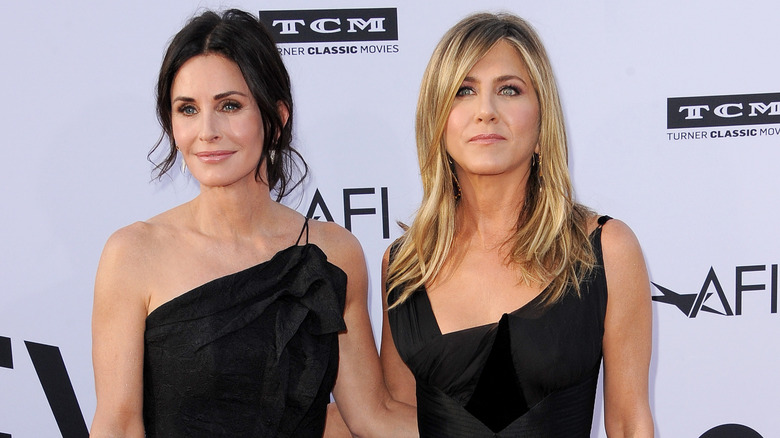 Tinseltown/Shutterstock
Jennifer Aniston and her goddaughter, Coco Arquette, share a close bond just like Aniston does with her pal Courteney Cox, and we're not going to lie — it makes us feel all warm and fuzzy. The "Friends" star has played the role of proud godmother plenty of times by posting tributes to Arquette on social media, including on her 17th birthday. In 2021, Aniston shared a throwback photo where she held a young Arquette in her arms. "Happy birthday my sweet Cocolicious! Godmama LOVES you," she captioned the sweet shot. The star also shared a cute photo of herself, Cox, and a young Arquette, adding a series of smiley faces with hearts rather than words. What a great tribute to the birthday girl! 
In addition, Aniston showed that she is one of Arquette's biggest cheerleaders on an Instagram video that Cox shared. In the clip, Arquette showcased her singing chops, belting out a Demi Lovato tune, while Cox accompanied her on piano. As for Aniston? She played the role of a doting godmother. "Awww...just like her god mama taught her," Aniston wrote on the upload.
Aniston also sat next to Arquette at Cox's Hollywood Walk of Fame ceremony, and she seemed super close to her. Photos shared by the Daily Mail captured Aniston shedding a few tears as she leaned on Arquette's shoulder for support. Seriously, how cute is this godmother-goddaughter duo?
Courteney Cox approves of Jennifer Aniston and Coco Arquette's adorable relationship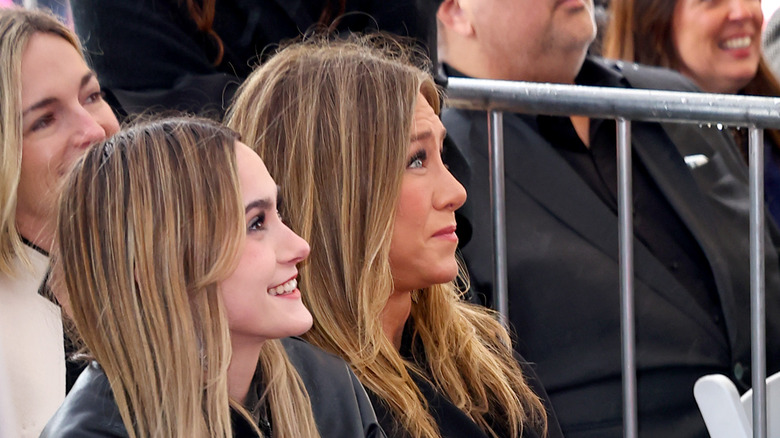 Leon Bennett/Getty Images
It doesn't surprise anyone that Courteney Cox is one of the biggest fans of Jennifer Aniston's relationship with her daughter, Coco Arquette, whom she shares with ex-husband, David Arquette. We mean, she is the one who gave Aniston the title of godmother. In a 2008 interview with the Mail, the actor gushed over Arquette and Aniston's dynamic and it's nothing short of adorable. "Coco calls her Noona, which is Greek for godmother; they see each other and play together every weekend," she told the outlet, obviously referring to Aniston's Greek heritage. "'The other day Jen came over with her yoga teacher and Coco stuck it out for an hour doing yoga with them!" It definitely seems like they have fun! 
Aniston has been open about her struggles to have children of her own, including in a 2022 interview with Allure. "My late 30s, 40s, I'd gone through really hard s***, and if it wasn't for going through that, I would've never become who I was meant to be. I was trying to get pregnant," she told the outlet. "I would've given anything if someone had said to me, 'Freeze your eggs. Do yourself a favor.' You just don't think it. So here I am today. The ship has sailed," she said. 
Still, Aniston revealed that she has "zero regrets" about her path and we think it's super special to have a great relationship with her goddaughter as well!