Shia LaBeouf And Mia Goth Might Not Actually Be Married (At Least Not Legally)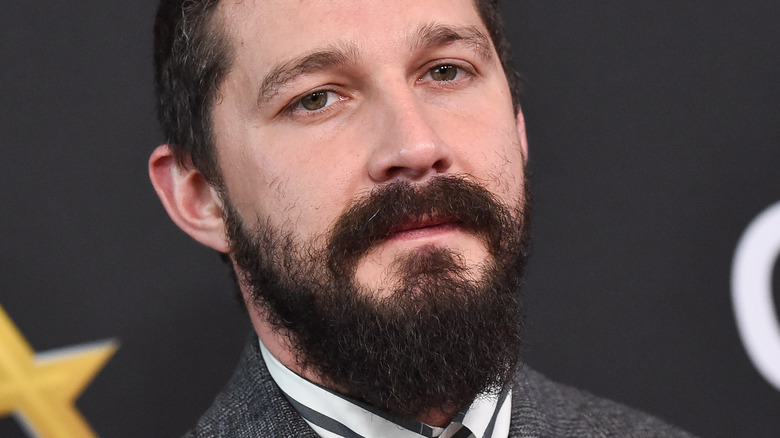 DFree/Shutterstock
Mia Goth has had a really striking career with dynamic choices that have only skyrocketed her star status. She appeared in "Suspiria" alongside Dakota Johnson in 2018 and then in 2020's "Emma." with Anya Taylor Joy. But her roles in Ti West's horror universe consisting of "X" and "Pearl" (and soon "MaXXXine") have gained her viral attention thanks to her character, Pearl's, unhinged lines that make for great TikTok audios. But before most of the attention was put on her acting roles, she did get some negative attention in the press for dating, and then marrying, Shia LaBeouf.
LaBeouf has some very public allegations against him, not to mention some very odd public outbursts as well. So you can imagine what it looked like for Goth to attach herself to him. The two met on the set of and worked on the movie "Nymphomaniac" in 2012. The NC-17 film was the start of their decade-long relationship. But when they did tie the knot in 2016, was it even a legal marriage? It might not have been.
Shia LaBeouf and Mia Goth might not have legally gotten married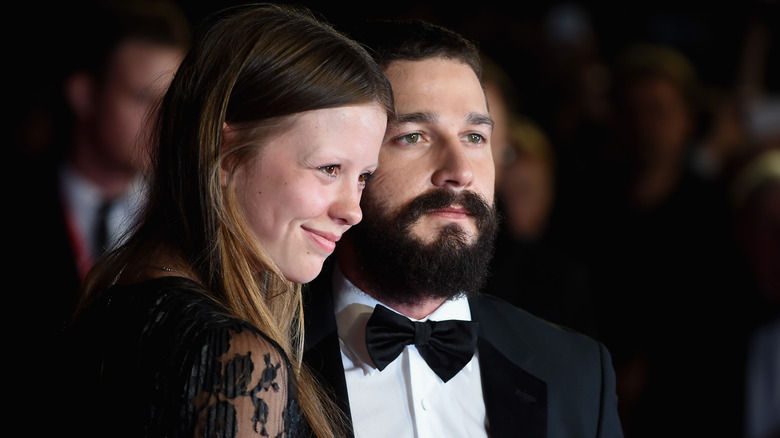 Gareth Cattermole/Getty Images
Shia LaBeouf and Mia Goth were off and on during their relationship from 2012 to 2016. Then they decided to take it to the next level by getting married in Las Vegas (officiated by "Elvis," too!) in October 2016, which TMZ live-streamed. However, as People reported, The Clark County of Nevada tweeted soon after that the marriage wasn't on the books. "Our records show no marriage license for Shia LaBeouf & Mia Goth," they wrote. "A commitment ceremony was performed..."
This commitment ceremony/possible wedding took place after the public fight LaBeouf and Goth had in Germany in 2015. Entertainment Tonight posted the video of the fight, which included LaBeouf saying, "I don't want to hit a woman, but I'm being pushed," to random German men who gave him a ride and recorded the altercation. He asks the "Pearl" actor for his backpack back, saying, "I don't wanna touch you. I don't wanna be aggressive. This is the kind of s*** that makes a person abusive," telling the men later he "would have killed her" if he'd stayed.
Regardless, there must have been legal papers drawn up somewhere, in another county or state, because the two did file for divorce when they separated in 2018. Their rep said: "Shia and Mia have filed for divorce. The separation is amicable and all details pertaining to the divorce proceedings will remain private."
The two actors got back together, though, and had a daughter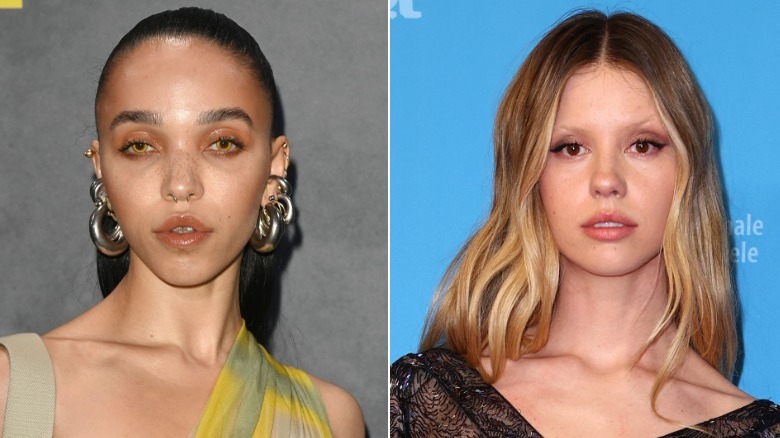 Stuart C. Wilson & Sebastian Reuter/Getty
After he and Mia Goth split up in 2018, Shia LaBeouf started dating singer and actor FKA Twigs who co-starred with him on "Honey Boy." They dated for nine months from the end of 2018 to June 2019. And in December 2020, the "Magdalene" singer sued the "Even Stevens" alum for claims of "relentless" abuse in their relationship. She accused him of "sexual battery, assault, and infliction of emotional distress." While he denied the allegations, he told the New York Times he was "ashamed" of his past and wanted to recover from PTSD and alcoholism. He still went on to date actor Margaret Qualley afterward, but then checked into a treatment center.
During this time is when LaBeouf and Goth reconnected. He said on the "Real Ones with Jon Bernthal" podcast that the "X" star "saved my f***ing life" when she was the only person to visit him while at his rehabilitation center. He said that he felt like he had "nothing to offer her" and she was taking "hits" in the press due to her choice to stick with him despite the allegations. The two actors were seen wearing their wedding bands again in 2020 and LaBeouf and Goth welcomed a daughter named Isabel sometime in April 2022.