RHONJ: What Joe Giudice's Life In Prison Was Really Like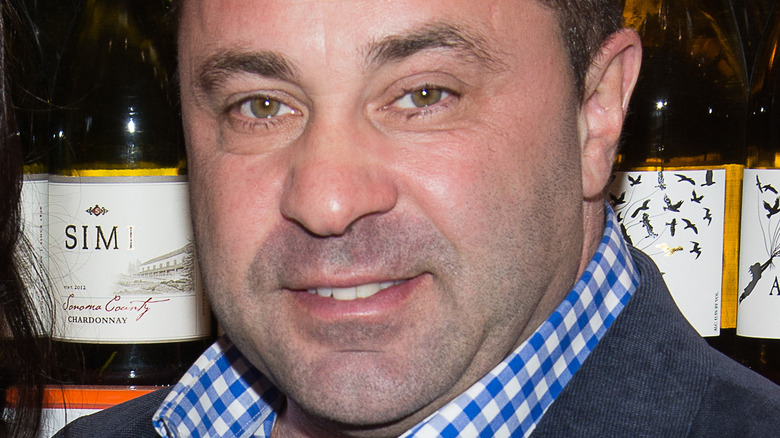 Dave Kotinsky/Getty Images
"The Real Housewives of New Jersey" fans found themselves with even more drama than they bargained for in 2015 when OG housewife Teresa Giudice and her then-husband, Joe Giudice, were sent to prison on fraud charges. While Teresa was sentenced to 15 months, Joe faced 41 months behind bars as well as deportation back to his native country, Italy. However, the former couple was given staggered sentences so one parent could be home with their four daughters.
Teresa was first to be locked up, with her time behind bars playing out on the "RHONJ" special, "Teresa Checks In," which documented how Joe kept the home fires burning. Her return home was also filmed by Bravo's cameras for "RHONJ" Season 7, which also showed how the Giudice family prepared for Joe's time away. He surrendered for his sentence in March 2016, but what was it really like in the big house for the reality star?
Joe Giudice watched RHONJ in prison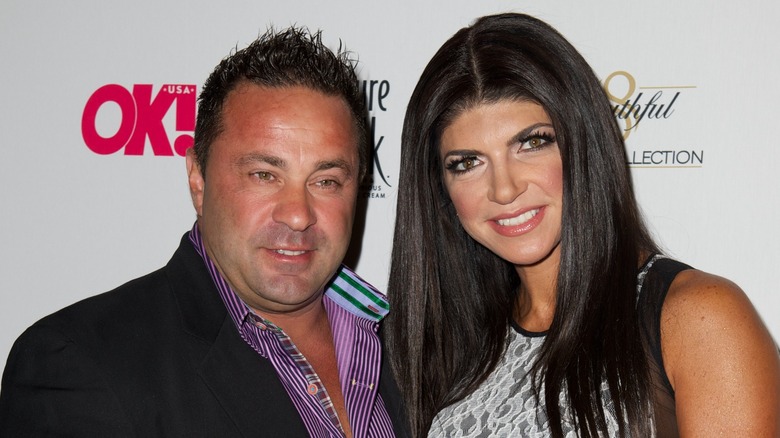 Earl Gibson Iii/Getty Images
Despite being a famous face, it's not believed that Joe Giudice got any kind of preferential treatment when he was locked up in FCI Fort Dix in New Jersey. In keeping with the prison's policy, it's believed he had at least one roommate while he had a pretty regimented daily routine. He was reportedly expected to wake up at 6 a.m. for breakfast on weekdays, with lunch at 11 a.m. and dinner at 4 p.m. In moments of downtime, prisoners were encouraged to have a job, while he also had access to a TV that, ironically, aired Bravo. 
In fact, Joe used to watch "The Real Housewives of New Jersey" while inside, as he shared on "The Real Housewives of New Jersey Special Event: Joe and Teresa Unlocked." Joe admitted, "It was actually painful to watch on television. It was actually sad." From behind bars, Joe watched the episode that saw him say goodbye to his daughters as he left to serve his sentence, noting, "That was gut-wrenching to watch that." He told host Andy Cohen that he watched more Bravo at Fort Dix than when he was later transferred to FCI Allenwood in Pennsylvania in 2017, sharing that after his move he was interested in reading magazines than watching TV.
Joe also used his time in prison to further his education. He took computer courses and earned himself his high school diploma, also telling Cohen that he developed at least one business idea inside.
Joe Giudice dropped the pounds behind bars
Another thing Joe Giudice got up to in prison? Getting in shape! The reality star got noticeably fitter, with a source telling People he'd been working out a lot more, couldn't drink alcohol, and saw a change to his usual diet. Teresa Giudice revealed in September 2016 that her then-husband had lost around 35 pounds. "He's running, he's doing 1,000 sit-ups a day. So he lifts weights and that's what he's doing," she shared. "Just running, working out, and then a lot of push-ups and sit-ups." But don't think it was basically just a gym-filled vacation. Joe admitted things were pretty strict inside. 
After leaving Allenwood, Joe was detained by Immigration and Customs Enforcement (ICE) while his deportation case was pending, where things weren't exactly flexible. Speaking on "The Real Housewives of New Jersey Special Event: Joe and Teresa Unlocked," he claimed being in the ICE facility was horrible. "I don't wish that on anybody," he said. "Five months, I was locked down in a room, this room was small, there were eight people in the cell ... I was going bonkers in there." He was even punished for opening a window in the gym and was put in isolation for a week.
Joe left ICE custody in 2019 and became a free man in Italy. He later moved to the Bahamas and explained on Teresa's Namaste B$tches podcast in December 2022 that he was working in construction there.