Why Enrique Iglesias Stopped Speaking To His Father Julio Iglesias For A Decade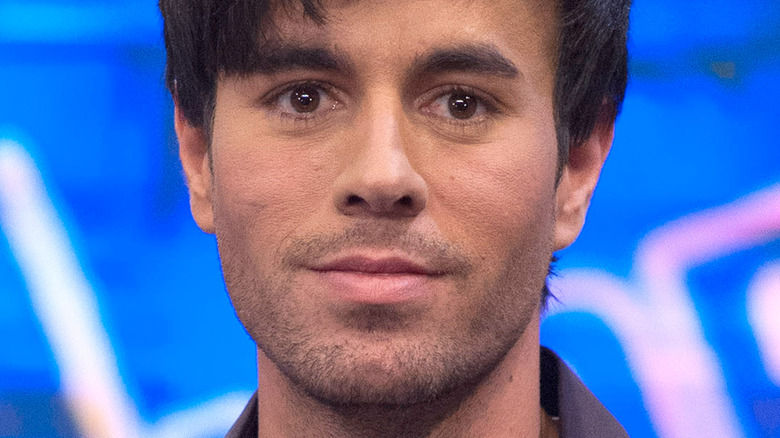 Gabriel Solera/Getty Images
Enrique Iglesias hit superstardom in the late 90s and early 2000s thanks to hits like "Rhythm Divine" and "Hero." He was such a public figure that it made news when he had his mole removed; that's the power that Iglesias had. While he had a prolific career with hit after hit, he is deliberately slowing things down, career-wise. He told Apple Music's Zane Lowe that his last album, "Final (Vol. 1)," would mark the end of his musical career. Iglesias said, "But I feel I'm in this chapter of my life and making an album, it's a grueling process for me. And I'm still going to write songs, like I said, and I might put out music in the future. It just won't be in the format of an album if I do."
He went on, "This is, for now, my final album and it is what it is. I made that decision in 2016, '17, and I'm sticking to it." It truly is the end of an era. But part of Iglesias' reason for moving on from music is because he and his partner, tennis star Anna Kournikova, have welcomed three children since they got together in 2001. While Iglesias is winding down, we're taking a look back at his life, especially his contentious relationship with his father, Julio Iglesias. There was some tension there but it's actually Enrique's three children who proved to be the glue that united the father and son. 
Enrique Iglesias left home at 18 and 'never looked back'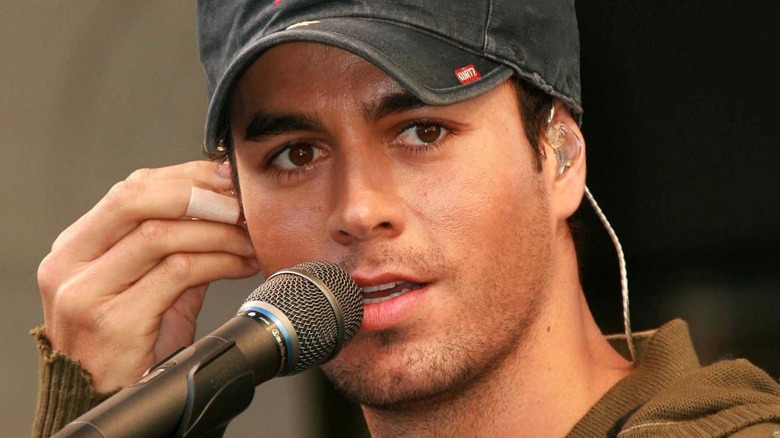 s_bukley/Shutterstock
Enrique Iglesias comes from a musical lineage. His father, Julio Iglesias, was a Spanish singer-songwriter who gained major popularity in the 70s and 80s. Based on this information, it's easy to assume that Enrique leaned on his father's musical connections to achieve his own success, but this was not the case. In fact, it was Enrique's independence in the musical world that caused the long rift between him and Julio, prompted by an argument they had when Enrique was 18. "[W]e had a serious fight because he thought it was strange for me to become part of the music world and perhaps even stranger that I had never told him about it, and that all of a sudden, I showed up with a record deal and said that I wanted to be a singer," Enrique told People in 2007. "I left home. I never looked back."
This was what sparked a long silence between Enrique and Julio. "At 18, I separated from my family completely and it was difficult. I left and for ten years I had absolutely no contact with my father," Enrique told ICON, according to Hello! Enrique felt called to the musical world but wanted to succeed in that arena sans nepotism. "I suffered a lot. But what I felt for my music gave me strength. And, above all, I pursued the goal to do it my way," Enrique continued. But their estrangement was not a permanent thing.
Julio and Enrique Iglesias' happy reconciliation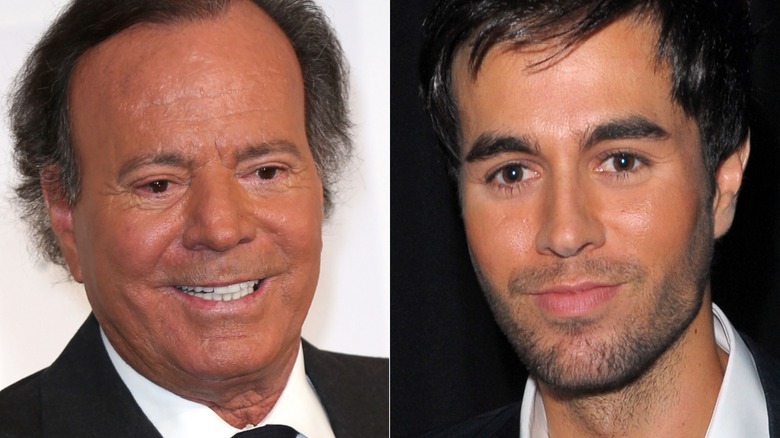 Tim P. Whitby & Jason Merritt/Getty
While Enrique Iglesias and his father, Julio Iglesias, have had their differences — and went for a long period without speaking — there was always a lot of love there. "It's not a normal relationship," Enrique told The Sunday Times in 2002, according to Top40-Charts. "It's weird in many ways, but we love each other. I admire him so much."
Things have improved between Julio and Enrique over the years. In his 2020 interview with ICON, Enrique said he and Julio have reconnected and it was very meaningful. "We had a very nice conversation. It was a very good mood ... It comforted me a lot," Enrique said.
Enrique and Anna Kournikova's three children — Nicholas, Lucy, and Mary — are a major reason for the renewed bond between father and son. Julio told Televisa Espectáculos that the media is full of rumors that he's never met his grandchildren, but he was quick to correct this. "I know my grandchildren by heart," Julio said, according to Hello! "I see myself reflected a lot in Enrique and Enrique is the father of his children, who are my grandchildren. In my granddaughter, I see a lot of Iglesias, in [Nicholas] I see more of the Russian side. Everything is transmitted, genetics is magical." There's nothing like the next generation to inspire a happy family reunion!