Anya Taylor-Joy Was In Heiress Ivy Getty's Wedding (So How Did They Meet?)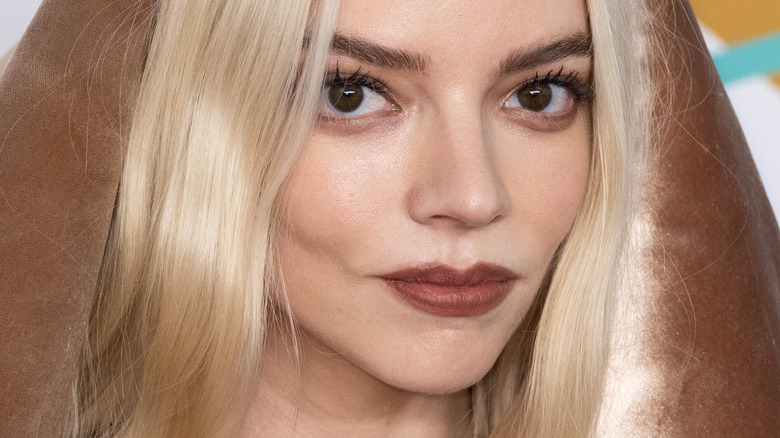 Jeff Spicer/Getty Images
Lovers of high society and celebrity culture alike are sure to have been delighted back in 2021, when Hollywood "it" girl Anya Taylor-Joy served as the bridesmaid to heiress Ivy Getty. The glamour! The star-studdedness of it all! Just one question: How do these two know each other?
As the heiress to the fortune of the man once known to be the richest in the world Getty was always going to have a wedding most could only dream of. And that, she did. Per Vogue, which covered the wedding, the nuptials were a weekend-long affair, filled with parties, picnics, more parties and a guest list made up of an eclectic mix of elites. From Nancy Pelosi, who officiated, to Greek royals, to the bride's cousin Nats Getty and his wife Gigi Gorgeous and countless other A-listers, the wedding was like a modern fairytale come to life.
Having said that, even with so many stars in attendance, the role of maid of honor was reserved for just one starlet: Taylor-Joy. That would be a prestigious title in itself. However, John Galliano, designer for bride and bridesmaids alike, told Vogue that Getty had known most of the women since childhood. That made Taylor-Joy's role in the wedding even more interesting. So, just how long have Getty and Taylor-Joy known each other, and when did their friendship begin?
This friendship began one day in L.A.
As fans of Anya Taylor-Joy may know, "The Queen's Gambit" star was born in the U.S., but grew up in Argentina and the U.K. It was only fairly recently that she returned to the States, but when she did, there was more than a career of dreams in store for her. Taylor-Joy's first day in L.A. would mark the day she'd meet her bestie, Ivy Getty. 
However, that's not to say their first meeting was a breeze. In fact, speaking to Vogue, Taylor-Joy recounted that their first encounter took place, "when we got locked out on a balcony together." Hey — if anything can make or break a relationship, it's close quarters! But, luckily for these two, the bond they created on that balcony stood the test of time. As Taylor-Joy told the outlet, "We made a promise to always take care of each other, and six years later, that bond remains unbreakable." 
That said, neither Taylor-Joy nor Getty has publicly divulged much more about their friendship. In fact, aside from the Vogue piece, Taylor-Joy has really only spoken about their friendship in an Instagram post shared the day after the wedding. "Being by your side all these years and your maid of honor has been nothing short of a privilege and your existence, nothing short of a miracle," Taylor-Joy gushed. "If you're ever in any doubt- I have loved you and will love you, forever.."
...and every now and then, we'll catch a glimpse of them
We might not see Anya Taylor-Joy and Ivy Getty gush over their friendship in public all that much, but every once in a while, we catch a glimpse of the two hanging out ... and it's safe to say, these two are under the radar #FriendshipGoals.
Case in point: days before the wedding, Getty shared some adorable pictures from the Halloween they'd just spent together. And while they did have a costume change at some point, their first look hinted at their bond. That would be Mary-Kate and Ashley Olsen in "New York Minute." You can't get much closer than twins! By far one of the cutest snaps of the friends together, however, came from the first night of Getty's wedding festivities. As seen in an Instagram photo dump by Getty, the two shared a sweet moment at the 60s-themed party. It's not exactly clear what the two were talking about at the time of the picture, but they're both giggling at whatever has been said, while toasting chic champagne coupes. 
These two might be pretty low-key, at least in public, but it's safe to say there's nothing restrained in their love for one another. Or, might we add, their fabulousness. This "it" girl and heiress combo is one we'll be on the lookout for!