Mod Sun's Confusing Relationship With Tana Mongeau Explained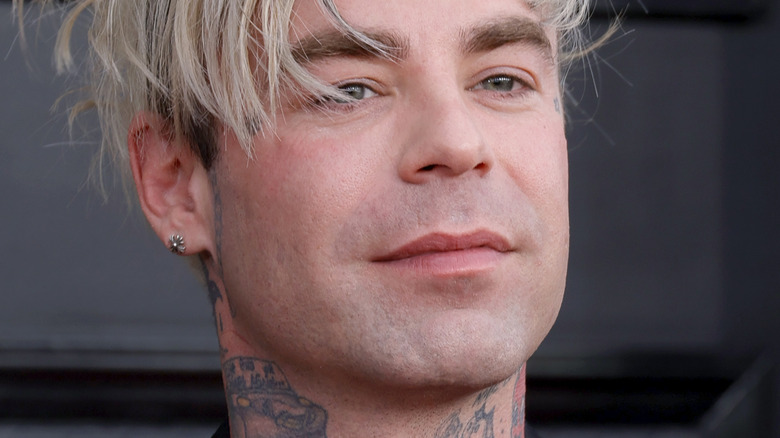 Frazer Harrison/Getty Images
YouTuber Tana Mongeau dated singer Mod Sun (real name Derek Smith) along with Bella Thorne. In fact, Mongeau connected with Mod Sun because of her relationship with Thorne, with Mongeau and Thorne beginning their relationship in 2017. Shortly after, Mod Sun joined them, and they became a throuple — that's a relationship between three people. In an interview with Gay Times, Thorne spoke about her relationship with Mod Sun and Mongeau: "We joke around about poly, but we aren't in the sense that we don't put a word, a box or label too many things," Thorne said, adding, "It is what it is."
But it was no small feat navigating a relationship with Mod Sun and Mongeau. After Thorne split up with the two of them, she told Cosmopolitan how much careful juggling it took, saying, "If you're gonna date a guy and a girl at the same time, those people have to really f*** with each other. Or literally f*** with each other. You know what I'm saying? It's like, it really depends on finding the right mesh of two people."
Thone tapped into the heart of the matter; that while she was dating her partners, her partners were also dating each other, and Mongeau and Mod Sun had their own special connection that didn't end after Thorne was out of the picture. This ended up causing problems later on, especially between Thorne and Mongeau.
Tana Mongeau and Mod Sun began dating after they split from Bella Thorne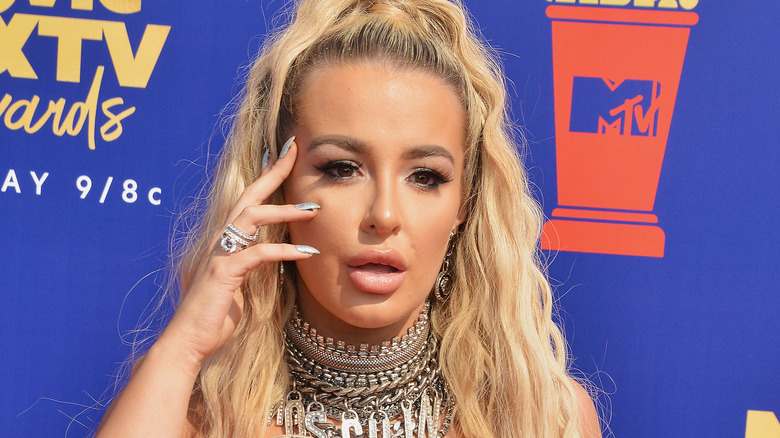 Tsuni-USA/Shutterstock
Tana Mongeau was the first to split with Bella Thorne and Mod Sun. They parted ways in February 2019 while Thorne and Mod Sun went on to date for a few more months, calling it quits in April 2019. On the podcast "H3" Mongeau said that while they were in a throuple, she didn't like Mod Sun as much because they were competing for Thorne's attention. As the throuple was deteriorating, Mongeau said that she and Mod Sun bonded over their frustrations with Thorne.
"Mod Sun and I just bond," Mongeau said on H3, adding,"We click. We're like f*** the past two years of our life." Mongeau said that she was making music and he began helping her. In the midst of this, Mongeau admitted that she and Mod Sun began dating. She added that this was the point when her relationship with Mod Sun became authentic, claiming that it wasn't while they were in a throuple. 
It obviously caused a lot of drama with Thorne, who was upset that Mongeau and Mod Sun went on to have their own relationship without her. Thorne claimed that Mongeau broke the "girl code," but Mongeau said that Thorne was upset because her relationship with Mod Sun was out of Thorne's control at that point. In December 2020, Thorne dropped the single "SFB," which stands for "Stupid F***ing B*****," allegedly aimed at Mongeau.
Tana Mongeau cuddles up to Mod Sun again after Jake Paul split
As Tana Mongeau and Mod Sun phased out, Mongeau got serious with another famous face on the internet. She moved on with YouTube personality Jake Paul, and the two had a wedding in Las Vegas in July 2019. It was later revealed that the marriage ceremony wasn't legally binding. Mongeau and Paul broke up in January 2020. 
Meanwhile, Mongeau and Mod Sun remained on really good terms throughout this era. For his birthday in March 2020, she posted a tribute to him on Instagram. "happy birthday to my best friend + favorite human," she began. "i simply question every day if i'd be alive if it wasn't for ur existence." Mongeau went on: "we've come along way and i'm never not grateful for that.. u teach me new s*** every day and i will never not love a minute i spend with u." She said that she was writing the post while Mod Sun was performing on stage.
They sparked dating rumors again during the pandemic, when Mod Sun continually made appearances on her social media around May 2020, while they quarantined together in Los Angeles. They didn't confirm their relationship status. In July 2020, Mongeau said that she was dating Francesca Farago from "Too Hot to Handle." Meanwhile, Mod recently had his heart broken by ex-fiancée Avril Lavigne.