Nick Cannon's New Series Who's Having My Baby Is Father Of All Cringey Dating Competitions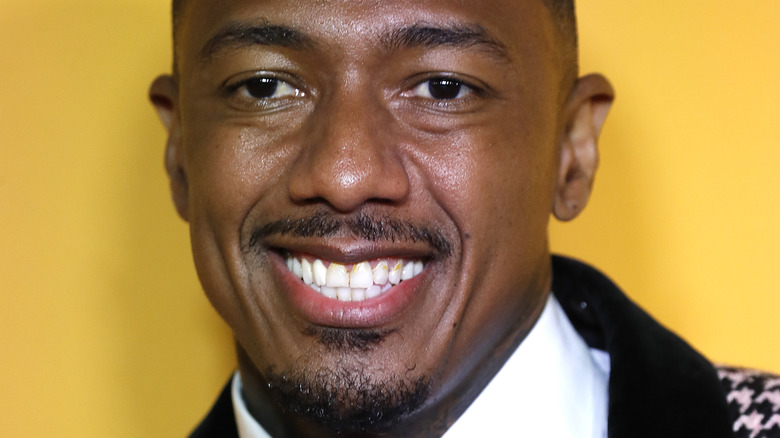 John Lamparski/Getty Images
TV personality and father to an ever-growing amount of children Nick Cannon teased a new reality dating show called "Who's Having My Baby?" where a panel of women compete to be the one to bear his next child. This has gotta be a joke, right?
Well, the "Wild N' Out" creator is no stranger to reality TV and is already the father of twelve kids — as of writing. Joking beside, there's absolutely no shame in bringing bundles of joy into the world. However, people tend to joke about the rapid pace at which the comedian has announced the birth of his kids. As noted by Today, he has welcomed all twelve of his children since 2011, meaning he had at least one baby every year for 11 years!
Even Cannon is in on the joke, as he once reposted a meme poking fun at how "Gen C" (for Cannon, of course) will dominate the future gene pool. But this joke was taken to a new level when Cannon posted a trailer for a new competition program based on his pursuit of another heir.
Is Nick Cannon going for lucky number thirteen?
On March 7, rapper and comedian Nick Cannon uploaded a trailer for his upcoming series on the E! Network, "Who's Having My Baby?" The clip featured fellow funnyman Kevin Hart as the show's host, surprising Cannon and the studio audience with a "Bachelor"-esque queue of female contestants vying for a shot at love with the famously prolific TV personality. The video also revealed the series is set to premiere in the spring. "We're expecting... a new show on E!" Cannon captioned the cheeky post adorned with a side eye and baby bottle emoticons.
Shortly after releasing the clip on social media, Variety reported that the "Who's Having My Baby?" studio set was a gag perpetrated by Hart for "an upcoming, not-yet-announced project." Sources told the publication that the faux-competition show was part of a sketch featuring Cannon within Hart's venture with NBCUniversal, which owns the E! Network. This isn't the first time the bite-sized comedian has pulled a prank on the rapper, as Hart once deployed a billboard with Cannon's phone number saying, "For any advice on fatherhood? Call my best friend Nick Cannon," in 2021, as noted by CNN.
Despite the seemingly fake competition, Cannon already seems to have found baby mama number thirteen in "Real Housewives of New York" star Luann de Lesseps, as he joked in a recent clip from his hosting gig at "The Masked Singer." Imagine that, the Countess and the Cannon.