Rita Moreno Stayed With Her Husband Lenny Gordon For 46 Years (& Still Regrets It)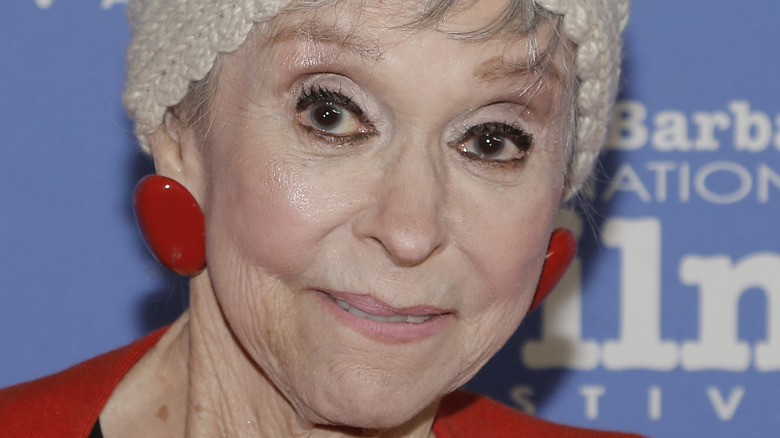 Tibrina Hobson/Getty Images
The following article discusses suicide.
Rita Moreno lived a fiery and tumultuous love life. The "West Side Story" star has written her name in Hollywood for her prolific acting work, which has earned her a spot among the select group of EGOT winners. But Moreno's romance with Marlon Brando also drew plenty of attention in the late '50s and early '60s. After meeting on the set of the 1954 biopic  "Désirée," Moreno fell deep for "The Wild One" star. "He was the lust of my life," she told People in 2017.
During the troubled relationship, Moreno engaged in an affair with Elvis Presley to get back at Brando for womanizing. "I knew no one could possibly make Marlon Brando more jealous," she detailed in "Rita Moreno: A Memoir" (via New York Post). But she always returned to Brando. However, the on-again, off-again relationship — which lasted eight years — nearly cost Moreno her life. Toward the end, Moreno underwent an unsafe abortion arranged by Brando that sent her to the hospital.
Brando's infidelities and the heartbreaking loss of her pregnancy sent Moreno spiraling down. One morning, Moreno attempted suicide at Brando's apartment. "One day I quite literally was forced out of a coma and had to choose life over him," she wrote. After experiencing the intensity of love, Moreno was ready for a relationship that was stable and healthy. While she found the former in her marriage to Lenny Gordon, Moreno continued to utterly lack in the latter.
Rita Moreno felt trapped in her marriage to Lenny Gordon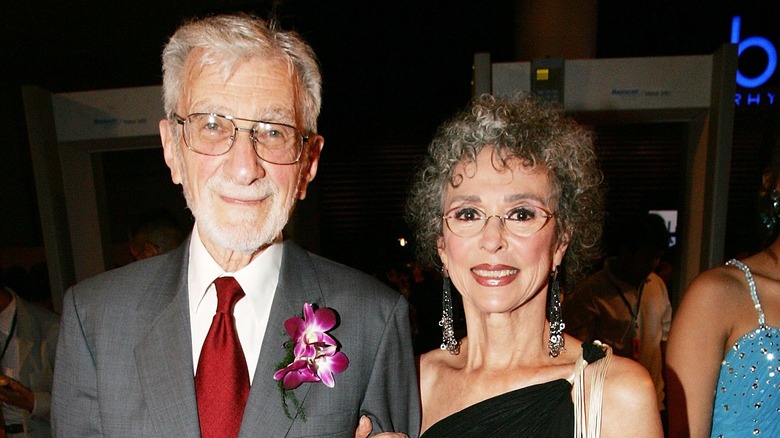 Patrick Riviere/Getty Images
Rita Moreno admired and loved Lenny Gordon. But she felt trapped in the marriage. "I saw his great affection, humor, and generosity, but his control was slowly being substituted for toxic love," she wrote in her 2011 "Rita Moreno: A Memoir." Published shortly after his 2010 death, Moreno seemed to still be processing her feelings for Gordon. "I hated the finger wagging and his need for stability and control, but Lenny always gave me more than he took," she described.
Moreno has since had enough time to dwell on the relationship. "I was going insane," she told the Daily Beast in 2014. After he died, she felt alive for the first time in a long time. "It was an astonishing discovery. After all the years of supervision I can do whatever I want," she said. "It was a very long time to be that unhappy."
Gordon's death finally allowed Moreno to open up about the marriage and the depth of her late husband's behavior. "I would never have talked about him without his permission. I couldn't do that ... In a way, having the freedom to do it was really very important to me," she said, per USA Today. Despite it all, Moreno still holds Gordon in high regard. "My husband was the love of my life," she said on "Making Space with Hoda Kotb" in 2022.
Rita Moreno was afraid to break up the family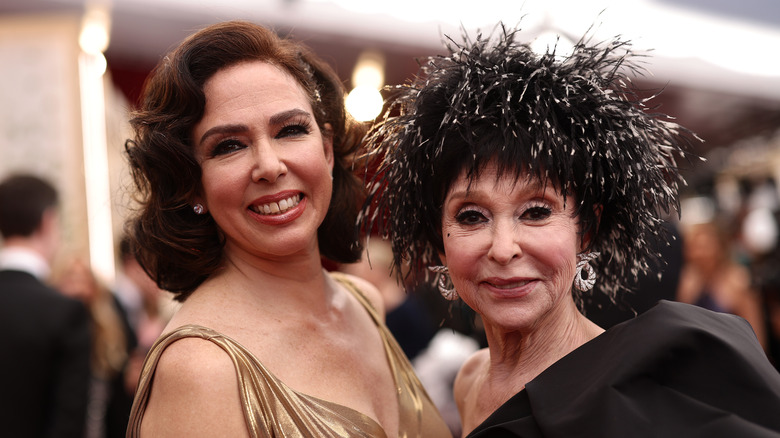 Emma Mcintyre/Getty Images
Rita Moreno and Lenny Gordon welcomed their only child, Fernanda Luisa Gordon, early in their marriage. With a daughter to think of, Moreno found it easier to apply her acting skills and pretend her marriage was great than to break up the family. "It was horrific because no one else had a clue. I played a role for a very, very long time," she told the Daily Beast.
For many years, Moreno continued to find ways to hide the truth of her reality. "We had quite an extraordinary and successful charade for many years ... I couldn't find a way to leave," she said during a Q&A after the "Rita Moreno: Just a Girl Who Decided to Go" premiere at the Sundance Film Festival (via UPI). But Moreno wasn't completely in the dark. She was under the care of a therapist, who saw her marriage for what it was. "The advice he gave me I ultimately didn't take, which was 'You should leave him,'" the actor detailed.
Moreno also thinks undiagnosed depression contributed to her staying in a toxic marriage. "If you have the feeling that you have no value, that's a serious, serious illness," she said, according to SF Chronicle Datebook. While she stayed with Gordon, Moreno is thankful for seeking professional help. "The best thing I ever did for myself ever — ever — was to go into psychotherapy," she said at a University of Colorado Boulder event.
If you or someone you know needs help with mental health, please contact the Crisis Text Line by texting HOME to 741741, call the National Alliance on Mental Illness helpline at 1-800-950-NAMI (6264), or visit the National Institute of Mental Health website.