What Does Lori Harvey Actually Do For Living?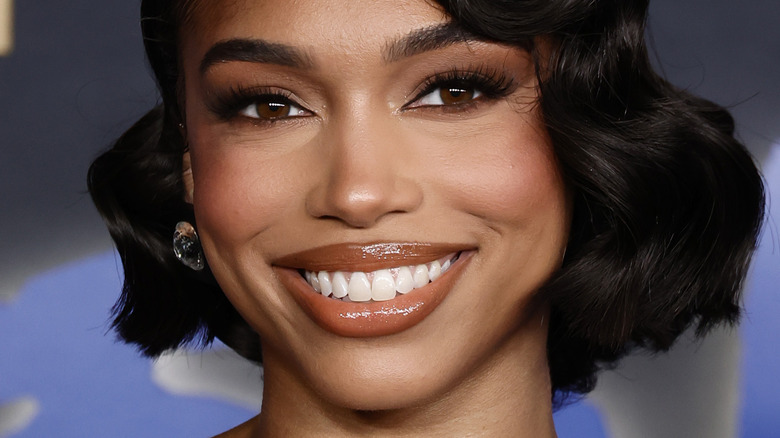 Frazer Harrison/Getty Images
Lori Harvey has made quite the name for herself in the entertainment industry. She's had some high-profile relationships with some of Hollywood's most eligible men including, Michael B. Jordan and Future. Not just that, but she's also the daughter of television host Steve Harvey. Steve legally adopted Lori and her two other siblings when he wed his wife, Majorie, in 2007, per People.
Although Lori wasn't born into fame, she was still thrown into the world when her mother married Steve. The "Family Feud" host spoke on "Today with Hoda & Jenna" about how Lori has dealt with her new life. He said, "She's growing up as a public figure. She doesn't get to make her mistakes like everybody else. Everybody else gets to make their mistakes in the cloak of darkness at your house. Hers gets publicized." Regardless if Lori was Steve's biological daughter or not, she is still going to get criticized for anything she does now that she is under the spotlight. One of the things that people seem to question about Lori is what she actually does for a living.
Many celebrities have been scrutinized for being famous for doing nothing, but Lori's not one of those. The 26-year-old is making her mark in the world and has ventured into several things she is passionate about.
Lori Harvey was a model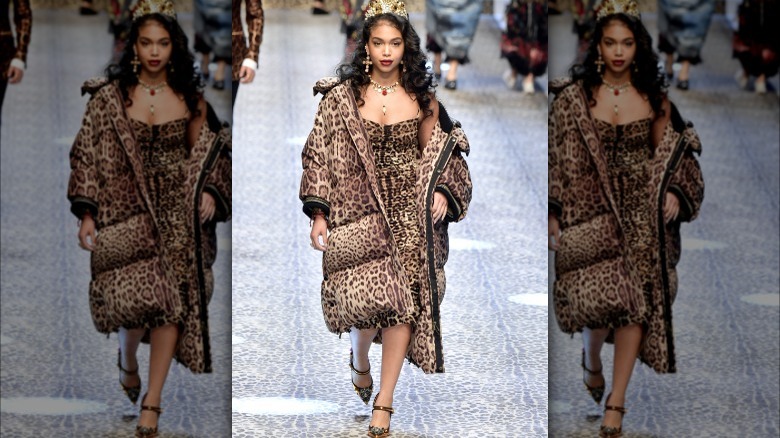 Victor Boyko/Getty Images
It's undeniable that Lori Harvey is stunning, so it's not shocking that she decided to pursue a career in modeling. Modeling is a tough line of work to get into, and Harvey got started at a young age. According to National Today, she began her modeling career at just three years old, although it didn't end up sticking. At that age, Harvey was more interested in becoming a professional horseback rider rather than a model. However, when she sustained an injury while horseback riding, she decided to take on the world of modeling again.
According to People, Lori had modeling contracts with both IMG Models and WME. Her career took off as she walked the runway for brands like Valentino and Dolce & Gabbana. But, there's a lot of pressure that can come with being in the modeling industry, and it truly affected the young model, per PopSugar. She said, "When I started modeling, I felt like I had to get super skinny because I wasn't tall. I'm naturally more curvy, so I put a lot of pressure on myself to be a certain size and look a certain way. It took such a toll on me mentally." As time passed, the model was able to come to terms with how she was built. She told BET (via People) in 2017, "It's kind of cool because I feel like it's opening up a door for a new generation of models that look more like me."
Lori Harvey has her own skincare line
It seems like skincare is all the rage with celebrities, and Lori Harvey is dipping her feet in the pool too. The businesswoman created her own skincare line called, SKN by LH, in 2021. She spoke on "The Real" about how her passion for skincare started as a young girl. She said, "I've honestly always been into skincare ever since I was a little girl, you know, watching my mom do her skincare routine in the mirror and trying to go recreate that in my own way." Harvey also dealt with rosacea, which according to the National Institute of Health, is a "long-term inflammatory skin condition that causes reddened skin and a rash." Those with rosacea have more sensitive skin, so when Harvey created her skincare line, she wanted it to be universal for everyone, including those with that skin condition.
When the brand officially launched in October 2021, Harvey felt as though she was representing something bigger than just this brand. Being an African-American woman and a CEO of a skincare line was incredibly special to the businesswoman. She told PopSugar in 2022, "When the next generation is coming up and there's that little brown girl who wants to get into skincare or start her own company, she can see me and be like, 'I can do it, too.'" SKN by LH has five products people can buy to start their skincare journey, per SKN by LH.