Olivia Newton-John's First Husband Matt Lattanzi Moved On With Their Babysitter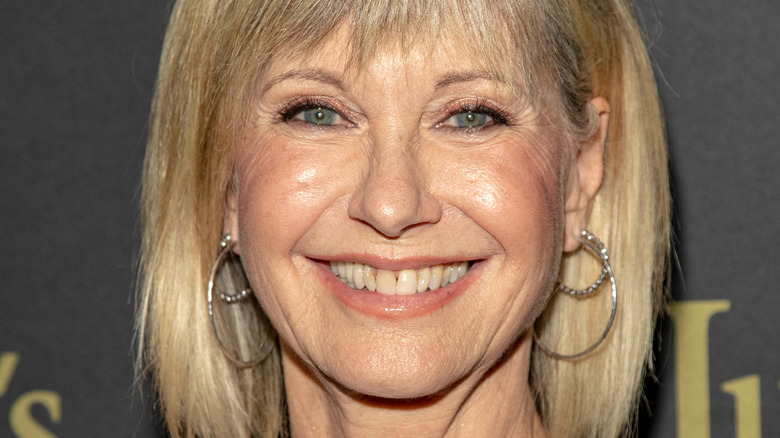 Eugene Powers/Shutterstock
It was an incredibly sad day for Hollywood when Olivia Newton-John died in August 2022 after a lengthy battle with breast cancer. She was 73. The "Grease" star bravely and openly fought cancer for more than three decades, beginning in 1992, when she was first diagnosed with the illness. Throughout those years she had chronicled her journey while advocating for cancer research and education through her eponymous foundation and wellness center in Australia. Her husband, John Easterling, announced her death in a heartbreaking statement on Facebook, saying Newton-John died peacefully at her South California ranch surrounded by family and loved ones. 
Throughout her life, Newton-John dealt with more than her fair share of pain, tragedy, and heartbreak — from losing people close to her heart, to her high-profile divorce in the midst of her health battle. In 1995, two years after surviving her first bout of cancer, the Aussie singer announced her separation from her first husband Matt Lattanzi after a decade of marriage. The decision was mutual and amicable, however, and both Newton-John and Lattanzi moved on with their separate lives soon thereafter — she with Easterling, whom she married at 60 in 2008, and he with a much younger woman, Cindy Jessup, who also happens to be the pair's former babysitter.
Matt Lattanzi didn't begin dating the babysitter until after the divorce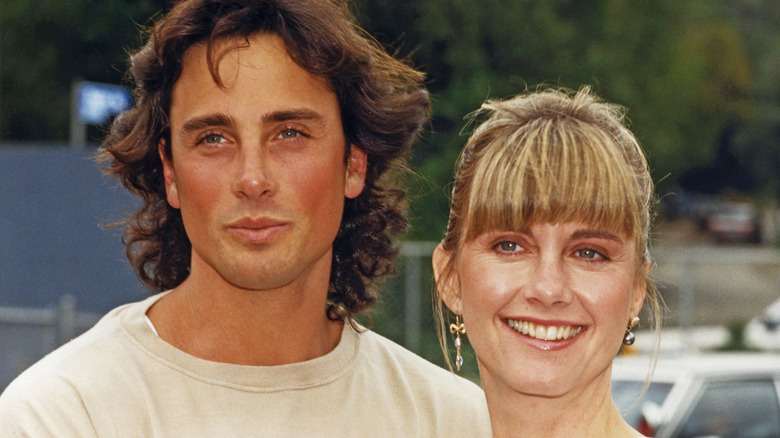 Vicki L. Miller/Shutterstock
Olivia Newton-John was married to Matt Lattanzi from 1984 to 1995. The pair met in 1980 on the set of "Xanadu," where Lattanzi was a back-up dancer, and dated for four years before exchanging "I dos." They welcomed their daughter Chloe in 1986. During her first bout with cancer, Lattanzi was incredibly supportive of his wife, telling The Spokesman Review in 1993 how happy he was that Newton-John had gone into remission. "She's fine and is completely cured now. You can see the change in Livy just by looking at her," he said. "She's become a living beam of light, as if she's gone from 25-watt refrigerator bulb to a brilliant  lamp. How could any cancer live in all that light?"
But, their marriage would soon unravel, and he and Newton-John announced their separation in 1995. According to People, Newton-John's niece, Totti Goldberg, cited the pair's irreconcilable differences as the catalyst for their divorce. But soon, rumors quickly spread about Lattanzi's alleged affair with the babysitter, Cindy Jessup, who was only 23 at that time — more than 10 years his junior. Per the Daily Mail, Jessup met Lattanzi while he and Newton-John were living in Australia with their daughter. They clicked instantly thanks to their mutual love of cycling, but the two didn't start dating until after Lattanzi's marriage to Newton-John had ended. Jessup and Lattanzi eventually tied the knot in a quiet ceremony in Malibu in 1999, reportedly with Newton-John and her daughter's blessing. At the time, Lattanzi said, "I am so fortunate. I couldn't ask for a better outcome."
Olivia Newton-John remained friendly with Matt Latanzi
Regis Martin/Getty Images
Olivia Newton-John refused to be bitter over her split from her ex-husband Matt Lattanzi. As she reflected on their marriage with the Daily Mail, the "Grease" star said it would've eventually led to divorce, "but it happened sooner because of the cancer, which was a good thing." Despite the "painful" split, she and Lattanzi made it a point to stay friends for the sake of their daughter Chloe. "We have tried to remain friendly because we have a child, and we made a pact that she was the most important thing in our lives and that we would never fight over her," explained Newton-John.
After news of her death in 2022, Lattanzi — who has since separated from Cindy Jessup and married his third wife, Michelle — paid tribute to the Aussie star in a joint statement on Facebook. "Today we lost one of the world's greats Olivia Newton-John. Matt and I are so overwhelmed with the love and gratitude shared with us by friends, family and a deeply loving community of fans who will all miss Olivia's presence in this world," read a statement posted to Michelle's account. Jessup, who has also started a new life in California with her family and is now in her 50s, also honored Newton-John, saying the world had lost a "true angel." "Olivia cared so deeply about people and the planet. She was such a force for goodness, always helping others," she said.