Teresa Giudice Has A Sweet Friendship With RHOM's Alexia Echevarria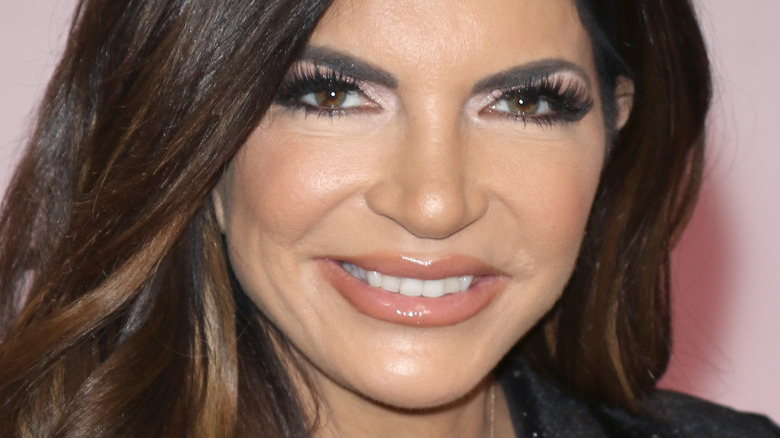 Jim Spellman/Getty Images
Calling all "Real Housewives of New Jersey" and "Real Housewives of Miami" fans! Did you know that Jersey OG Teresa Giudice and Miami-based business woman Alexia Echevarria are actually friends? Although about 1,000 miles separates them, the two East Coasters have a lot in common, and have become another on the list of inter-franchise Housewife friendships (as opposed to the many Housewife feuds amongst the different cities).
Giudice and Echevarria have both been on-screen firecrackers ever since they joined the "Housewives" in 2009 and 2011 respectively. Over the years we've seen how the Jersey queen is known for her table-flip level antics, and we know that Season 5 of "RHOM" is rife with drama involving Echevarria and her castmates. The two are also both celebrating their recent weddings after divorcing their longtime ex-husbands. Guidice married Luis Ruelas in an extravagant ceremony in August 2022, and Echeverria tied the knot with real estate developer Todd Nepola at the end of 2021.
With all of their similarities, the two reality stars have actually had the chance to bond outside of the show!
Teresa Giudice and Alexia Echevarria are '#twins'
In classic reality TV fashion, the first time "Real Housewives of New Jersey" star Teresa Giudice and "Real Housewives of Miami" mainstay Alexia Echevarria ever met was captured on camera. After years of comparisons to each other, the ladies first chatted face-to-face (well, virtually face-to-face over Zoom) during an episode of "Housewife to Housewife" in May 2022. Before the call even started, Giudice explained to the camera that many people have told her she and Echevarria would "totally get along." Just over a month after this interview together, Echevarria and Giudice met up on a double date with their husbands at Carbone in Miami, according to Bravo.
During a February episode of "Watch What Happens Live with Andy Cohen," Echevarria sweetly responded to the many comparisons to Giudice she has received. "I actually think it's a compliment because I happen to know her and we've become very good friends," Echevarria beamed. "I know she's very passionate — so she's like me in that way — but she has such a good heart."
On February 4, the two met up again, this time in New York City! The Miami star captioned her Instagram of the impeccably dressed ladies, "No trip to NYC is complete without getting together with you #twins." Their "twin" connection certainly goes deeper than surface level.
Teresa Giudice and Alexia Echevarria's life experiences mirror each other
Amid all of their uncanny similarities, the long and the short of it is that Teresa Giudice and Alexia Echevarria get along so well because they can truly relate to each other. Both are mothers to children from their previous marriages, which they bonded over during their initial meeting on "Housewife to Housewife." Echevarria has two adult sons, Peter and Frankie, who she had with her first husband, Pedro Rosello. "Real Housewives of New Jersey" watchers have basically grown up alongside Gia, Gabriella, Milania, and Audriana Giudice, who Teresa shares with ex-husband, Joe.
The two Housewives have also both, unfortunately, dealt with the perils of incarceration and how it affected their families. Teresa was infamously imprisoned for fraud for 15 months alongside her ex-husband, Joe, who went away for 41 months. When Teresa discussed this during "Housewife to Housewife," Echevarria was again able to be empathetic for Teresa since she had gone through a similar thing. "I have the same story because my children the same, ya know, their father went away to jail," she shared. "And he was often [in jail] in their lives for so many years."
In conclusion, these are two tough women who have had hardships in their lives, but have come out on the other side stronger. Plus, they're both Tauruses!