Austin Butler Confirms At 2023 Oscars He's Never Ever Giving Up Elvis (Yes, We're Tired Too)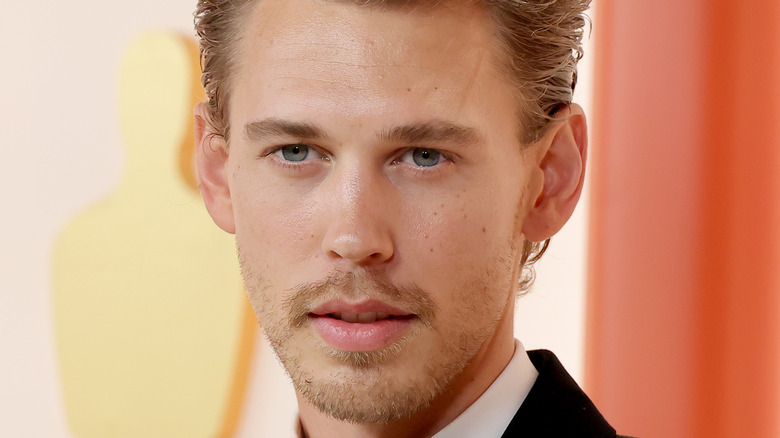 Mike Coppola/Getty Images
Austin Butler brought his A-game at the 2023 Oscars — including his infamous Elvis voice. After embodying the King of Rock and Roll for so long, the "Once Upon a Time... in Hollywood" star still had the southern drawl at the award show.
To be fair, his commitment to the bit is certainly impressive. In May 2022, he told The AU Review that in his preparation to play Elvis Presley in Baz Luhrmann's "Elvis" biopic, he worked tirelessly with vocal coaches to sound like the legend, not just to talk like him, but to sing like him, too. "When I began the process of this I set out to make my voice identical to his," he shared. "That was my goal, that if you heard a recording of him and heard a recording of me, you wouldn't be able to tell the difference." But he might have taken things too far since he still cannot seem to get rid of the accent to this day. "I often liken it to when somebody lives in another country for a long time," he explained in the press room at the Golden Globes (via The Hollywood Reporter). "I had three years where [Elvis] was my only focus in life, so I'm sure that there's just pieces of my DNA that will always be linked in that way."
Evidently, those "pieces of DNA" are still very much embedded in his body, but fans are no longer impressed.
Fans think Austin Butler should quit his Elvis accent for good
Austin Butler is still working on letting go of his Elvis accent at the 2023 Oscars, and host Jimmy Kimmel has taken notice. "He was so convincing as Elvis, still is," he quipped on stage. Fans also couldn't help but troll the actor on Twitter for still talking like the late singer.
"I can't explain it but you can see Austin Butler's Elvis accent on his lips even when they're not moving," one fan joked. "Will Austin Butler drop the accent after tonight? Can he go back to his normal voice at midnight? Will Ursula lift the curse?" tweeted another. Some even predict that he'll probably never be able to drop it completely. "it would be 2060 and austin butler will still talk in his elvis accent," another fan said.
Butler is likely experiencing "role spill," when an actor has immersed themselves in a role so much that it "spills over" into real life. In Butler's case, though, it has been months since he's hung up Presley's dancing shoes, so it's high time he quits it with the voice, too. After all, he said it already affected his vocal cords. "I think I, from all the singing, I probably have destroyed my voice a bit... it's a lot raspier now," he said on "The Graham Norton Show." A little less conversation, and a little more action, please!