Salma Hayek's Husband: François-Henri Pinault Comes From A Very Wealthy Family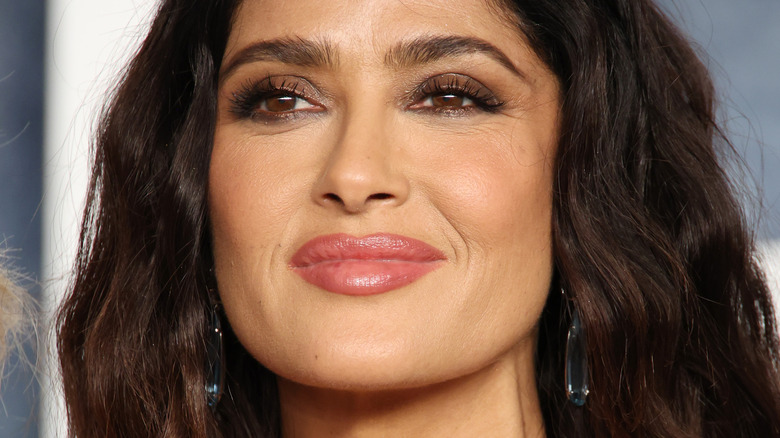 Daniele Venturelli/Getty Images
Unlike several other couples in Hollywood, Salma Hayek isn't necessarily married to someone in the industry — however, her husband is still pretty well known. Hayek wed businessman François-Henri Pinault, and their love story is super sweet. The pair first laid eyes on each other in 2006, and by the following year, Pinault got down on one knee and asked Hayek to be his wife. Before walking down the aisle, Hayek gave birth to the couple's first and only child together — daughter Valentina.
In 2009, they tied the knot. Hayek spoke about her wedding day to Glamour in February 2023, telling the outlet that she wasn't aware that she was getting married on Valentine's Day. "It was like an intervention. I don't think I ever told this story. No, they just took me to the court. My parents, my brother, they were all ganging up on me," she explained. "I had a phobia of the marriage thing." Once they made things official, Pinault and Hayek had a big ceremony in April of that year and they've been happy together ever since. 
Hayek regularly raves over her husband on social media, and her posts are enough to make anyone swoon. "Never in my greatest dreams I could have imagined that I get to share my life with such a wonderful and extraordinary man," she wrote in 2020 on International Man's Day. " You are our strength, you are our inspiration, you are our home." But who exactly is Pinault?
The Pinault family owns a fashion empire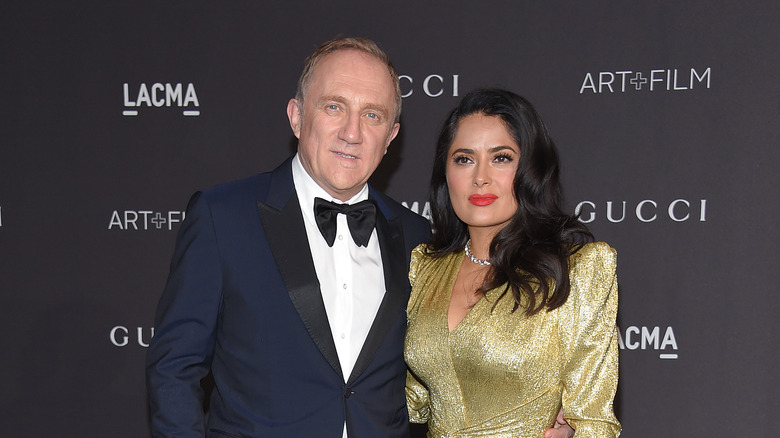 DFree/Shutterstock
Salma Hayek is well-known in her own right, but her husband François-Henri Pinault basically comes from royalty in the fashion world. According to Forbes, the Pinault family owns Kering — a luxury group that owns several high-end fashion brands like Saint Laurent, Alexander McQueen, and even Gucci. All in all, the family is worth an impressive fortune — $36 billion Yes, a billion with a "b." In addition to the major fashion brands, the company also owns a soccer club, a few vineyards, a yacht an expedition company. Plain and simple — they do it all.
According to the Business of Fashion, Pinault took the company's reigns from his father in 2005, and he now serves as the company's chairman and chief executive officer. After graduating from HEC Business School in Paris, Pinault got involved with the company in 1987, making it a family affair as his father headed up the company at the time. Forbes reports that the company launched in 1963 and originally sold materials like wood. It's easy to see that they have come a really long way, and as of this writing, Forbes lists them as number 32 of the wealthiest people in the world.
Pinault's family is worth more than him, but he still has an impressive net worth on his own. Celebrity Net Worth shares that he's worth an impressive $7 billion on his own. Between Pinault's wealth and fashion empire, it's no wonder Hayek is always so well-dressed!
Salma Hayek claps back at critics of her marriage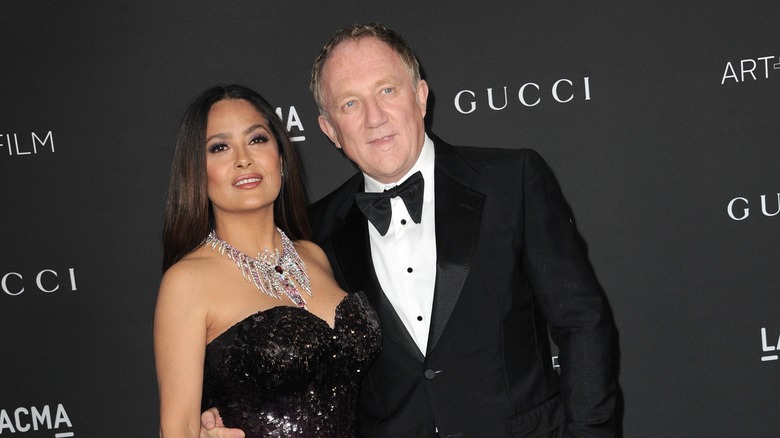 Tinseltown/Shutterstock
Salma Hayek is no stranger to facing positive and negative headlines in her career, and you know what they say — it comes with the territory. Most of the time, Hayek is not afraid to address the critics, which is precisely what she did after hearing rumors that she only married her husband François-Henri Pinault, because of his wealth. During an interview with Dax Shepard and his co-host Monica Padman on their "Armchair Expert" podcast in 2021, Hayek addressed claims that she only married Pinault for his money.
Hayek said that her husband has made her a "much better person" before elaborating further. "And, you know, when I married him, everybody said, 'Oh, it's an arranged marriage, she married him for the money," she explained. "I'm like, 'Yeah, whatever, b–.' Think what you want. Fifteen years together, and we are strong in love. And I don't even get offended. I'm like, 'Yeah, whatever.'"
On an episode of "Red Table Talk," Hayek also shared the secrets to having such a long-lasting marriage. "When there is conflict, we put all the energy in solving the problem — never finding who to blame or 'You should have done this or that.' No," she told the panel. "All our energy goes into: 'How do we solve this?'" In addition, Hayek told Jada Pinkett-Smith and co that she and Pinault have "never said anything nasty to each other," and they harbor "no resentment" toward each other.