How Mark Wahlberg's Little-Known Beef With Eminem Ended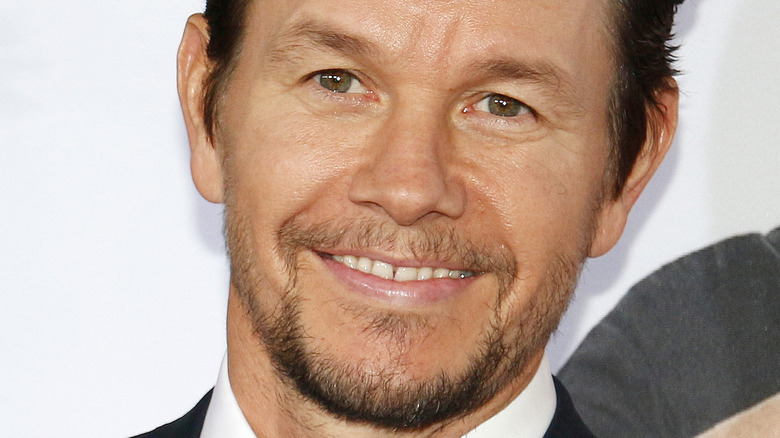 Tinseltown/Shutterstock
Mark Wahlberg's life has been littered with as many controversies as it has accolades. While the two-time Oscar nominee and former rapper — best known for his song "Good Vibrations" — is a huge box office draw and worth a lot of money, he's made several poor decisions throughout his life. As a teenager, Wahlberg committed two racially motivated crimes in the mid-'80s, per the Independent, which included throwing rocks at Black children and striking two separate Vietnamese men. Ultimately, Wahlberg was charged with felony attempted murder but only served a short jail sentence. And though Wahlberg attempted to have the ordeal expunged from his record in 2014, he wasn't successful. 
Not all of Wahlberg's controversies have been quite as disturbing, however. Since gaining international fame, Wahlberg has found himself at odds with his peers, both personally and professionally. Sometimes, the feuds were widely covered, such as his odd 2020 fight with Dr. Oz over ... the optimal time of day to eat breakfast, although the two have since settled their beef. As silly as Wahlberg's brief row with Dr. Oz was, his super short feud with Eminem stemmed from an equally petty reason. 
Mark Wahlberg felt slighted by Eminem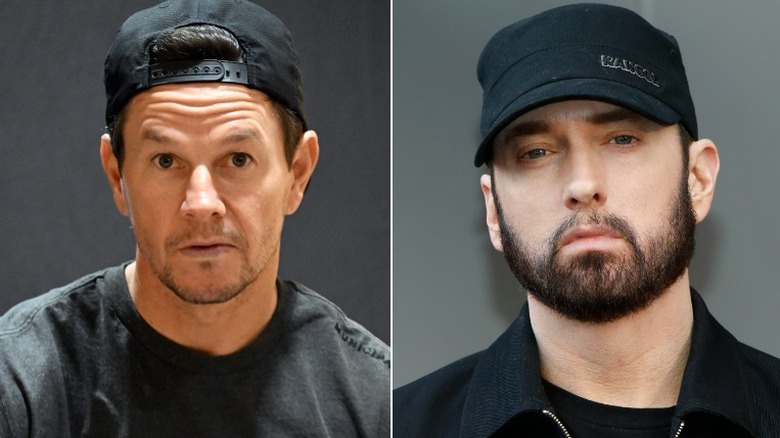 Kathy Hutchins/Shutterstock & Stephen J. Cohen/Getty Images
Historically, rappers have been known to throw jabs back and forth, usually over catchy beats. And while Mark Wahlberg's rapping past is a distant memory today, he found himself at odds with his rap peer right after he changed career paths. Back in 1999, both stars appeared on "TRL" together and Eminem appeared to shade Wahlberg's rapping past. According to Far Out Magazine, Eminem reportedly greeted Wahlberg on camera by saying, "Well, why don't we stand together like a happy fun bunch." It would seem that Eminem's comments were in reference to Wahlberg's former group, Mark Wahlberg and the Funky Bunch, which Wahlberg interpreted as an insult.
As noted by Insider, Wahlberg appeared to hit back at the "Lose Yourself" rapper by calling him an a**hole in response. With that said, Wahlberg and Eminem have since gotten over their petty feud. When responding to a fan's inquiry about Eminem mentioning him in a song during a GQ interview, Wahlberg said, "I hadn't met Eminem before I heard that song. And then I met him at an MTV event; we hung out. Very cool guy. Very talented. And yes, I didn't give him credit for that a long time ago. I was a hater, 'cause he's a better rapper than me."
Mark Wahlberg also feuded with Tom Cruise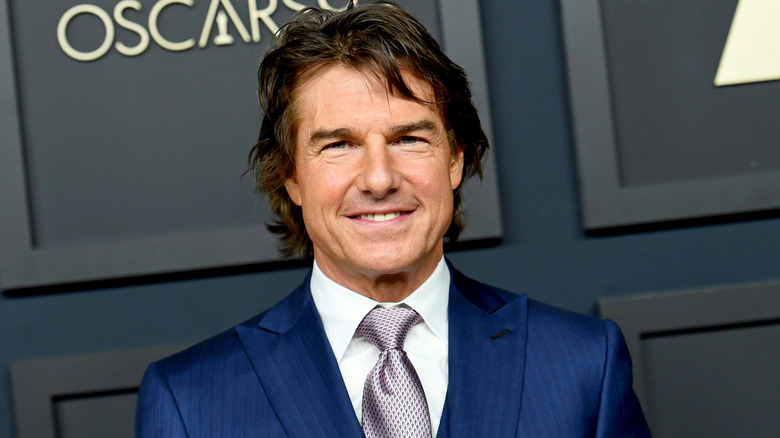 Jc Olivera/Getty Images
Mark Wahlberg's brief conflicts with Eminem and Dr. Oz is far from the only celebrity feud in which he's been involved. Early in his acting career, Wahlberg famously found himself at odds with Leonardo DiCaprio while filming the teen drama "The Basketball Diaries." Initially, DiCaprio wasn't too keen on working with Wahlberg because of his lack of experience. Fortunately, he and DiCaprio were able to find common ground and have since become super close friends. However, the "Ted" star has also found himself at odds with Madonna and,most surprisingly, Tom Cruise. 
Wahlberg's feud with Cruise is particularly interesting because it was rather one-sided. In 2013, TMZ unearthed comments from a lawsuit Cruise was involved in, where he compared his grueling movie schedule to serving in the war. Wahlberg then seemingly responded to Cruise's comments while promoting a film. "For actors to sit there and talk about 'Oh, I went to SEAL training,' and I slept on the — I don't give a f**k what you did," Wahlberg said during a panel. "You don't do what these guys did. For somebody to sit there and say my job was as difficult as somebody in the military. How f***ing dare you. While you sit in a makeup chair for two hours." With that said, Wahlberg later claimed that he didn't realize that Cruise himself had made the comments and was instead responding to hearsay by an unspecified actor.