How Much Did Ryan Sweeting Get From Kaley Cuoco In Their Divorce?
DFree/Shutterstock
Kaley Cuoco and Ryan Sweeting moved at a fast pace in their relationship. The pair initially met in 2013, and after only a few months of dating, Sweeting and Cuoco got engaged. The couple tied the knot on New Year's Eve between 2013 and 2014 in Malibu, California, in a unique fire-and-ice-themed wedding. "Greatest night of my entire life," Cuoco wrote on her Instagram page shortly after the wedding. It certainly seemed like a memorable wedding day filled with love, but things between the formerly happy couple didn't last. Just 21 months into their marriage, the pair called it quits. People reported that Cuoco and Sweeting "mutually decided" to end their marriage, though Cuoco was the one who filed the papers, citing "irreconcilable differences" as the catalyst for the split. "The few times Kaley and Ryan were out together, the tension was noticeable," an insider told the outlet. "You could tell the honeymoon phase had ended."
Cuoco has talked about the demise of her marriage to Sweeting on several occasions, including in a 2018 interview with Cosmopolitan. "I honestly thought I wouldn't get married again. My ex ruined that word for me," she told the outlet of her marriage to Sweeting. "I married someone the first time who completely changed. The person I ended up with was not the person I originally met. And that wasn't my fault — that was his."
In the end, the divorce cost Cuoco some coin. 
Kaley Cuoco lost thousands in their divorce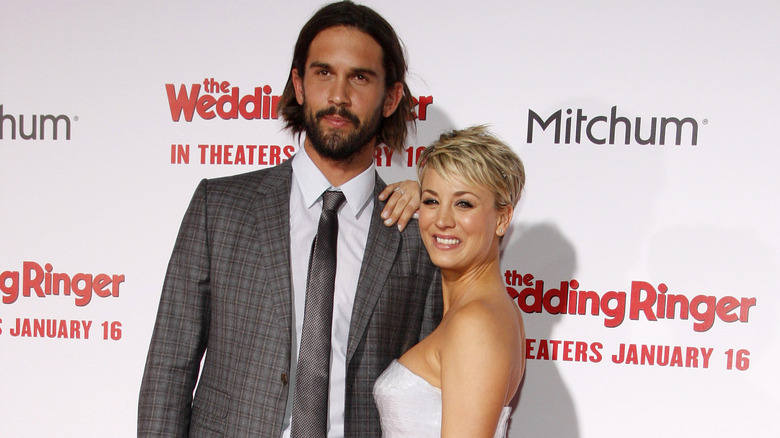 Tinseltown/Shutterstock
Kaley Cuoco's divorce from her husband, Ryan Sweeting, cost her a bit of money — but not as much as one may think. According to documents obtained by People, the couple finalized the terms of their divorce in 2020. Luckily for Cuoco, she had the former tennis pro sign a prenuptial agreement, which is pretty common in Hollywood marriages, and it really paid off for the actor in the long run. A judge didn't require Cuoco to pay Sweeting spousal support, but they did require her to pay him installments of $165,000 — totaling $330,000. The judge also required "The Big Bang Theory" star to pay Sweeting's attorney fees, but not anything over $55,000. In addition, the actor also had to shell out $9,387 in Sweeting's other legal fees.
While that sum of money may seem like quite a bit to most (because it is a good chunk of change), we're not so sure it hurt Cuoco's pocketbook much. Celebrity Net Worth reports that the actor is worth a cool $100 million, and much of it is due to her hit show, "The Big Bang Theory." Though she started on the series making $45,000 per episode (which is still a lot, if you ask us), she ended with a big bang, raking in $1 million per episode in the final two seasons.
It's a good thing she made lots of dough because her split from Sweeting wasn't her only divorce.
Kaley Cuoco and Karl Cook's divorce cost her, too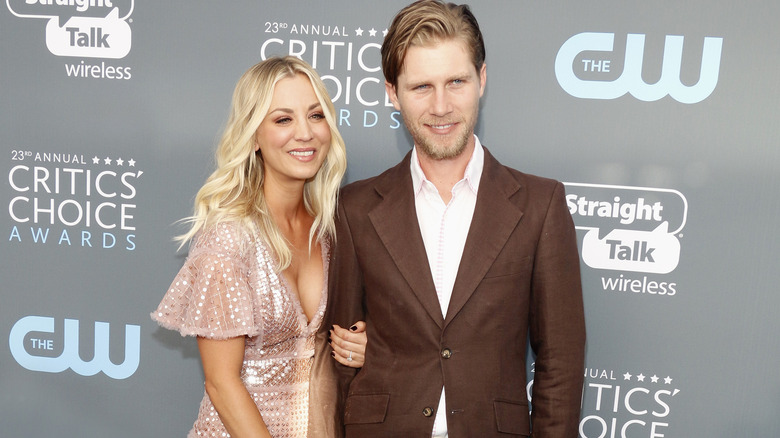 Tinseltown/Shutterstock
Kaley Cuoco's divorce from Ryan Sweeting isn't the only one that she has under her belt. Cuoco found love with professional equestrian Karl Cook. The couple got engaged in 2017 after two years of dating, and they tied the knot in 2018 in front of close friends and family in San Diego. Cook and Cuoco bonded over their love of horses, but that was not enough to make their marriage last. After three years of wedded bliss, the couple announced they would go their separate ways. "Despite a deep love and respect for one another, we have realized that our current paths have taken us in opposite directions," Cuoco said in a statement to Us Weekly. "We have both shared so much of our journey publicly, so while we would prefer to keep this aspect of our personal life private, we wanted to be forthcoming in our truth together," she said, adding that there was no bad blood between them.
In June 2022, Cuoco and Cook finalized the terms of their divorce. In the court documents, Cuoco requested to keep "miscellaneous jewelry and other personal effects" in addition to her "earnings and accumulations ... before marriage, during marriage and from after the date of Separation." She also seemed to learn a thing or two from her first divorce, as she asked the court for Cook to be responsible for his own attorney fees.