The Truth About Kaley Cuoco's Ex-Husband Ryan Sweeting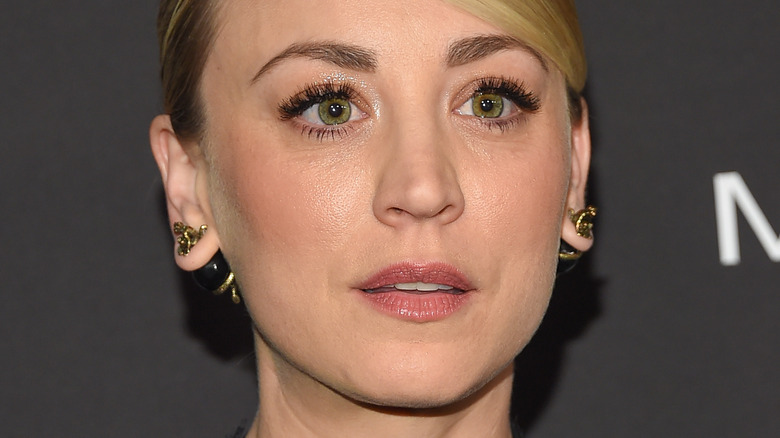 DFree/Shutterstock
Kaley Cuoco's shocking divorce from Karl Cook has us reflecting back on what went wrong with her first marriage to former tennis pro Ryan Sweeting. But before we go there, let's revisit the circumstances surrounding the start of their whirlwind romance.
In July 2013, Cuoco briefly dated "Superman" actor Henry Cavill. She was pretty down in the dumps after their split, and a friend started pressuring her to meet Sweeting. "I was just not in a good place to meet anyone," she stated on "The Ellen DeGeneres Show." "I said, 'I'm not ready. I'm taking time away from love for a while.' I was very sad." However, she told CBS News that she and Sweeting turned into living emoji when they first met. "It was completely hearts in our eyes," she recalled. They got engaged in September 2013 after dating for just three months, and they wed that same year on New Year's Eve. First, she was sour on love, then she was a Sweeting.
Cuoco got married in a frosting-pink Vera Wang gown, and she later told Cosmopolitan that her magical wedding was "the eighth wonder of the world." She changed her name to "Kaley Cuoco-Sweeting" and took to Instagram to celebrate when it popped up on "The Big Bang Theory" credits for the first time in January 2014. But by September 2015, she wasn't feeling so sweet on the surname. So, why did this relationship fizzle out like a bottle of flat soda? Keep reading to find out.
Did Ryan Sweeting's physical issues contribute to his and Kaley Cuoco's marital problems?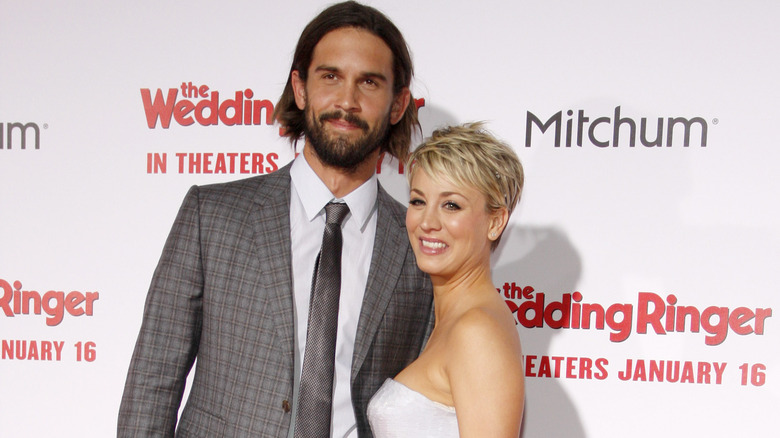 Tinseltown/Shutterstock
Shortly after Ryan Sweeting and Kaley Cuoco's first meeting, she played nurse for him, and not in the way you're thinking. During a February 2014 appearance on "The Late Show with David Letterman," she said that they went on one blind date and Sweeting "moved in the next day" (via E! News). He was suffering from a back injury sustained while playing tennis, and Cuoco became his caretaker. "I kind of nursed him back to health," she told Ellen DeGeneres. However, Sweeting's physical problems were reportedly having a negative effect on his emotional wellbeing and his tennis career. "He has been struggling with injuries and barely practiced tennis. He has acted very down," an insider told People after the couple's 21-month marriage ended.
In September 2015, Us Weekly reported that Sweeting had developed an addiction to the painkillers he was prescribed after undergoing back surgery (via the Daily Mail). A source told Page Six that he checked into rehab after Cuoco "gave him an ultimatum" and threatened to leave him if he didn't get sober. His whereabouts were unknown for days after he left the treatment center, according to the outlet.
Cuoco hasn't spoken about the reports that her ex was struggling with addiction, but she did tell Cosmopolitan in 2018 that something about Sweeting changed after they got married. "The person I ended up with was not the person I originally met," she said.
Ryan Sweeting wanted spousal support from Kaley Cuoco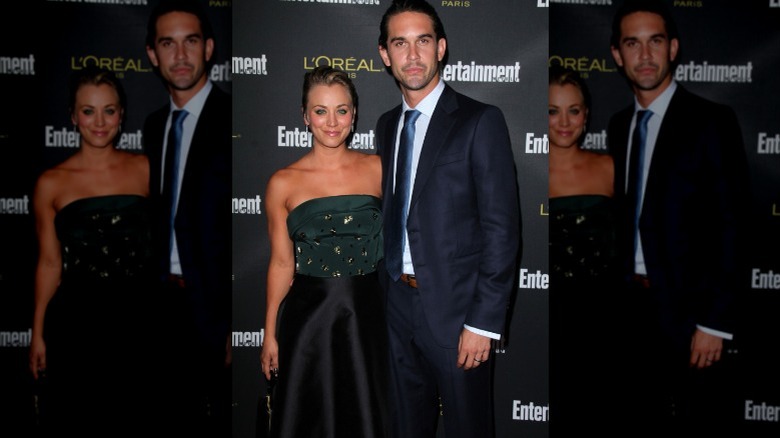 Kathy Hutchins/Shutterstock
As noted by Tennis World USA, Ryan Sweeting's back problems kept him from competing for a long period of time, and he failed to make a tennis comeback after undergoing surgery to treat the issue. He won just one title in 2011 and earned a little over $1 million in tournaments over the course of his career.
Sweeting decided to retire in August 2015. "A bittersweet day for me but I'm excited and thrilled to retire from the sport of tennis," he wrote on Facebook, adding, "I am sad to close this chapter but overjoyed and thrilled to begin the next!" One month later, he and Kaley Cuoco announced that they were getting a divorce. An insider told ET Online that Cuoco "realized she wants to be with a guy who has a job and is motivated." Ouch.
We never got to see what Sweeting decided to do after retiring because he's kept his personal life pretty private since then, but Us Weekly did report that he was seeking spousal support. According to TMZ, he didn't get his wish — a prenup protected Cuoco's vast wealth. Sweeting walked away with $165,000, along with "whatever cash and gift certificates" he possessed. Cuoco also footed the $195,000 bill for his personal trainers. As for Cuoco's second soon-to-be ex-husband, we're pretty sure he won't be needing spousal support — in addition to having a high net worth, Karl Cook is the son of Intuit billionaire Scott Cook.